Blog
REGISTER NOW
LOGIN
SIGN UP FOR OUR NEWSLETTER
Cycling through Botswana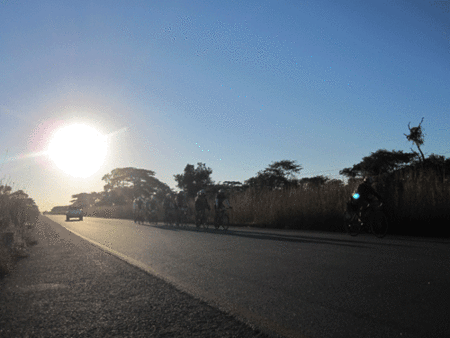 The Tour d'Afrique cycle tour and expedition has left behind Botswana and it has entered Namibia; the second last country along its route from Cairo to Cape Town.
During its 7 riding days in Botswana, the tour's cyclists racked up more kilometers than in any other country along the tour's route. The group of nearly 100 cyclists from across the world covered 1150km during the 7 days. In Botswana, the tour also clocked its longest cycling day, which consisted of 207km.
"With little noticeable elevation change, the kilometers roll by quicker than ever before," says South African born, Ryan Paetzold. "The greatest challenge is watching the same scenery go by day after day. It's like Sudan but with trees. We have been lucky enough to have tail winds most days, but the few days that came with a cross- or headwind, quickly makes 150km feel more like 200km."
After passing through Maun, and spending a rest day next to the Okavango River, the worlds largest inland delta, cyclists took boats and flights to the delta where they saw herds of elephants and hippos.
"With more riders than Tour d'Afrique has ever seen, our first night out of Livingstone marked the longest dinner line up we yet," says Cristiano Werneck Assistant Tour Director. "Twelve new sectional riders joined us from Livingstone until Windhoek, proving this to be the most popular section on tour. From life in the office back home, to riding 150km on Tour D'Afrique is no easy jump for anyone, yet all are holding up strong as any. Amongst the sectionals we have a relay team from Australia."
The Canadian, Paul Wolfe, is still in first place and Dennis Kipphart is currently in second place. Tori Fahey from Canada still holds the lead in the woman's race.