Blog
REGISTER NOW
LOGIN
SIGN UP FOR OUR NEWSLETTER
Paul Wolfe – Race Leader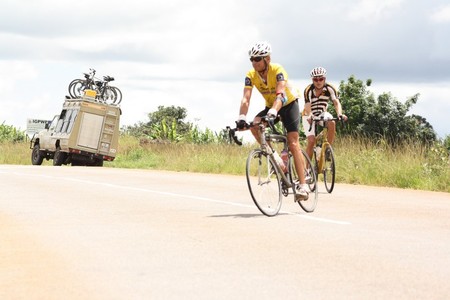 Born in northern Alberta, Canada, in a French speaking village in 1953, Paul Wolfe has had many professions during his working life. Retired, he owns an ambulance company and a real estate business. In 1977, he started racing road bicycles and did not stop ever since. His cycling curriculum includes dozens of professional races, and on the master category he has won many Canadian National Championships. He also has one gold and one silver medal on the World Championship.
World champion Paul Wolfe's riding routine depends on the next race he will take part on, but he usually trains 5 days a week, most of the time century rides (in Mexico during the winter and in Italy during the summer). After doing a bicycle tour in Thailand, decided to try something tougher, Paul Wolfe (raised with the wolves as he says) was browsing the internet and found out about the Tour d'Afrique. The world's longest stage race was definitely something he should do, and the time was now. After lots of research, he chose every piece of equipment he would use on the tour, and then it was time to test all of it and to start doing some focused training. In Canada, he tested his winter clothes and rode on cold weather and on altitude. Then he flew to Mexico to ride in warmer weather and to test his all titanium cyclocross Moots bicycle on corrugated gravel roads. "None of that prepared me to those northern Kenya lava rock roads. You can't find those anywhere else" he says.
A very strong cyclist for sure, Paul's fitness is not his only weapon, especially against his younger opponents. With 35 years of racing experience, he is a man of strategies. According to him, the art of racing is very similar to the art of war. "I try to always do the unexpected and to read everyone's strengths and weaknesses". Winning the first mando day (the second day of the race) was one of his goals, and only for that stage he trained for a full month in Mexico. Around 10 hours ahead of the race's second place, he points the "Truch Stage", the day when all the racers decided not to race and take it easy, stopping for cold cokes and pictures, as one of the best days on the Tour. "But the best day was actually when I was really sick in northern Kenya, suffering a lot on the corrugation, and was still able to reach one of my main adversary and to keep up with him until the end of the stage".
Christine Wolfe, his wife, is a big responsible for his decision to be here (with her). "She convinced me that I wasn't going to get any younger, and she was the one in touch with the TDA office frequently to get as much information as possible about the race so that I could get the proper equipment and training for it".
Good luck guys, let the madness continue!