Blog
REGISTER NOW
LOGIN
SIGN UP FOR OUR NEWSLETTER
Report from Lilongwe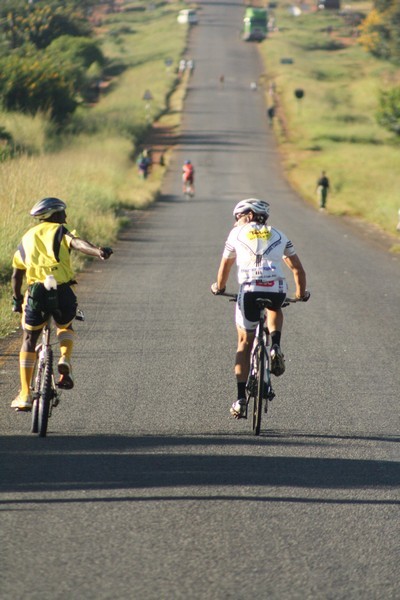 The Tour d'Afrique 2011 has reached the 7000 km mark. After Egypt, Sudan, Ethiopia, Kenya and Tanzania, the world's longest bicycle stage race/expedition is now in Malawi, the country known as the "Warm Heart of Africa". TDA 2011 stays 10 days in Malawi, including 7 riding days and 3 rest days, covering 800 km on large and paved roads.
Still in Tanzania, 40 km before the border, we had our first glimpses of Malawi and its world famous Lake Malawi, Africa's third biggest lake. After crossing the border, we cycled along the M1 and the shoreline past fishing villages to Chitimba Beach, where we had a rest day.
Leaving Lake Malawi behind, we climbed up the escarpment into the central plateau en route to the provincial capital of Mzuzu, climbing from 465 to 1318 meters, and getting ready for the next day, a "mando day", which means that the racer who wins get a 30 minutes bonus (Adam Stickler won it). On the road, cycling farmers transported chickens, grains and just about anything between their villages and the nearest market. After passing through the roller coaster Viphya Mountains and the sleepy town of Kasungu, the Tour arrived (on Sunday) at Lilongwe, the capital city of Malawi. From Lilongwe it will be a pleasant day's ride west on the M12 to Mchinji and the Zambian Border, where we cross to the seventh country on our tour.
It's been a hard week, but none of the EFIs gave it up and very few riders had to ride the trucks.
Paul Wolfe, the man leading the race, says he could never expect so many beautiful landscapes and nice campsites. The man who is winning the world's longest bicycle race/expedition says it's all about the strategies. "The art of bicycle racing is like the art of war. You have got to do the unexpected and read the opponent's weaknesses and strengths, but you also need a lot of diplomacy".
Mike Fantasia, from the USA, who has done many half and full Ironman triathlons is not competing. He is enjoying himself and the tour, as a part of a 2 years break from work where he is travelling around the world, cycling, surfboarding and doing whatever he feels like. In his opinion, "this is definitely the best way to discover a continent". It looks like almost 100 people on the TDA family agree with him completely.