Blog
REGISTER NOW
LOGIN
SIGN UP FOR OUR NEWSLETTER
Rest Day in Chitimba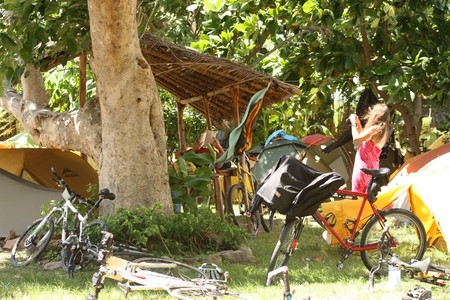 Yesterday was a rest day on the Tour d'Afrique 2011. How often they happen depends on many factors. After an 8 day stretch from Arusha to Mbeya (Tanzania) where we rested for one day, we cycled for only 2 days before we had another free day on the beach at Lake Malawi.
Lake Malawi is one of the biggest lakes in Africa, and its beaches attract visitors from all over the world. Hotels, lodges, or campsites (some calm, other going crazy with many overland trucks and parties), you can choose what you like. There are excellent fish, beautiful scenery, and lots of greenery. It's a perfect place for a rest.
The concept of "rest day" on the Tour d'Afrique is a little different than on a regular holiday. Sometimes it's the only chance that everyone has to get up to date with the real world and to get ready for the next stretch of the tour. We had come in from a rest day 2 days earlier in Chitimba (the name of the village where we stayed by the lake), but that rest day had certainly not been enough. Our day in Chitimba was an easy one. People still washed their clothes and prepared their bicycles for the next stretch, but it was a chilled pace, Malawian style. It was a rest day to not be forgotten by the Tour d'Afrique 2011 family.
At sunrise, you could already see the first TDA warriors walking on the beach, finishing their washing and walking around with their spare parts waiting for Gabe and Martin's bike shop. It wasn't even 8 o'clock yet when a big hole was excavated for the preparation of an unusual dinner. On rest days, people make their own plans, and most of the time the riders want to try some of the delicious local dishes found all over Africa. It's the chance to get away from the big group, and also it's when the staff gets to rest, but at Chitimba there are not many choices for the riders. For that reason, we decided to have a rest day dinner, and stuffed chicken on beer sounded like a good plan. A big hole on the ground, chicken wrapped in aluminum foil, and lots of charcoal covering it all to cook for the entire day was the kitchen's secret weapon.
At nine o'clock, the bike shop opened for a long day of fixing bikes and, at the same time, the trucks received some love and care.
Dozens of computers tried to update blogs and upload pictures at the reception, and countless plugs charged hundreds of electronic devices at the bar.
At 6 o'clock the delicious dinner was served. As usual, the TDA village fell asleep right after it had been devoured. Another 4 tough days wait for us on our way to Zambia, the seventh country on our route. Off we go!
— Cristiano Werneck