Blog
REGISTER NOW
LOGIN
SIGN UP FOR OUR NEWSLETTER
Schwalbe tires – TDA Stamp of Approval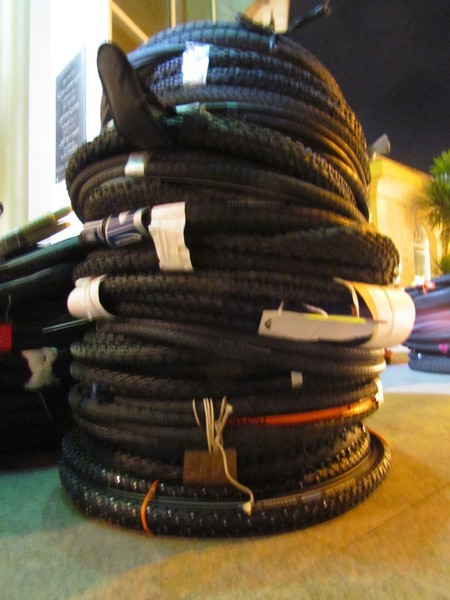 The heart of the bicycle has always been its wheels. They are, and have always been, where the rubber meets the road. Early bicycles had simple wooden wheels with wood or leather strips tacked to the circumference of the wheel. The pneumatic tire was a tremendous development, allowing for higher speeds, much greater comfort, and dramatically improved traction. Ever since the pneumatic tire was developed, the bane of all cyclists has been a punctured tire. Nothing can stop the fun of a good ride as quickly as a flat tire. The fastest racer can be brought to a stop by a tiny thorn, and repairing a puncture while on tour can be a time consuming ordeal.
Flats are a fact of cycling, but the frequency of flats falls with the selection of a fine tire. Since leaving Cairo, I have ridden exclusively on Schwalbe Marathon tires, and have suffered from only one flat tire. I have three sets of Schwalbe tires with me on tour. For the off road sections I rely on the Marathon Big Apple. With a width of 2.35 inches, it has ample volume to safely run at low pressures. This improves traction and comfort by softening the ride on rough and loose surfaces. On the road, I have two sets of Marathon Touring tires. I run a set of 40mm wide Tour Plus tires on the rough pavement, and a set of 28mm Marathon Tour tires on the smooth asphalt. That's one nice thing about Schwalbe tires; they have a line of tires that can do it all. Whether you are running 26", 700c, or 29" wheels, there is a perfect touring tire for whatever adventure you are going to undertake. Their tires are easily the most popular among our cyclists. When we loaded our trucks in Cairo I segregated our tires into two piles, one of Schwalbe tires and one of other brands. The Schwalbe pile dwarfed all the other brands put together. The riders who chose Schwalbe tires chose wisely. My experience as an employee of the tour is that those riders have fewer flats.
I have seen a lot of good equipment, and some absolute disasters while working with The Tour d'Afrique. My personal recommendation for riders on tour is to buy Schwalbe Marathon tires. I wouldn't ride anything else on Tour. Their tires deserve the Tour d'Afrique Stamp of Approval.