Blog
REGISTER NOW
LOGIN
SIGN UP FOR OUR NEWSLETTER
350 Bikes Ready to Go. But we need your help.
As many of you know, over the last 6 months we've been working with Nairobi-based charity Wheels of Africa to open a community bike shop in Soweto, Nairobi. We've partnered with the Montana Chapter of Bicycles for Humanity, who have collected and packed 350 bikes for us in a 40 foot shipping container that now sits on their property in Billings, Montana.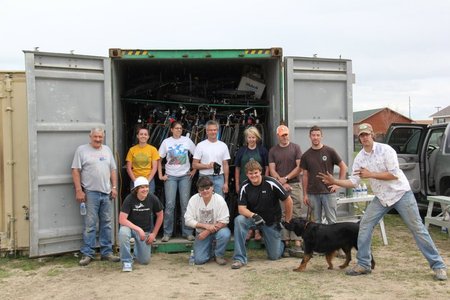 Wheels of Africa has identified a shop space, acquired all the necessary tools and equipment and have been promoting the shop. The response has been very positive and they have even started receiving orders for bikes!
We've worked with WoA for years and we're very confident that this shop will succeed and be of great benefit to the community. But we've run into a small roadblock and we need your help to overcome it.
We need to raise additional funds to cover the cost of shipping the bikes to Nairobi. Originally Bicycles for Humanity had agreed to cover the shipping costs but an increase in shipping rates coupled with some unforeseen circumstances and expenses have raised the cost of shipping enough so that they can not cover the entire expense. The Tour d'Afrique Foundation has already contributed a significant amount of money to the project already and cannot contribute more without affecting the other causes we support.
What we Need
We need to raise $4500 in order to ship these bikes to Nairobi. If you are able to make even a small donation to the TdAF in the next few weeks to help support this project we'd really appreciate it. Even a small donation is a huge show of support and moves us closer to our goal.
Why it Matters:
1) It fits our mission. We're big fans of sustainable transport and believe in the power of the bicycle to change lives. With this one shipment we will be doubling the number of bikes we've been able to donate in Africa this year and at a much lower cost per bike.
2) Wheels of Africa will make this a success. We've been working with WoA for several years now, in fact we hired one of their mechanics, Martin Wambua, as our full time tour mechanic on the 2011 Africa tour.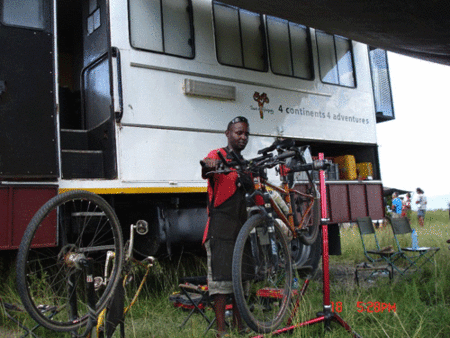 They are a great organization, very active in bike advocacy programs in Nairobi. Their Bike Doctors mobile repair business has been successful and opening a bike shop is a natural next step.
3) Sustainability: Bikes for Humanity will be providing the first shipment of bikes but we've also partnered with Bikes for the World based in Washington DC to provide future shipments. Based on our cost projections and advice we've received from other groups who have started community based shops in Africa, we believe that WoA will be able to pay for the cost of all future bike shipments from the profits generated from this first shipment.
4) Income Generation. Wheels of Africa will be able to employ 4 mechanics as part of this project. They also intend to use the shop as a central hub that will provide opportunities for other 'bikepreneurs' to gain experience and receive help to start their own businesses. The long term plan for the shop includes expanding by opening 'satellite shops' outside of Nairobi in rural areas where access to bikes is difficult and a bike rental program using a mobile phone payment system.
If you'd like to learn more about the bike shop project or would like to help in other ways please email Paul at paul@tourdafrique.com.
You can make donations through our website or contact us at info@tourdafrique.com for other payment options.
Update: Sorry but our dontation button does not seem to be working for a lot of people, we're working on the issue but in the mean time you can contact us at info@tourdafrique.com with your pledge and we'll work out other payment options for you.
Thanks in advance for you support.