Blog
REGISTER NOW
LOGIN
SIGN UP FOR OUR NEWSLETTER
Almost there!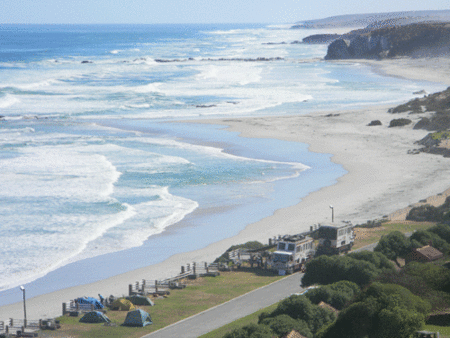 Two days after crossing into South Africa the Tour d'Afrique trucks have arrived at Strandfontein, a quiet summer cottage resort along the Atlantic Ocean about 300 km north of our final destination of Cape Town.
The riders should start rolling in soon, after completing their last real tough day – a 164 km ride from the dorp of Garies to a campsite overlooking the waves of the Western Cape coast. Yesterday brought a challenge in the form of a cold and heavy morning dew that meant we rode in thick soup-like fog up to the lunch truck along the N7 and up and down the heather-strewn hillsides of Namakwaland before the sun broke through.
But nothing can stop the excitement now that the riders' (and staff's) goal of reaching Cape Town and completing this epic trans-Africa odyssey on two wheels is in sight. From here its only 2 more nights next to the roar of the Atlantic surf before Table Mountain looms in sight and we convoy for the final time with friends and family into one of the stunningly situated cities in the world.