Blog
REGISTER NOW
LOGIN
SIGN UP FOR OUR NEWSLETTER
Namibia Update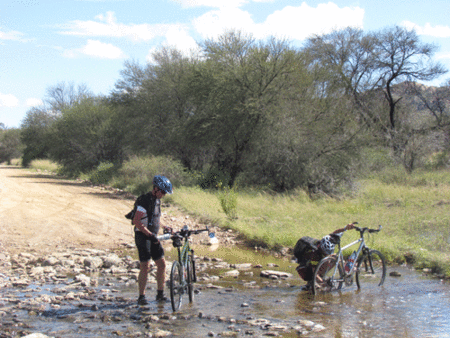 The world's longest bicycle tour/expedition is almost over. After 10,000 km on the road, the Tour is currently in Namibia (where it covers 1350 km on 10 riding days) and has now only 2 weeks to go until Cape Town.
After entering the country from Botswana along the Trans-Kalahari Highway at the East Gate Buitepos, we continued on the B6 west through the town of Gobabis and past the international airport to Windhoek. Having enjoyed the amenities of this modern city, we then followed a brand new TDA route, heading southwest on dirt and sand roads across the plateau and then down the escarpment into the Namib Desert. The highlight of the section is bound to be the dawn visit to the dune sea at Sossuvlei, near Sesriem (to come on Sunday). Departing the dunes, our route will turn south and traverse harshly beautiful and thinly populated lands, en route to Fish River Canyon, another of Namibia's natural wonders. From there it's a long days's pedal to our rest day on the scenic Senqu (Orange) River, near to our final border crossing into South Africa.
Paul Wolfe (CAN) is still the men's race leader (with an overall time of 344 hours) with a 26 hours of advantage over Dennis Kipphardt (GER), the second place. Tori Fahey (CAN) is still the women's race leader. On Sunday there is a individual Time Trial on the sandy roads of Namibia, before a rest day by the dunes.
South African Ryan Paetzold is now racing (he likes the off road sections), and won the stage out of Windhoek, something he was really looking forward to. According to him, he decided in Malawi that he would race the dirt road days in Namibia. "Today was a long hard individual Time Trial day for me. I rode by myself all day long and got everything that my legs could give me. I could not have done it one second faster". It would not be necessary, since Ryan won the stage and is taking the stage plate he wanted so much home.