Blog
REGISTER NOW
LOGIN
SIGN UP FOR OUR NEWSLETTER
Salar de Uyuni, Bolivia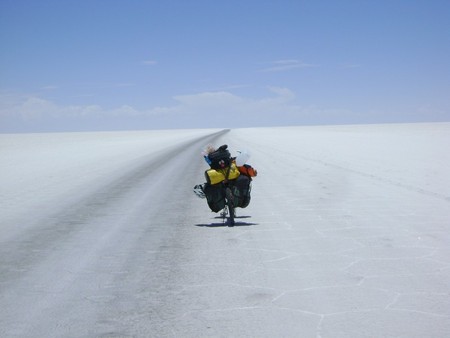 Vuelta Sumdamerica 2011 is coming, and as it gets closer, I find myself thinking about some of my favorite places on route. And the Uyuni Salt Flat – or Salar de Uyuni, as the locals call it, is definitely one of them.
Formed as a result of transformations between several prehistoric lakes, it´s the largest in the world (Bolivia is the country of superlatives – you will find many biggest, highest and oldest), and its crust of salt covers a surface of almost 12,000 km squared at an altitude of 3653 meters above sea level. Its crust serves as a source of salt and covers a pool of brine, which is exceptionally rich in lithium. Between 50 to 70% of the world's reserves are in there, and it is so flat that the average altitude variation over its entire area is one meter.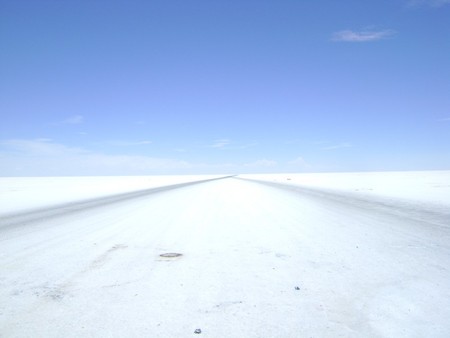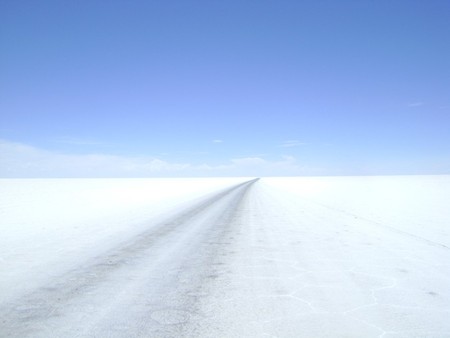 I remember the first time that this huge white desert crossed my path. In the town of Uyuni, the locals had tried to convince me that it was not a good idea to cross the salt flat (and the whole desert after it all the way to the Chilean border is San Pedro de Atacama) on a bicycle on my own. There were lots of stories about people who had tried their luck and were found dead later after getting lost in there, including a very recent one, just a week before. Well, I knew people who had done it before, and since I had no GPS, satellite phones or anything like that, I had researched a lot about it. It was possible, and it was not that dangerous. All I had to do was to follow the dark track that the 4×4 tours leave behind, and when in doubt, just stick to the darkest one.
But I was still pretty anxious when found myself in the middle of that white giant. In many areas of the Salar, there is not one single mountain or anything in the landscape to be used as a reference, and when you come across many different tracks going in completely different directions, it can be a little scary if you have never been there. My two compasses showed me North on totally different directions (I´ve even heard some stories of GPS batteries getting completely drained in minutes by that place) and the "main route" didn´t always seem that obvious to me, but at the end it was quite safe and easy to find my way.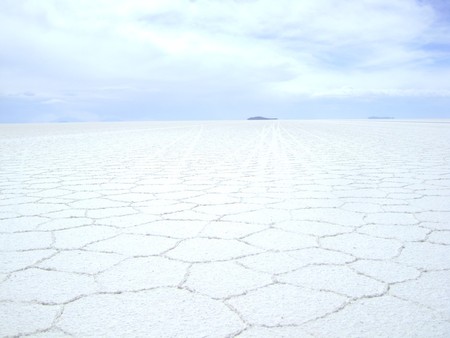 What an experience to cycle out there. It´s not possible to describe exactly what it is like. It´s possible to cycle across the Salar in one day, but I stayed almost 3 days there riding, camping, playing and taking lots of pictures. One of the first things you will probably feel like doing is to close your eyes and ride your bike for as long as you can, before you start wondering in which direction you are going and if you can still find the 4×4 tracks again. You could probably ride all day long with your eyes closed because there is really nothing there, and this is one of the only places in the planet where this is possible. Sunsets were the most colorful I have ever witnessed in my entire life.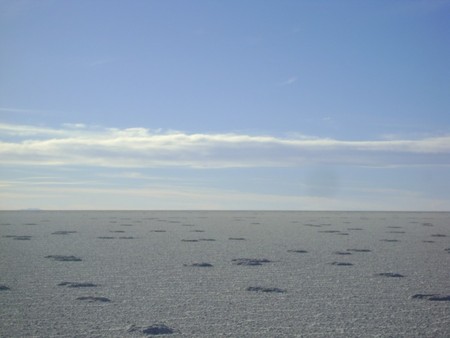 I can go on forever about the Salar, but making a long story short, it´s a ride to never be forgotten. It´s a very quiet and unique spot, and it does feel like you are in another planet. I consider that the Uyuni Salt Flat itself makes a trip to Bolivia worthwhile. But it doesn´t have to, there are many things about the country that could themselves make it worth a visit. It is a very welcoming and beautiful country, with an amazing landscape and very interesting history, culture and lifestyle. Well, Bolivia itself makes a trip to South America totally worth it. See you there!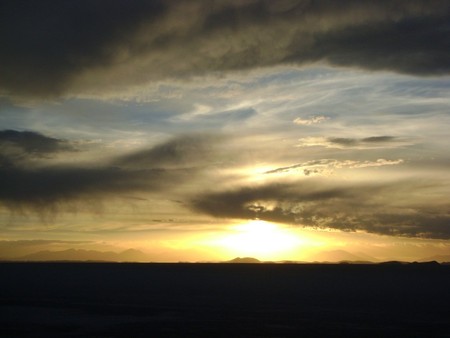 Click here for info on the Vuelta Sudamericana 2011 sections. Uyuni Salt Flat will be ridden on the section named "Sea and Salt", from Antofagasta (Chile) to La Paz (Bolivia) – November 3 – 16.