Blog
REGISTER NOW
LOGIN
SIGN UP FOR OUR NEWSLETTER
At High Altitude, Change Your Attitude!
Mats Fredrix is the Content Creator on the 2023 Trans-Himalaya Cycling Adventure. He sends his first report from the High Himalaya.
"These mountains will humble you!"
Indians have a good sense of humour. That's, quite unexpectedly, one of the first things you notice riding on the roads in Ladakh. It's all thanks to the B.R.O. and there is no way that name is an accident either, although it really stands for Border Roads Organization. It develops and maintains road networks in the country's border areas. Apart from building roads, bridges, and other logistical stuff, they've also taken it upon themselves to educate drivers on safety and road etiquette. They do this with highway sign boards, though they really do play this game in a league of their own. No, 'Please Drive Carefully' warnings or something else unimaginative. No emotional blackmail showing images of kids without seatbelts and all sort of disturbing stuff happening consequently. They use their sense of humour. Here are some of our favourites.

One of the crew said it was almost as if they locked a random B.R.O. employee up in a room for a week and told him he wasn't allowed to come out, until he had come up with at least one hundred silly road safety statements. Spelling and grammar are definitely considered secondary in this campaign. Whether it does the job or not, is difficult to tell but it attracts attention, and as you hear left, right and centre in our society these days, 'there's no such thing as bad publicity!' Another one of their road signs perfectly encapsulates the mindset crucial for anyone thinking of joining the TDA Trans-Himalaya tour – 'At high altitude, change your attitude.'
"These mountains will humble you!" This was Tour Medic Sam Covins' opening statement at the riders' welcome briefing in Leh on the evening before the official start of the tour. Adding to that was TDA's own Sharita van Der Merwe. "It is absolutely crucial that all of you leave your egos right here in Leh," she said, "There's absolutely no wiggle room out there, this is not the place to play the hero or ignore vital signs that your body is giving you."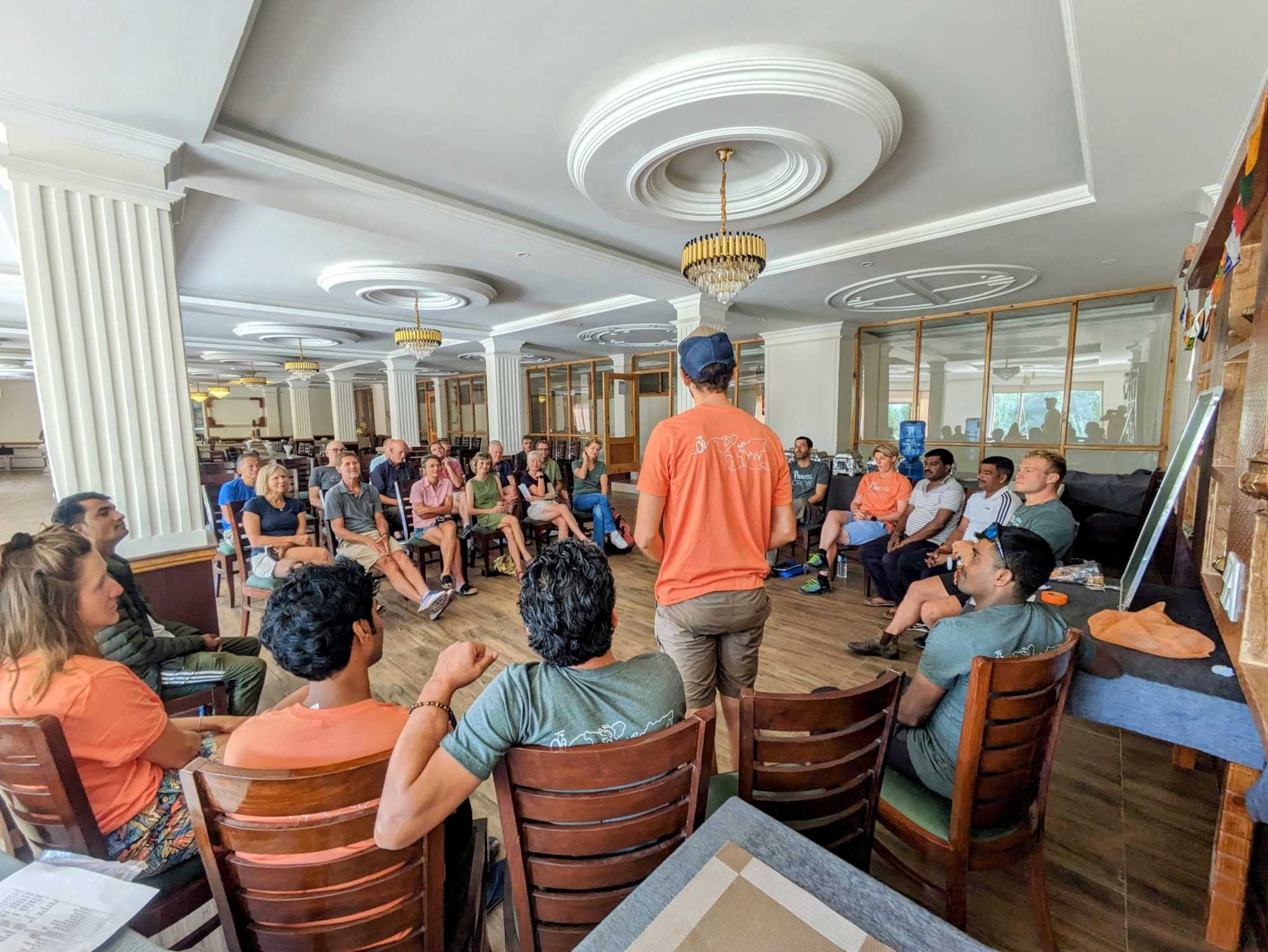 Tour Medic Sam explained that as altitude increases, atmospheric pressure decreases and the air becomes 'thinner', but the relative percentage of oxygen in the air (21%) remains the same. Air pressure is very important for the transfer of oxygen from the air into the blood during respiration. The reduced partial pressure of oxygen at high altitude leads to an overall state of hypoxia (low oxygen) in the blood. The body will attempt to compensate for this through various different mechanisms as part of a process referred to as 'acclimatization'. If, however, ascent to high altitude is too rapid or if an individual fails to adapt, then altitude illness can develop, which in serious cases and if left untreated, can be fatal.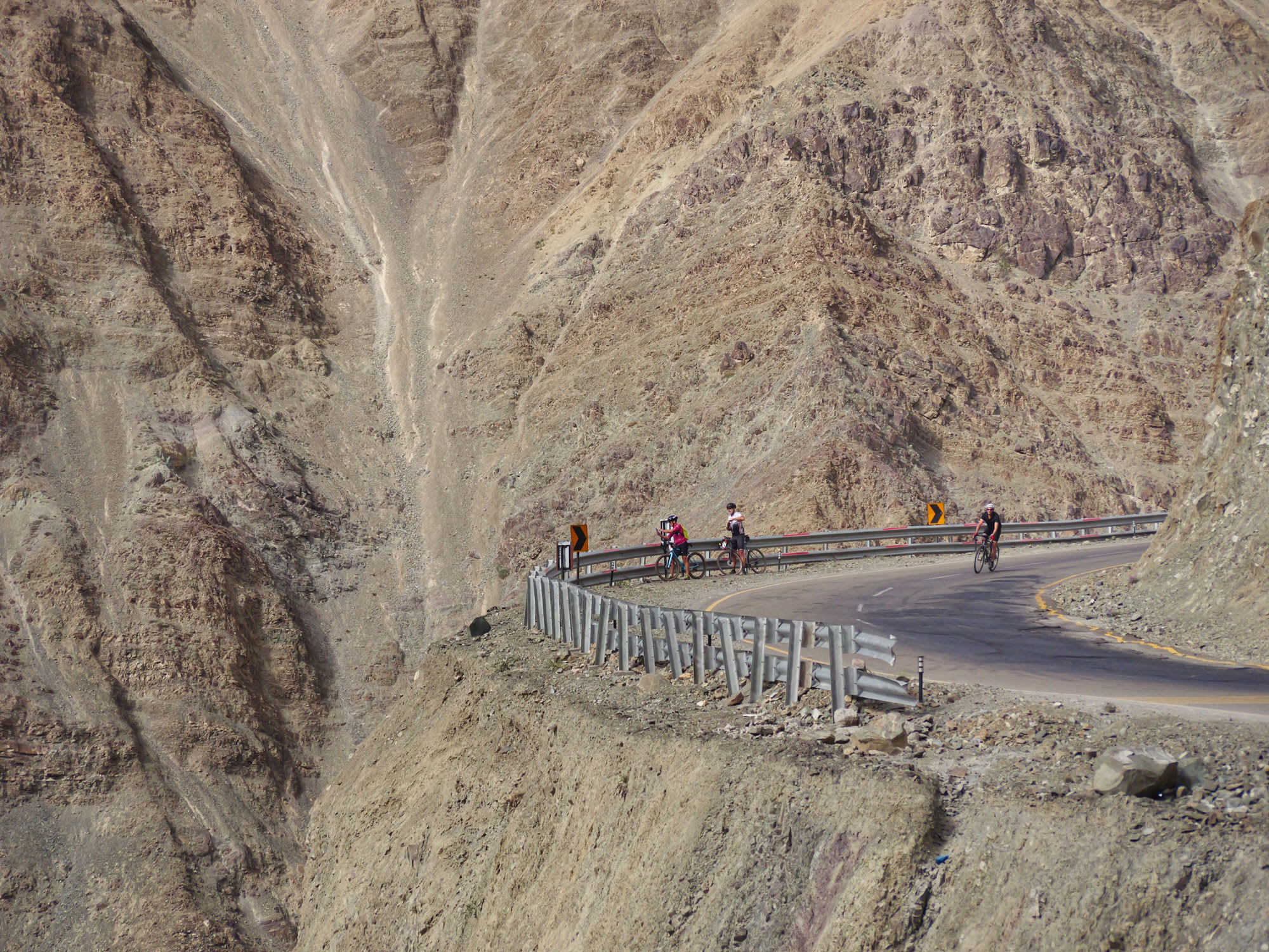 "The TDA Trans-Himalaya is quite a unique tour, in the sense that we start the tour with two rest days," states Tour Leader Sam Roy. Leh sits at around 3500 m and it is no mean feat to step off a plane that high up after stepping onto it around sea level. A couple of days of acclimatization before hopping on a bike are absolutely essential on this tour. "The first riding days on tour also function as 'warm-up' days," says Sam, "as the route going out of Leh immediately goes over extreme high altitude passes like the 'Tanglang La', we decided to first transfer to Mulbekh. From where we ride almost 180 km over three days, cruising up and down between 3000 m and 4000 m."
>>Related Post: Cycling At High Altitude
These first stages aren't just to get used to cycling at altitude, but also to warm up everyone's climbing legs. With some spicy passes just out of Mulbekh like the Namikala Pass and the Fotula Pass, 'warming up' really is a relative term. We are in the Himalayas, after all. A flatter stage two rolling down out of Lamayuru and following the Indus River to Uletopko, brought some relief while still keeping the legs busy. The third day,riding back into Leh, then increased the elevation gain again to almost 1400 m of climbing in 68 km.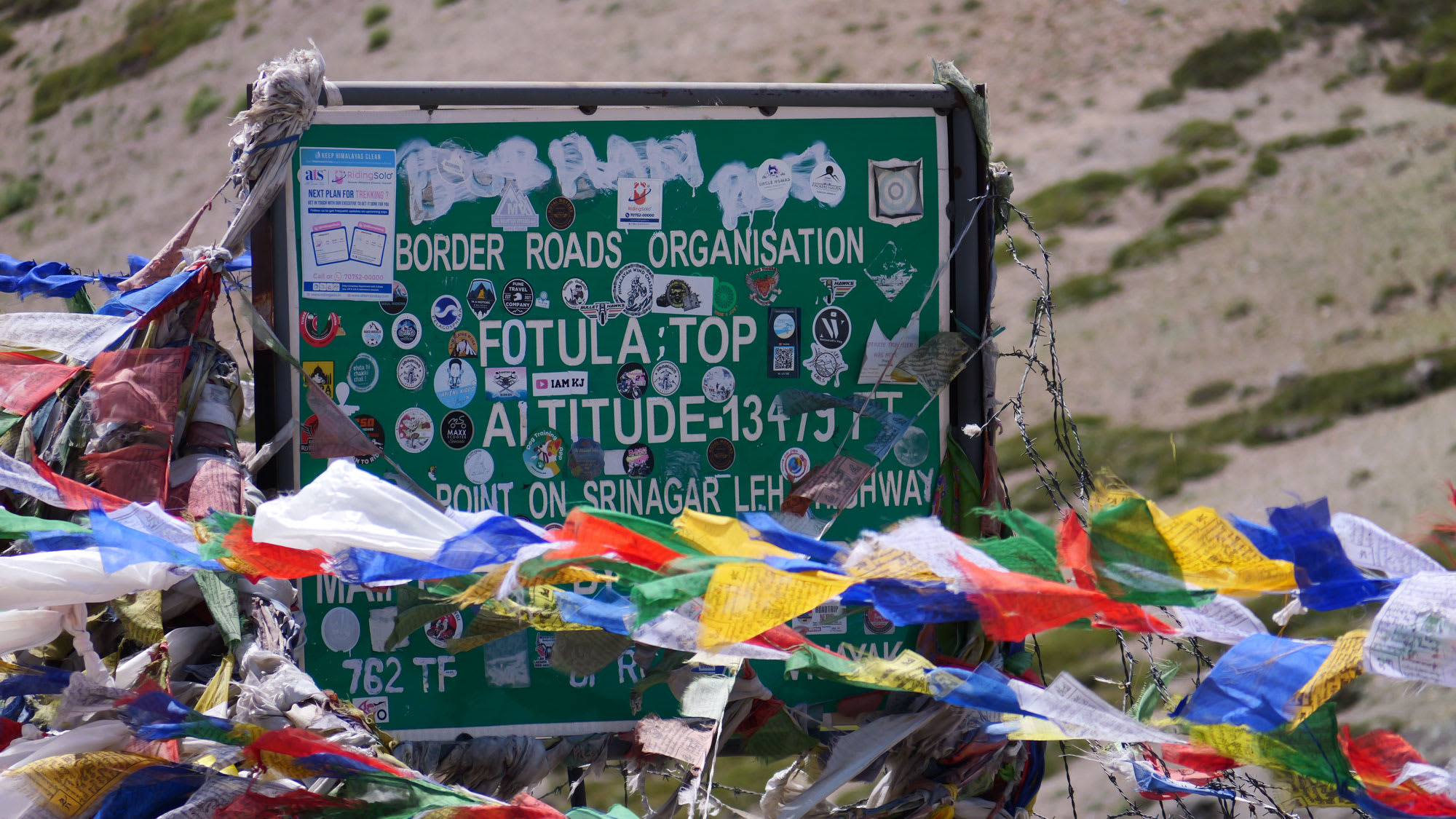 As you may already gathered, riding on the roof of the world is a challenge. And it's noticeable from the get-go. Throughout the acclimatization days and the warm-up riding stages, all sorts of little ailments appeared with both riders and staff, some more serious than others. There is some research that suggests the high altitude also affects your immune system, and you become much more susceptible to all kinds of illnesses. After a couple of weeks, almost everyone on tour has had either a coming together with the altitude or with something that rider Frank adoringly nicknamed 'Delhi Belly'. Tour Leader Sam translated a different expression from his native Quebecois into English, "tasting the spice twice!"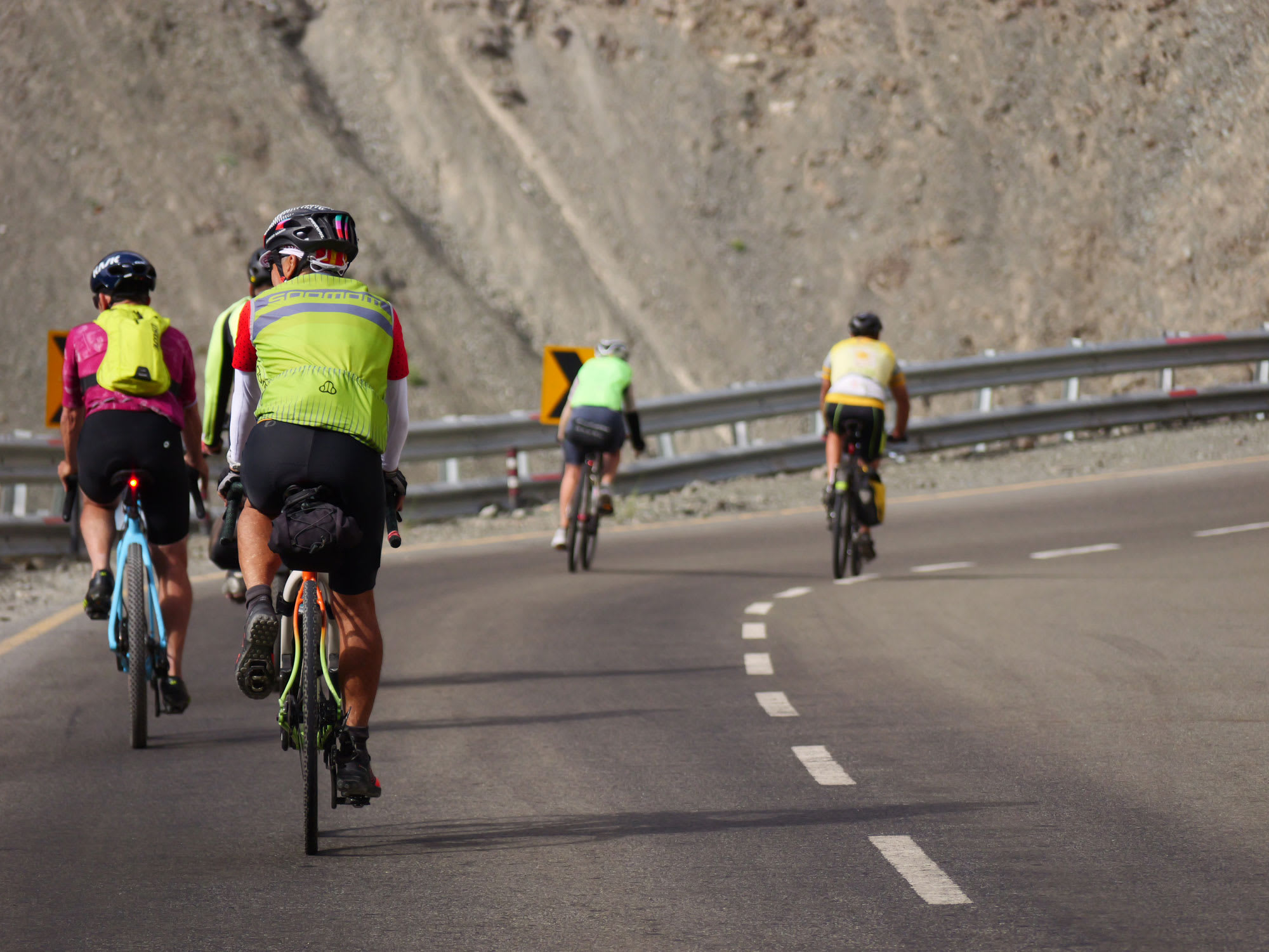 Going into the first real rest day of the tour back in Leh, most riders and staff have recovered and come back to something close to full strength. And all for the better, as the biggest challenge with the Himalayan heights comes in the second riding stretch of the tour, riding out of Leh towards Manali. On stage five, the riders tackle the iconic Tanglang La Pass, the highest point of the tour: a whopping 5330 m. Cycling over high altitude passes is not without its risks, says Tour Medic Sam. At the TangLang La Pass, the partial pressure of oxygen equates to approximately half that of sea-level. This stage is tough and riders will almost certainly feel the effects of the altitude. The Tour Medic is there to provide a level of surveillance for the signs and symptoms of altitude illness and to provide prompt treatment if necessary. The tour vans are each equipped with bottled oxygen and will be used to evacuate riders to lower altitudes in the event of any altitude-related emergencies.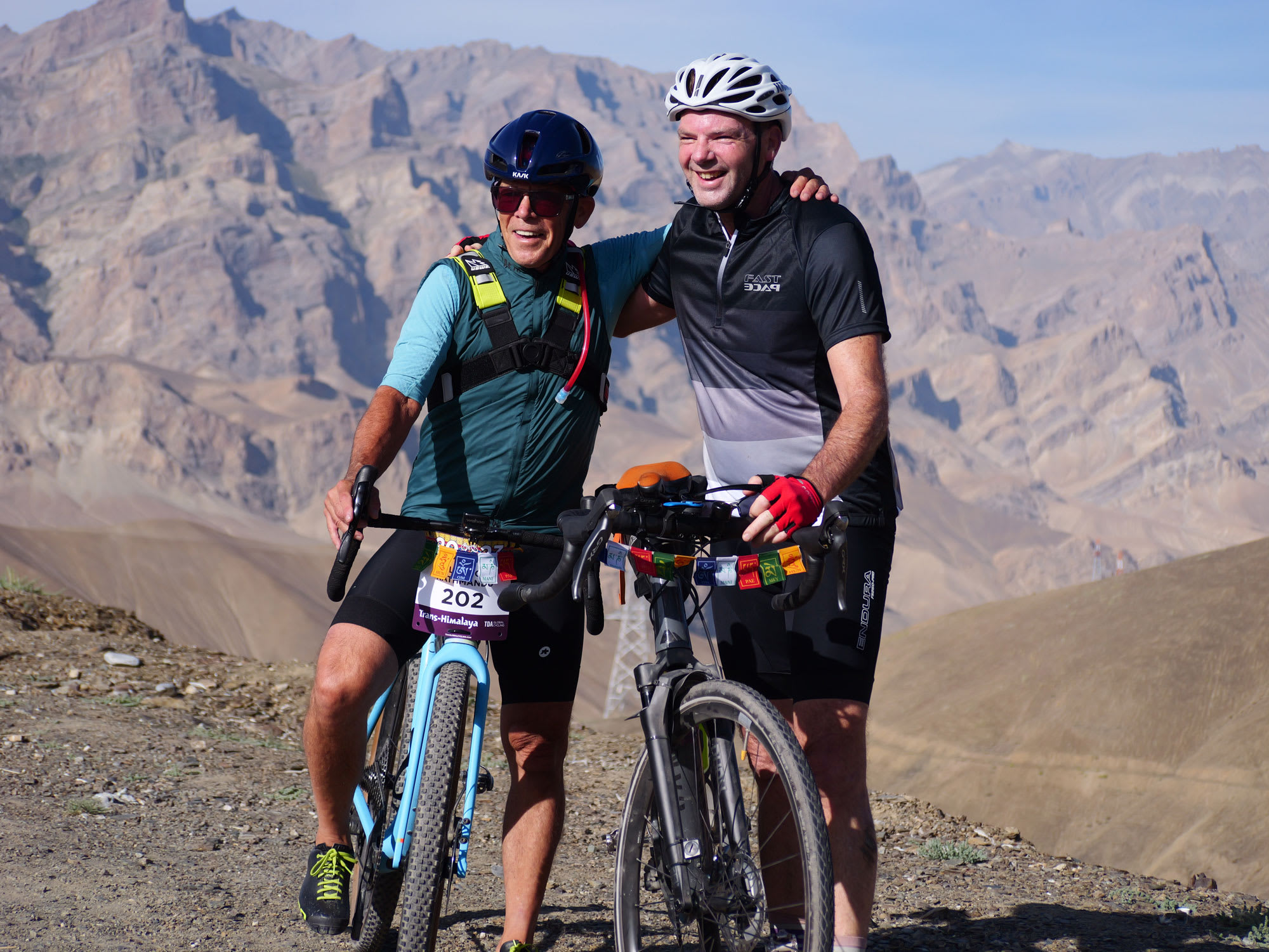 To change your attitude essentially means, be humble, something the Ladakh area is steeped in, thanks to its strong ties with Tibetan Buddhism. Listen to your body, and to what it is trying to tell you. Leave your ego at sea level, because the Himalayan mountains won't be kind to it. They will crush you if you are unwilling to accept that life will be just a bit different at this altitude. You don't have to leave that new found attitude behind in the mountains, you can take it with you wherever you go. If you're able to live by these rules, respect your body and listen to its wants and needs, the Himalayas can truly become your backyard playground. Because there is truly nothing as fulfilling as riding a bike through this breathtaking landscape.
RELATED
TOUR
Trans-Himalaya
This ride will take cyclists from Leh in Ladakh, India to Kathmandu in Nepal. Along the way they will pedal over passes as high as 5,000m, spin past...