Blog
REGISTER NOW
LOGIN
SIGN UP FOR OUR NEWSLETTER
Bicycle Friendly Business Awards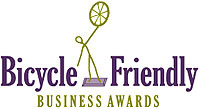 Tour d'Afrique is the proud sponsor of the 2011 Bicycle Friendly Business Awards (BFBAs).
In our 5-person office, none of us drive a car so adequate bike storage has been essential for us. Bicycles have always been a huge part of our business culture and we are happy to support the awards that recognize other businesses in our city that share the desire to make biking to work more than just possible. They make it practical and enjoyable.
From the BFBAs webpage:
The Bicycle Friendly Business Awards are given out every year to businesses and organizations across Toronto who are making an effort to encourage their clients and employees to cycle. Previous award winners have proven their commitment to cycling through a variety of initiatives such as providing secure bike parking, shower and change facilities, and offering economic incentives for employees who cycle to work.

The awards recognize that the more people ride their bikes, the more we will notice a reduction in traffic congestion and pollution, making Toronto a greener and healthier place to live, work, and play.
Do you know a Bicycle Friendly Business?
To nominate a Toronto business that you know would fit into one of the awards categories, simply click here and fill in the short form. But hurry! Award nominations close September 12.
For more information on the awards, and the upcoming awards dinner, click here.