Blog
REGISTER NOW
LOGIN
SIGN UP FOR OUR NEWSLETTER
This man is a Genius!
One of the first questions that many people have upon joining on of our expeditions is "How is the food?"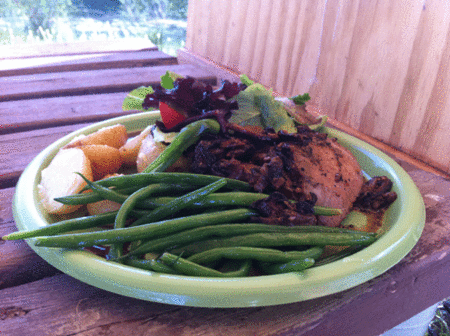 We have been incredibly fortunate to have hired some absolutely amazing chefs. Their life is not easy – sometimes venturing into markets in the middle of nowhere and continually feeding dozens of hungry cyclists with only the most basic resources. They truly are amazing and the riders always make note of this in their post-expedition surveys.
This summer the North American Epic was lucky to have Chef Jon Shepheard along to make their meals. Jon had previously worked on our trips in Europe and Africa.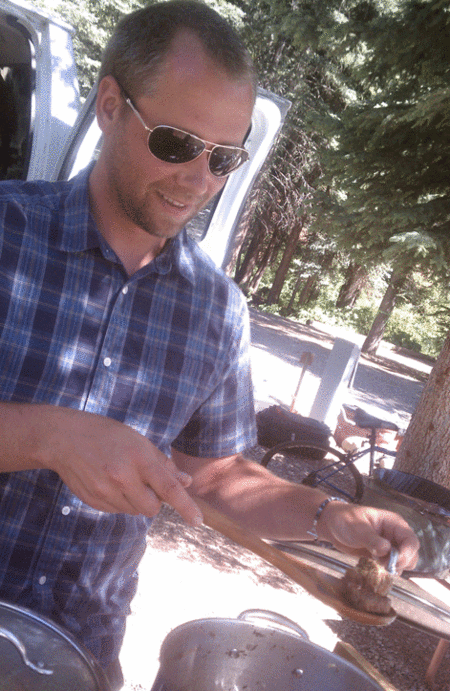 Using just a couple burners…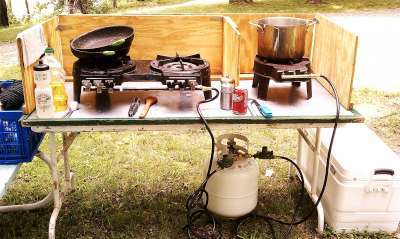 …and a small space in the support vehicle…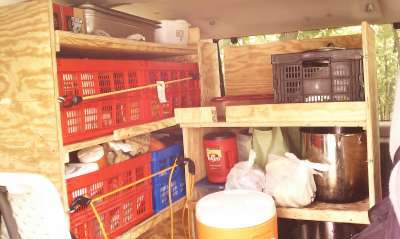 …Jon was able to produce some absolutely spectacular meals, almost out of thin air.
Dinner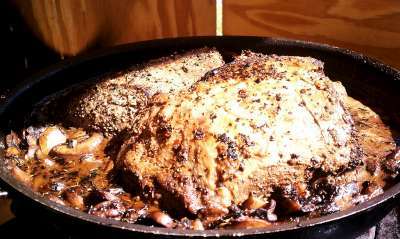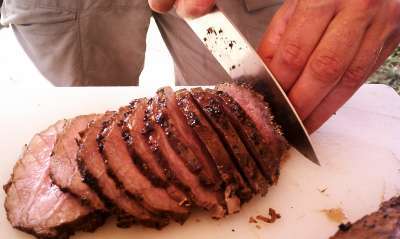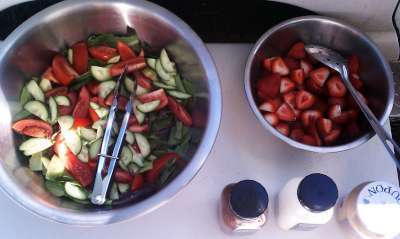 And breakfast.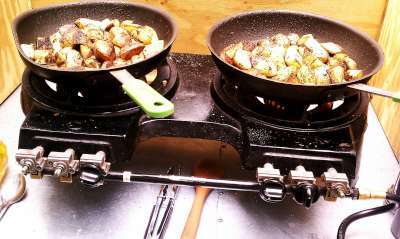 So if you are thinking or signing up for a ride with us, you will not have to worry about the food!
Jon (pictured below in Arizona) encourages you to try out his recipies that follow…but you may want to start in the comfort of your own kitchen. Bon Appetit!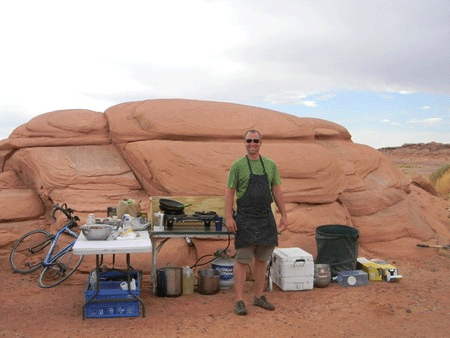 BBQ beef ribs with baked lentils- for 4-6 people
2 ( racks) beef ribs
200 g. dry lentils
Bbq sauce
Celery, onion, carrot, whole garlic
Bay leaves
Sage
2 pieces bacon
2 L beef stock
Salt and black pepper
Cut ribs along bones and sear ( in pan or roast in oven) until brown. Boil with with celery, onion, carrot and garlic in beef stock ( add water to cover) until beef is tender but not quite falling off the bone. Allow to cool completely in broth, strain( reserve beef stock to cook lentils the following day) and marinate in bbq sauce overnight. Grill or roast in hot oven ( 450 F) to reheat.
Soak lentils in water overnight. Simmer in beef broth with vegetables ( cut large to be, removed when donec cooking lentils), garlic, bacon and sage. Liquid should reduce and thicken while cooking. Transfer to baking dish and cover with grated sharp cheddar. Bake until brown.

Braised lamb with pinto beans – for 4 people
2 lbs. lamb shoulder or leg, cut into 1 inch cubes
½ lb. dried pinto beans, soaked in water overnight
2 small onions, 1 carrot, 2 celery stalks, all diced
4 cloves garlic, grated
1.5 tsp. each dried rosemary, mint, ground coriander seed
1 cup tomato paste
2 cups red wine
4 cups beef stock
Salt and black pepper
Season lamb with salt and pepper. Sear in heavy pot in vegetable oil until well browned. Reduce heat, add onions, celery and carrot and continue to brown vegetables. Add garlic, herbs and tomato paste and continue to brown, letting tomato paste caramelize. Add red wine, beef stock and beans and bring to low simmer. Cover and let cook 2 hours or until lamb and beans are tender, season with salt at the end. Serve with fresh bread and buttered vegetables.
Coq au vin – for four people
1 whole chicken
1.5 L red wine
4 ribs of celery
2 large onions
2 carrots
1 bulb of garlic
100 g. bacon
200 g. mushrooms
1 small bunch of thyme
4 branches of rosemary
Salt and pepper to taste
Cut chicken into 8 pieces, cut vegetables large dice, cut garlic in half horizontally, quarter mushrooms.
Season everything, roast in oven at 400 F until well browned.
In pot render bacon, add wine and herbs and bring to simmer. Add chicken and vegetables and simmer until tender ( about 90 minutes). Let cool overnight. Reheat and serve with buttered egg noodles.
Fresh mozzarella tomato pesto salad
4 ripe tomatoes
1 container ( ball ) of fresh mozzarella or mozzarella di bufala
1 cup of artichoke hearts
½ cup of pitted Kalamata olives
3 tbsp. basil pesto
100 g. arugula
Salt and black pepper
Slice and season tomatoes and place on plate. Toss together in a bowl artichokes, arugula, olives and half of the pesto, arrangeon top of tomatoes. Sice mozzarella, place on top of salad, season, and garnish with remaining pesto.
Guacamole
6 ripe avacados
Juice of 2-3 limes
3 green onions, green part removed and white part finely diced
Olive oil
Jalapeno pepper, diced
Salt
½ cup of chopped cilantro
Making guacamole is really just a matter of balancing the salt and acidity of the lime juice. You could process it in a food processor if you like it more smooth, or mix it in a bowl with a spoon like I would. Start by dicing the avacados, adding half the lime juice, salt, and continue to add both until the two are balanced but not overpowering the avocado too much. After that is done add the cilantro, green onion, a bit of olive oil, and jalapeno.
Roast rockfish with orange and lime marinade
For 4 people
4- 6 oz. filets of rockfish or other white fish
For marinade-
Juice and zest of 8 oranges and 6 limes
1 tsp toasted cumin
1 clove grated garlic
1 bunch cilantro
1 bunch green onion
Salt and black pepper
Sear fish on one side in a pan until golden brown. Flip over and add marinade cover, shut off heat and let finish cooking in warm pan ( 5 minutes). Add chopped cilantro and green onion. Serve (with some of the marinade) over rice, quinoa, couscous, or salad with avocado.