Blog
REGISTER NOW
LOGIN
SIGN UP FOR OUR NEWSLETTER
Dirt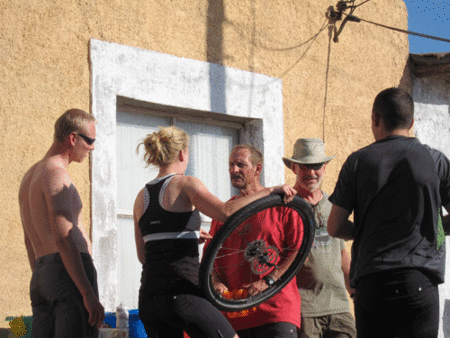 It will never cease to amaze me the distance that can be covered by a strong group of cyclists over a day, a week, or a month. Countries and continents are crossed with the simple combination of determination and teamwork. Every stretch has it's own pains and pleasures; the challenges are always changing, the pleasures unpredictable. From the beauty of a mountain top sunset, to the joy of a simple conversation in a foreign tongue; everyday is different, every experience unique.
"It feels like we've finally left" Jason Gannon commented as he crested the final hill to reach camp on our first day out of Cordoba. Many echoed the same sentiments. The stretch from Buenos Aires to Cordoba was vaguely familiar; the climb into the Sierra Chicas was otherworldly.
The last few days into San Juan have had multiple challenges; loose gravel and sand, intense heat, and relentless wind. The wind has been a real wild card each day. It usually manifests as a cross or head wind during the day, testing the will of even the strongest riders. During the evening it refuses to settle down, testing our tent securing abilities.
Our rest day here in San Juan has provided the much needed rest for all. The little town, in the heart of wine country, boasts the succulent meat, and bountiful wine that we've come to expect of Argentina. We rested, we ate, we drank, and now we're ready for all the surprises that lay in the week ahead. Next stop Santiago!