Blog
REGISTER NOW
LOGIN
SIGN UP FOR OUR NEWSLETTER
Iran without a map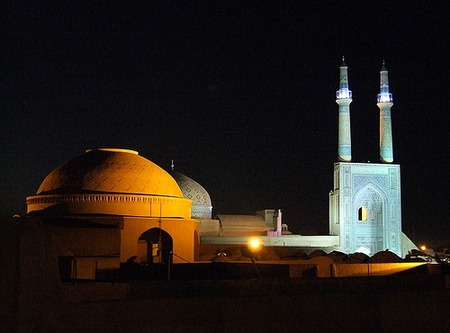 The Silk Route 2012 heads to Iran. This is a country that gets no shortage of press, mostly bad press, and often deservedly. It's also a country where if you just happen to go on a road trip without a map the people of the country will guide you wherever you need to go. You're in hospitable hands.
My last time in the country was 2008 and it was on very short notice that I had to drive from Turkey to Turkmenistan through Iran. I was lucky to get a visa in one day, which unlike most countries consulates I was able to get by simply telling the Iranian staff there "I really need it". O.K., there was a little bit of pleading on my part as well but they gave me a 5 day transit visa and off I went.
My wife and I drove the big blue TDA Mercedes Sprinter to the border where the ominous photo of the Ayatollah Khomeini stares out from the Iranian side. The border crossing was a formality except for trying to explain why Mr. Tourdafrique wasn't with me. The carnet (the Mercedes "passport") only states the companies name and not the drivers name, and the Iranians weren't sure of this at first and demanded to meet the driver Mr. Tourdafrique. After a bit of explaining all was well and off we went.
Our first destination was the gas station. Cars line up, never turning off the engine, filling up one after the next, when it was my turn I filled up the 70L tank and amazingly the price was equivalent to about 25cents.
We continued east towards the city of Tabriz, which we'll be stopping at during our ride through Iran. It's a city where you hear the Azeri Turkic language as much as Persian. The old bazaar in town is a UNESCO World Heritage site.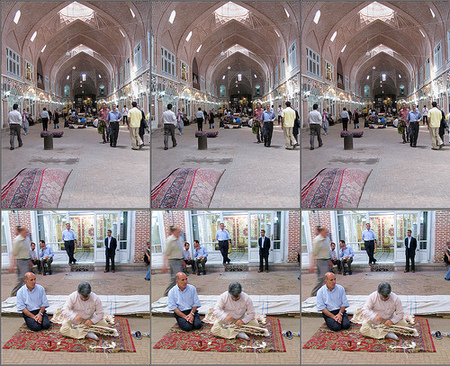 Flickr photo by Shahrokh Dabiri
Regardless of it's designation it's an amazing place to wander through and investigate all the myriad sweets available in this country, as well all the saffron imaginable, rugs, hats, shiny shoes, flashy bags and of course the nuclear scientist looking trench coats that most of the women wear. My wife had already picked up one of these in Turkey to wear while in Iran, the funny thing was hers' was orange so the Iranian women gave some smirks; orange passed muster with the morality police but the fashion police weren't so sure.
On the topic of the dress code, many women you see are completely covered head to toe, but you see even more who are dressed stylishly. Their headscarves tied loosely much as Hollywood starlets like Audrey Hepburn would wear, bangs showing in the front with sleek sunglasses creating a discreet look. Jeans under their trench coats and bright red converse shoes to top it off. Of course cycling as a woman is a whole other story, but it's more than possible; here's a great blog from some female cyclists that traveled in Iran recently.
Our journey towards Turkmenistan continued from Tabriz and it was not too difficult for us to find the main road heading towards Tehran. This would be a good time to mention that indeed, we had no map of Iran with us. In our haste to depart we had no time to locate a map and so off we went regardless.
The main road to Tehran was in decent condition, big shoulders and not too busy when not near one of the large cities. It's the same road we plan on cycling during the Silk Route and the wide-open desert will provide no shortage of camping options.
Our plan was to drive the ring road around Tehran and then head a bit more east before heading north towards Turkmenistan. We figured that by keeping the mountains to our left and seeing the sun setting in the rear view mirror we'd be fine for a while. Oddly enough though the ring road led us into the center of Tehran, which it's fair to say is a city with a traffic congestion problem. Toronto Mayor Rob Ford would be happy to know there is no "war on cars" in Tehran.
With no idea how to get out of the city in the direction we needed to go we stopped for pizza. It wasn't long before someone with a little bit of English heard our dilemma and agreed to guide us out of the city by following him on his scooter. He weaved between cars and took quick turns this way and that, while we followed him with the large Van. Without too much pain we reached the Northern edge of the city and began driving into the Alborz Mountains and towering Mt. Damavand.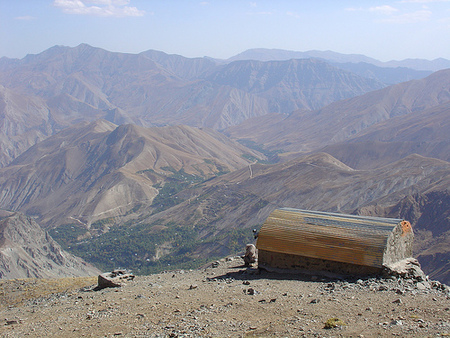 Flickr photo by Ensie & Matthias
Driving over the mountains went smoothly, and as we descended towards the Caspian Sea everything changed from desert colors to the lush green feel of the tropics. The population increases dramatically along the Caspian, the road skirts along endless villages with agricultural plots fitting in anywhere they can. Including more rice fields than I'd seen since being in southern China.
Driving late into the night we lost our way and ended up driving on smaller and smaller roads, without the sun it was challenging to even tell if we were heading east. The land was busy with agricultural workers even at the late hour and the light from our van showed more dust, brought up by all the tractors and workers by the road, than anything else. I stopped multiple times to ask where I was and to see if they could point me towards the town of Sari where we were trying to get to. Each time I would stop a throng of people… throng being defined as more than 20… would come to me and point in all different directions, try to give us food, stare at the Slovakian license plates on the van and generally try to help. Eventually we found our way to the town, totally exhausted and amazingly found a place to park in the crowded street by a hotel.
The final leg of our transit through Iran was possibly the most interesting. Driving through Golestan National Park, I can't say I saw much wildlife, but there were hundreds of Iranians camping there, enjoying family holidays. Unlike other Middle Eastern countries Iranians love to camp, almost as much as they like to drive fast (but that's another story)
After making our final turn north towards Turkmenistan at Quchan, the road became rougher and lonelier until we were in the mountains separating Iran from Turkmenistan. Here in the total darkness we came upon a group of Iranian pilgrims roadside that had lit enormous bonfires and were dancing all together. After not seeing a road sign for hours and getting lower on fuel we had a tad feeling of uncertainty about our direction. It was just after this that I used our satellite phone to give my colleague Shanny a call in the Toronto office to see if he could look at a map for me and tell if maybe I'd taken the wrong road. Luckily we were most likely on the right road and sure enough another hour or so and we were at the Turkmenistan border where we stopped for the night.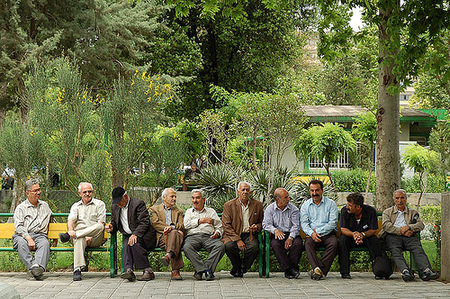 Flickr photo by kamshots
What I haven't explained fully in this piece was the hospitality of the local people along the way. In the 3 days it took us to drive across the country; we never paid for a meal, we were invited as guests to peoples homes for the night every time we stopped (which we had to pass on due to the speed of our transit) we were escorted multiple times to the correct road we needed to be on, one man led me by the hand all over the town of Gorgon trying to find a map which we did not succeed in but his energy and pride in helping me was more than enough.
To conclude, the best recipe to get a grasp on contemporary Iran is to not focus specifically on news of its' governments doings, but to enter the country and explore it's varied lands and warm people. Of course, I can only suggest a great way to do this is on your bike next summer!