Blog
REGISTER NOW
LOGIN
SIGN UP FOR OUR NEWSLETTER
Arrow Web Hospital Helps 76,000 People a Year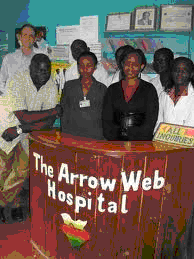 Arrow Web Hospital has come a long way since it first started as a two room clinic in the slums of Nairobi in 2005. A lot has changed and unfortunately some things have not: they were the only provider of affordable health services in Africa's 2nd largest slum back then, and they still are today.
A bit of History
In 2005 when Arrow Web first opened its small two room clinic they were the only provider of affordable care in Kibera, a 2.5 square km slum in Nairobi that is home to more than 250,000 people.
In 2005 Arrow Web treated 3990 patients. By 2010 they had moved to a 20 room hospital and treated 76,643 patients! They also added a dental clinic, eye care clinic and pharmacy to their services. They also began to realize that no one hospital was big enough to assist all the patients in the catchment area. They needed an outreach program that could provide basic health care services by visiting people in their homes.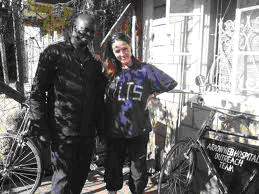 How We Got Involved:

In 2009 Rebecca Cherono, managing director of the Great Rift Valley Development Association, recommended we donate bicycles to Arrow Web to help support their newly created outreach program. In 2009 we donated 15 bicycles to Arrow Web. It was also the first time I would meet Bram Simiyu, co founder and project coordinator at Arrow Web, a man who continues to impress me with his dedication to this day. That year Arrow Web's outreach workers assisted 9561 people though the delivery of medicine, health education and basic health services to the people in Kibera. In 2010 we donated 20 more bicycles to to the program and Arrow Web's outreach volunteers increased their reach to assist 24,745 patients in their catchment area!
Though majority of the credit goes to Bram and his team at Arrow Web, we are very proud to be a part of their success.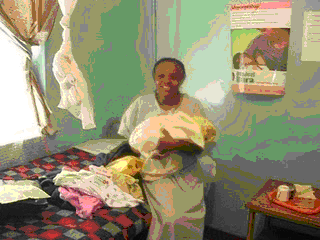 How You Can Help:
By raising funds for the Tour d'Afrique Foundation you are helping us support the efforts of organizations like Arrow Web. But of course the hospital needs more than just bikes. If you'd like to contribute to Arrow Web Hospital directly to support the activities of the hospital you can do so by visiting the website listed below.
Related Links:
Donate to the Tour d'Afrique Foundation:
Help us provide more bikes to Health Workers in Africa, visit our donation page.
Learn More About Arrow Web Hospital:
Arrow Web Website: http://www.arrowkenya.org/index.php
Friends of Arrow Web blog: http://arrowwebhospital.blogspot.com/