Blog
REGISTER NOW
LOGIN
SIGN UP FOR OUR NEWSLETTER
Explore Venice's top sights, James Bond-style
Visit Venice on the Trans-Europa bicycle expedition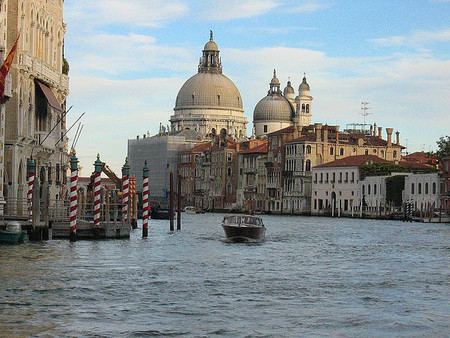 Venice
is renowned for being one of the world's most beautiful cities, so it's no surprise that it pulls in millions of visitors each year. As you explore its canals and alleyways during your Trans-Europa tour stop, you'll be surrounded by couples enjoying romantic getaways, sightseeing backpackers and excited history buffs, all enjoying the sights and sounds of this extraordinary tourist destination.
Of course, Venice receives its get fair share of famous visitors, too. Film stars, sporting icons and politicians could be mingling in the crowd somewhere close by – and the world's most famous MI6 agent might even be on hand. James Bond appears to be a huge fan of the city, having visited it no less than three times during the course of his movie adventures. So why not add an extra dimension to your exploration by following in the footsteps of Sean Connery, Roger Moore and Daniel Craig? Here are five of Bond's favourite Venice attractions to explore.
1. Piazza San Marco (St Mark's Square)
Given that it appears at the top of almost every "top attractions in Venice" list and is packed with tourists, you'd think Bond villains would want to avoid showdowns in Piazza San Marco. Not so. In Moonraker, the evil Drax is foolish enough to locate his mysterious glassworks just off the square, with Roger Moore's Bond turning up to investigate in a bizarre hover-gondola which glides across the square itself. You can see the front of the glassworks for yourself, on 314 Piazzetta dei Leoni, although it's actually just a shop rather than a full working factory. Bond's love interest Holly Goodhead conveniently stays nearby, at the Hotel Danielo on Riva Degli Schiavoni.
For more traditional tourists, it's worth returning to the Piazza San Marco in the evening, when many of the nearby shops close and the throngs of tourists subside somewhat. Clever lighting ensures that St Mark's Basilica and clock tower look even more stunning that during the daytime, and live music often adds to the atmosphere.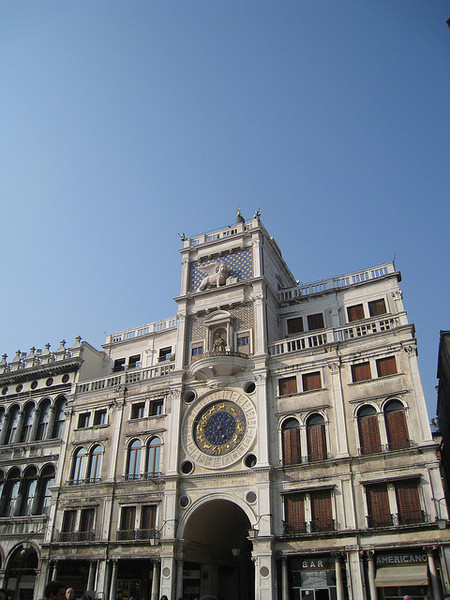 2. Torre dell'Orologio (St Mark's Clock Tower)
Not content with creating a scene in the Piazza, Moore's Bond goes on to fight Drax's henchman, Chang, behind the clock face of Torre dell'Orologio. The interior used in the movie was actually a studio set, but it's still worth taking a guided tour to see how to the clock really works. Renovated in 2007, the tower was designed in 1496 and is one of Venice's oldest monuments. As well as telling the time, the clock also displays the phases of the moon and the zodiac signs, and is one of the Piazza's most-photographed attractions.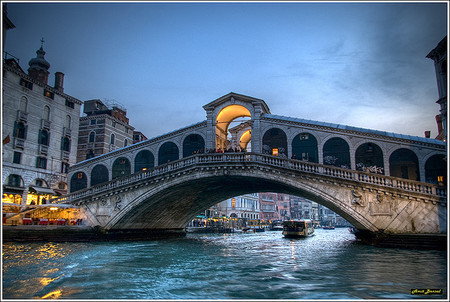 3. Rialto Bridge
The Rialto Bridge is the oldest of the four bridges that span Venice's Grand Canal, with the current version having been completed in 1591. Its beautiful design features a central portico, adjoined by two inclined ramps. The southern walkway is typically the most crowded, but it offers the best views so it's well worth elbowing your way to the top.
Being one of Venice's most iconic structures, it's no surprise that the producer's of Daniel Craig's first Bond outing, Casino Royale, found a way to work the bridge into the dramatic scenes that take place towards the end of the movie. It's likely that your experience will be slightly different – there'll be significantly more boat traffic (the filmmakers were able to temporarily halt it), and hopefully you won't find yourself underwater following a catastrophic building collapse nearby.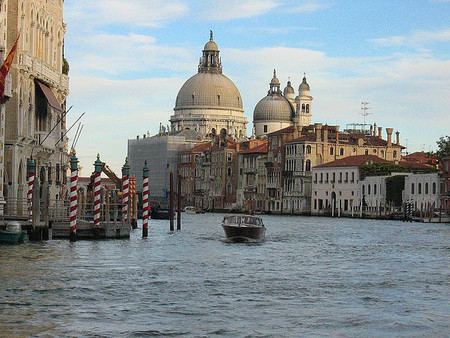 4. Grand Canal
No trip to Venice would be complete without a trip down the Grand Canal, whether it's an affordable journey on a Vaporetto (water bus) or a pricier cruise in a gondola. As well as admiring four stunning bridges, you'll also be able to appreciate the extent of Venice's incredible architecture as you float by. The No. 1 Vaparetto is a good option for exploring the canal – you can catch it from the railway station, in the direction of Piazza San Marco. Again, it's much quieter in the evening, and most of the sights are floodlit.
James Bond himself has taken a number of trips down the Grand Canal, some more leisurely than others. You might like to picture Sean Connery floating by with the exotic Tatiana in From Russia with Love – or you may prefer the image of Roger Moore zipping past in a high-tempo chase sequence from Moonraker.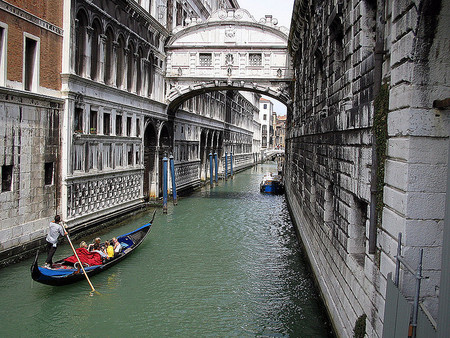 5. Bridge of Sighs
Looking for a fitting end to your Venice trip? Follow Connery's lead and end your visit by seeing the Bridge of Sighs. The enclosed bridge, which has been copied in numerous other cities around the world, was built in 1602. Its original purpose is somewhat depressing – it was used to lead convicts to a prison, and the name derives from the sound they would emit on passing over it. Local folklore is somewhat more positive, though, and it's said that if you kiss on a gondola at sunset under the bridge, you will be granted everlasting love. It may not have worked for Bond and Tatiana, but why not give it a try?
Although it can be busy, one of Venice's best features is that many of its better attractions are free to view or enter, including several of those listed above. Who says you need millions to live like an international man of mystery?
Nick Sim is a travel fan and writer based in Ipswich, England. When he's not watching too many bad movies, he can be found covering news and reviews from UK theme parks.
Image sources
Piazza San Marco.jpg – xiquinhosilva http://www.flickr.com/photos/xiquinho/3499633141/  
St Mark's Clocktower – midnightglory http://www.flickr.com/photos/midnightglory/2318715131/  
Rialto Bridge – ZeHawk http://www.flickr.com/photos/lastgunslinger/3354205233/  
Grand Canal.jpg – Saitor http://www.flickr.com/photos/saitor/2224975903/  
Bridge of Signs – justinls http://www.flickr.com/photos/aspengull/23126267/