Blog
REGISTER NOW
LOGIN
SIGN UP FOR OUR NEWSLETTER
Our Bike in Africa
This is the first in a series of reports from our bike in Africa – Cinelli. More to follow. We hope you enjoy them…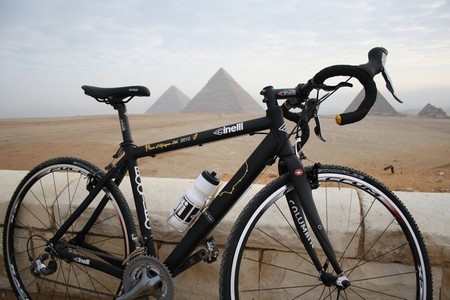 I had always dreamed of visiting the pyramids. Growing up in Italy I found myself yearning for distant lands, when the opportunity came to join the Tourd'Afrique I rolled right into it.
Flying to Cairo in the cargo bay was a bit scary, and cold, but when we touched down it was warm and hectic. My first stop was the customs office where I was held up for days and interrogated for long hours. Finally Mr. Brian, my savior, bailed me out, not only did he do this for me but he would also be the one pedaling me through Egypt!
Not to get too far ahead of ourselves; the picture above is me at the Pyramids in Giza. It was a crisp morning and I'm very photogenic as you can tell.
The roads in Egypt are similar to home, Mr. Brian steered me everywhere I needed to go and made sure I arrived in camp each night safe and sound. The other bikes aren't as pretty as me but they have their merits, I usually got locked up for the night with a few of them and we'd chat about what adventures the next day might hold in store for us. At this point, the adventure continues and we have entered Sudan!