Blog
REGISTER NOW
LOGIN
SIGN UP FOR OUR NEWSLETTER
Chef Jon in the Sudan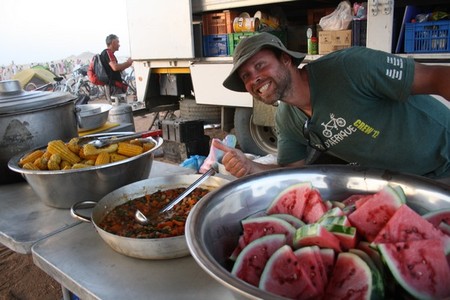 Looking back, some Tour d'Afrique riders admit they were quite happy to leave Egypt behind and enter the Sudan,
Ian Pindler, an Englishmen on board the tour, ponders the differences between Egypt and Sudan:
Egyptian:
"Come to my house for a coke. I have a big banana. It is cheap… I pay £5 but for you very cheap price £20. You want food. Lunch is £40. OK only £30. You take my picture, that's only £100 Thanks for coming, I'll show you the way out via my friends shop!"
Sudanese:
"Hello, come in to my house, make yourself welcome. How about some lunch? Please take a picture of my family, and our Mosque.
Have a nice day!"
Scotish rider Jonathan Cowan agrees:
"The reception at Sudan customs was unexpected and not like any other cross border arrival I have ever experienced. There was music and some rhythmic swaying (rather than dancing). Two musicians banging out a beat and four men versus four women chanting and singing. Best welcome into a country I've ever had. The customs officers were ultra-chilled. 'no problem!' was the cry. When someone tried to take one officer's photo he smiled, laughed, and wagged his finger, then pointed to his uniform and said something like, 'what are you trying to do to me?' heh heh?' In Egypt we seemed to be getting through the country as fast and un-entangled as possible, always avoiding something; kids throwing stones, kids screaming baksheesh, adults expecting baksheesh, trucks, camels, donkeys, cars, tuk-tuks… In Sudan that has all stopped and it's about interacting rather than avoiding. The country is very hard to get into but it's worth the effort."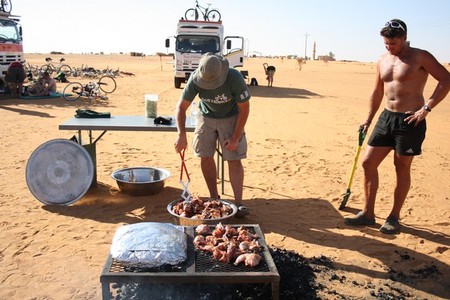 Here are some of the dishes Chef Jon cooked up in Sudan.
Braised Wadi Halfa Lamb with Okra
15 K lamb leg and shoulder, cubed
3 K okra, each piece chopped in 3
3 L tomato paste
1/2 cup coriander seed
1/2 cup dried rosemary
1 cup chopped garlic
2 tbsp fresh chilies
3/4 cup salt
1/4 cup cracked black pepper
1/4 cup fresh chili peppers, chopped
The preparation for this is simple; throw everything in pot except for okra, bring to a boil, reduce to low heat and cover. Simmer for 2 to 2 1/2 hours until meat is tender. Add okra during the last 1/2 hour of cooking.
Serves 70
"This turned out really well. I served it with vegetable lentils (8 Kg lentils with 8 Kg vegetables), Greek salad. And caramelized bananas for dessert. I bought the lamb from a butcher in Wadi Halfa who cut it with a hatchet on a tree stump."
Greek Salad in the desert
15 Kg tomatoes, washed and chopped into chunks
4 red onions, finely sliced
3 Kg poblano peppers (mild green peppers ), sliced
4 cups red wine vinegar
1/2 cup salt
4 cups olive oil
2 Kg green olives, whole
4Kg feta cheese  or something similar )
In large bowl whisk together olive oil, salt add vinegar. Add the rest of the ingredients and toss. It would be better with some chopped Italian parsley or Arugula. People can't get enough of this salad, or any food or drink for that matter.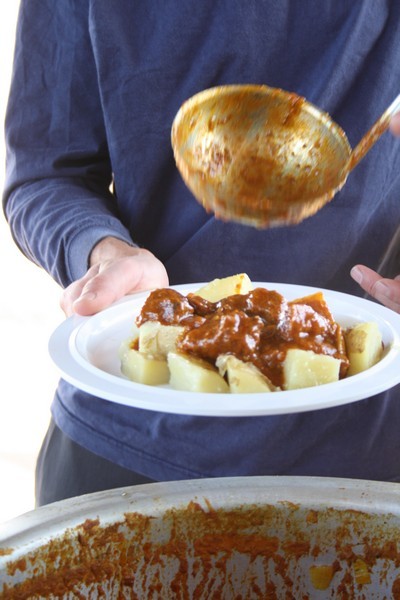 Bolognese sauce
12 Kg minced beef
3 Kg onions, diced
2 Kg celery, diced
3 Kg carrots, diced
4 L tomato paste
1 cup chopped garlic
3 tbsp ground cinnamon
2 tbsp ground bay leaf
8 L milk
3/4 cup salt
1/2 cup cracked black pepper
1 L olive oil
In 100 L pot, brown the meat in olive oil with salt and spices. Add vegetables and continue to sweat them while stirring. Add garlic and tomato paste and let it all caramelize a few minutes. Add milk, bring to a boil, reduce heat low and simmer for 2 hours, covered. Serve with 12 Kg of pasta (12 Kg before cooking ) and grated cheese.