Blog
REGISTER NOW
LOGIN
SIGN UP FOR OUR NEWSLETTER
Rider Profile: Michael Paull (Full Tour)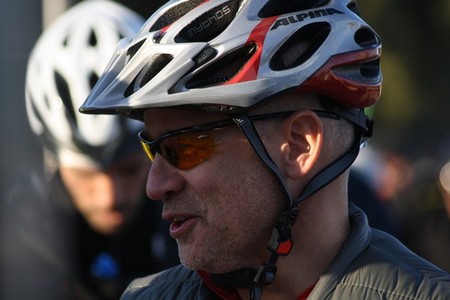 Nickname: Dad, DJ Dad
From: Edmonton, Alberta, Canada
TDA: When and where did you first hear about the Tour D`Afrique?
MP: Read about it in 2010 in an outdoor magazine.
TDA: Why did you decide to do the tour?
MP: It's a 55 year old man's personal challenge.
TDA: What's your cycling background?
MP: In 1977 with no idea what I was doing I rode around New Zealand, since then not so much.
TDA: Does your bike have a name?

MP: I call it lots of things but no name yet.
TDA: Are you supporting any organisations in during your tour?
MP: I am involved with a group called Hope International that provides water systems for villages in Southern Ethiopia. I met the founder of the group at a dinner party in Edmonton and had the opportunity to travel to Ethiopia one year ago to see their work. They connect communities with Ethiopian expertise and the proper tools and equipment to provide clean water sources. I'm looking forward to meeting up with them again in Addis.
TDA: Getting a shower on the tour can be difficult are you finding this challenging? When you do have the choice, donkey shower or baby wipes?
MP: I'm only showering for my fellow riders. When I was 18 I travelled through Europe never showering, this is nothing. I'll take the donkey shower though.
TDA: Have you lost anything yet?
MP: No but I have broken two sporks and now that we're in Ethiopia where they don't use utensils it's going to be hard replacing them.
TDA: It's 5am, pick one, howling dogs, Mosque call to prayer, or yelling donkeys?
MP: Horney donkeys for sure.
TDA: Anything particular that's surprised you so far.
MP: You can think you're fast and fit but when you see the racers go past you like you're standing still it all goes out the window.
TDA: Words of wisdom on tour?
MP: We're in Africa, relax. Enjoy every moment, the good the bad and the ugly.
Michael gets his nickname of Dad from his riding companions on tour, the four daughters. They would like to mention that he has the nicest chrome stallion of the tour and by far the best dance moves.