Blog
REGISTER NOW
LOGIN
SIGN UP FOR OUR NEWSLETTER
What the Heck is hairtail? A Chinese Food Decoder for 2012 Silk Route Cyclists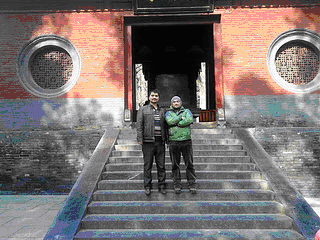 For our first few weeks in China a lot of our meals will be in local restaurants and hotels. When we eat as a group in China we will order for the entire group. However when you are out cycling and want to stop at a restaurant you will need to order on your own.
In larger towns and cities restaurants may have english menus or pictures of the food on the wall that you can point too. You can also walk around the restaurant and point at what other people are eating, a slightly embarrassing but effective method of ordering. In many of the small villages we cycle though you will have to make due with hand signals and making animal noises to place your order.

Smartphone owners can always use one of the travel apps we recommended in a previous post but others might find this food decoder handy.

Our local guide, Zabi (pictured above in the green jacket), provided us with this food decoder to help make the ordering process a bit easier. Print it out and carry it with you on tour, I think you'll find it comes in pretty handy.

I've reached out to Zabi to find out what 'agaric' and 'hairtail' are, if you know please tell us in the comments.