Blog
REGISTER NOW
LOGIN
SIGN UP FOR OUR NEWSLETTER
March 2012 Newsletter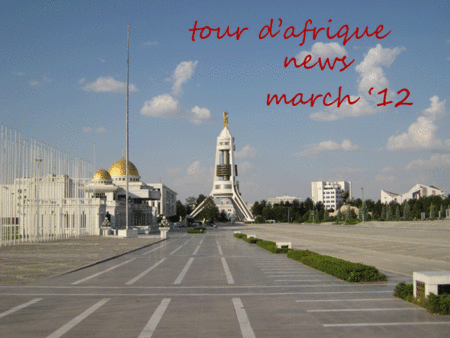 Top 10 reasons to join the Trans Europa Bicycle Expedition
10. There is no other Tour like this that allows you to cross Europe from North to South and East to West while passing through an amazing and eclectic 14 countries!
9. There is nothing like truly challenging yourself while still being able to enjoy a perfect pastry and espresso along the way.
8. A chance to collect Euros before they go extinct.
7. Having a sauna in Estonia
6. Eating as many Polish Pierogies as you want without thinking about it.
5. Riding your bike along the French Riviera (except for the uphill parts).
4. Visiting the amazing food markets in Barcelona.
3. The hot weather in Spain in September on the way to Madrid.
2. Rolling into Lisbon and enjoying the view of the Atlantic.
1. Not to be all mushy, but the best reason is the chance to ride your bike as part of an amazing group of people with whom you can enjoy a myriad of adventures and amusements.
Top 10 reasons to join the Silk Route Bicycle Expedition
10. Climbing up to the crazy heights of the Pamir Highway in Tajikistan surrounded by 7000meter peaks – possibly the most thrilling bicycle tour section ever attempted. Check it out.
9. Chinese babies and the street method of potty training; has to be seen.
8. Cycle a legend while you can. Our next bicycle tour of the world's most famous historical route is not until 2014.
7. Xinjiang noodles in China. This is the home of the noodle, not Italy.
6. Skipping a stone across the river into Afghanistan on the Pamir Highway. Yes campers, that is Afganistan across the river!
5. Eating Yak butter.
4. As a guest in Uzbekistan being served Shashlik (like kebab) that is all sheep fat.
3. Cycling into Iran and into a country that is nothing like you expect.
2. The amazing feeling when the sun sets in the desert in summer and the temperature begins to drop.
1. Finishing the ride and being one of very few people who have ever ridden such an amazing, arduous journey.


IndianAdventure 2012
The 2012 edition of the Indian Adventure Bicycle Expedition has come to a successful conclusion and the riders are now heading home…or on to their next Adventure.
Read the last blog enty by Tour leader Shanny Hill and check out this video to get an idea of just how unique this ride is. Registration for the 2014 event is now open.
All Roads Lead to Rome
Registrations continue to come in for our first annual Alumni Event in Rome this October.
Every day there will be a beautiful bicycle tour in/or around the Eternal City. For example one day there would be…
A ride to the "Castelli Romani", the lake of Castel Gandolfo (residence of the Pope) is a beautiful chance to see Rome's surroundings. You will take your bike on the train to Frascati and then cycle through Grottaferrata, Castel Gandolfo and Marino before returning to Rome on the Ancient Appian road.
Then in the evenings you can gather with other past and future TDA cyclists in one of Rome's many Trattorias, drink Chianti, eat pasta and make new friends and plans.
Help Out!
I'm not sure if you heard about Martin Heng. Martin was a Lonely Planet rider on the 2009 TDA and accompanied you all from Nairobi to Lilongwe. I'm confident you all remember him as enthusiastic, strong, kind, smart, passionate, and was so much fun to ride through Africa with. Sadly, about a year ago, Martin was hit by a car riding his bicycle to work. His spinal cord was damaged and he is now a quadriplegic. Read more here.
This week's specials…