Blog
REGISTER NOW
LOGIN
SIGN UP FOR OUR NEWSLETTER
Rider Profile: Christian Sailer (Full Tour)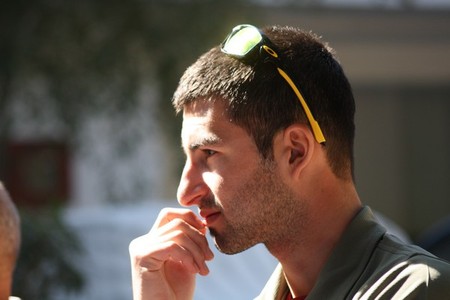 From: Switzerland
Age: 31

Where and when did you hear about TdA?

I heard about the TDA already in 2002. I think I read about it in a bike magazine and ever since I wanted to participate. I was going to college at that time and since then it was my plan to travel through Africa without the comforts of a five star hotel but being close to the locals. As a cyclist, YMCA / swiss boyscout and Geographer I always wanted to travel through Africa, not only on a map but in reality and the TDA gives me the opportunity to combine all this.

Which is your favourite PVM bar?
I don't eat PVM Bars, only two Bananas a race day. Don't get me wrong, they are good, but it's difficult to eat them while racing! Bananas you can eat much faster. I also really want to eat what people eat here when going on a bicycle.

How have your experienced the racing aspect so far?
I thought Raffael Schrof would sooner or later kill me but luckily I'm still number one. I loved the lava rocks of northern Kenya and hammered over them with my Bontrager MTB 29er 2.2 tyres. I loved the 40km downhill after Marsabit! I risked a bit too much there and nearly fell, but I was able to control the bike. It was just my terrain, others were sick and so I was lucky there. Raffael is stronger than I am on uphills. I'll see in Malawi how that is going to work out since Malawi is quite hilly. But still, Bryce Walsh or anyone of the first 5 riders can still get me and Raffael.
Sportsmanship?
It's a fight, it's a race. On the stages we are fighters, counterparts, but afterwards we drink a beer together. But it's getting tougher further down the road. We don't have agreements anymore on stopping for lunch. I don't really like this right now, since we could really start to burn out if we keep on like this. But after all, this is a race.

Did you plan to race the TDA from the beginning?
Yes, it was. I'm just 31 and will have much more time to come back to places I saw that I liked in the future, probably not with a bike but with a 4WD. My goal is to finish the TDA with a top-three placement and EFI. EFI is more important to for me than winning. I try to stay healthy.

What are your top three tips for future racers?
The equipment list on my website is actually very accurate. I found everything in there useful until now. A titanium frame is comfy, steel is also okay, but most important is the selection of tyres you have with you. My choice of three different types works out very well. You can find all the details at www.cipas.ch/tourdafrique
I always put my bike in my tent: Some bikes already got stolen on tour, and as a racer you don't want this to happen. My tent has a big apsis, which helps.
Watch out for yourself. Eat plenty and healthy, stay hydrated. We often eat local food which is most of the time very good and nutritious.

Racing with diarrhea?
Race pants without bibs is a must! Had that, used them but I'll spare you the details. I only had to use them once. The saddle is somehow a good thing to keep things inside so bike racing is much better then running when you have diarrhea!
— Benjamin Georg