Blog
REGISTER NOW
LOGIN
SIGN UP FOR OUR NEWSLETTER
Rider Profile: Jana Dumas (Full Tour)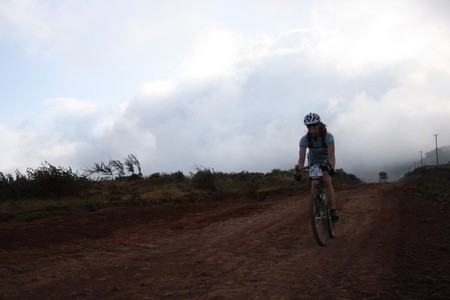 Age: 31
Occupation: Teacher
Nationality: Canadian

Favourite flavour PVM bar: Apricot when I'm riding, but chocolate at night!

Where did you hear about the tour?

On Tour du Canada

Why did you sign up?
As soon as I heard about it I knew I just had to do it. There's certain things that go on my "permanent, must do list" inside my brain and this was one of them. And I enjoy self torture!
What do you like most about the tour?
Living outside and permanently being outside. And right now Kenyan Chai!

What was your most challenging moment on tour so far?
4 flat tyres, 50 degree heat and running out of water. I thought I was losing my mind. And the lava rock road!

Is there anything taking up too much space inside your locker?
I have a 5 person tent! That takes up a bit of space. I had to sacrifice my clothing.
What would you do differently next time?
No see-through chamois pants!
Are you happy with your bike?
Yeah very. I have a Surly Longhaul called "Buck". Other bikes I feel like I'm in charge of, but this one is in charge of me!
What do you miss most about back home?

My nephew. He's 6 months old and starting to talk.