Blog
REGISTER NOW
LOGIN
SIGN UP FOR OUR NEWSLETTER
The Golden Bicycle Award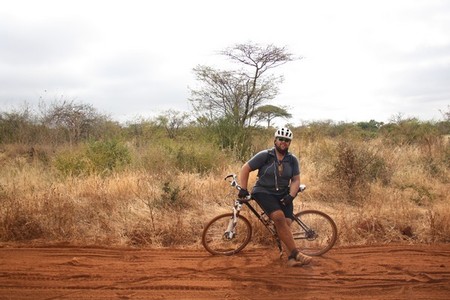 Ian Pinder poses proudly with the Golden Bicycle when Meltdown Madness got the better of him.

It has been said that the Tour d'Afrique is not a race or an expedition but a social experiment and once again this is proving to be true. The success of the tour is dependent on the participants and every year's riders make for a different experience and atmosphere in camp and on the road.
Thanks to a group of innovative riders a new addition to the TdA2012 has been the golden bicycle award. Winners of this award can range from the person with the greatest achievement of the day to the person who made the biggest fool of him/herself in the preceding 24-48 hours. So far winners have included Pal Fritsvold for breaking the record in the Blue Nile Gorge individual time trial, Gennesse Beadman for chasing an Ethiopian boy all the way to his house to tell his parents he needs to be punished for pelting cyclists with stones and lunch truck driver, Noah Chisane for his saintly attitude.
As for embarrassing stories, those will have to be told by the riders themselves upon return to their home countries, but when they're reporting back on their adventure, make sure this question is asked: "How many times did you receive the golden bicycle and what for?"
— Catharina Robbertze