Blog
REGISTER NOW
LOGIN
SIGN UP FOR OUR NEWSLETTER
My Lord, My Time Pilot

Benjamin Georg is our race director from Nairobi to Cape Town. Since becoming a part of the tour he has learn first-hand that running and especially timing the longest stage-race in the world is no easy feat. He shares his unique thoughts on the administering the race with us.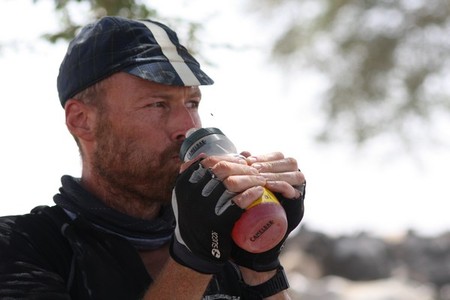 It dominates my life these days. The machine that tells me what to do. Everything is centered around it. It is The Almighty; the notorious Time Pilot. It makes my life complete some days, horrific other days, and basically the reason for me to be here. I'm the Race Director, though I am a slave to a tool that isn`t run by me, nor by the brave Tarmac Amazons and Warriors who dare to outwit the ticking black box of stage winner dreams every day. No, it is designed and made by dark forces trying to ruin every one of us. It makes the winners and the losers. For the racers, it is God and Satan in metal and plastic.
Today the man who was cursed by the machine was Jonathan Cowan. He came in early, beeping out and thus making me listen. I always look and listen when I'm in camp early enough to see them arrive and often it`s the same faces, in the same order. Not same-same, but there`s not much difference between their time of arrival. Today, it was Jonathan. Alone. "Man, that was a time trial for a 170km! I was riding all alone!", he said firmly in his Scottish voice, not daring to think the unthinkable: Could he be the one today? The divine human being who was in favor of and chosen by our dark Lord Time Pilot?
In the shade of our almighty vessel (the dinner truck) he sat and was unsure. "How long was it between me and thy racers this mornin'?" "Probably twenty minutes, but as you know", I replied and lowered my voice "only the one whose name shall not be uttered knows the final answer!" We shuddered.
I watched him there for a long time, in the shade of the tarpaulin; watching him watching the black Lord Time Pilot in the bright sun, facing what might come, on his yellow horse (well, it's a bike stand) counting every minute of this exhaustingly hot day in Zambia, waiting for his prey to beep out.
"We are slaves of this machine!" someone shouted at me a few days ago. Yes, you are. The dark Lord knows his sheep and they all come in, every day, wherever he wants them. And there are longer and tougher journeys yet to come, with over 200 kilometers on a single day, and he often sends thunderstorms and his painful children, the headwinds, to make each moment more dreadful for all. The Dark Lord Time Pilot expects you, and he will not rest until you have dared to on the challenge of winning the TDA!
Today, though, he made a brave warrior a new knight in the order of stage winners. "Jonathan, thou art Sir Jonathan The Brave, from now on and for all times being! Well done!"
— Benjamin Georg