Blog
REGISTER NOW
LOGIN
SIGN UP FOR OUR NEWSLETTER
TDA Foundation Donation Ceremony – Livingstone, Zambia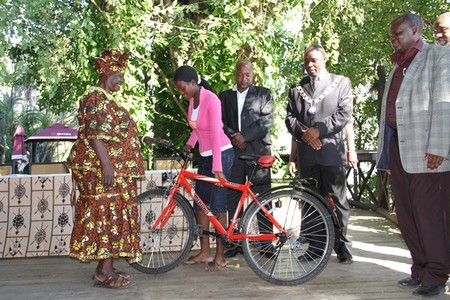 TIA (This is Africa)
If there's one thing we've learnt on our journey through Africa it's that nothing ever goes according to plan and you have to be willing to adapt to circumstances whenever they change on you.
It was no different as we arrived in Livingstone on Thursday with the prospect of two days of relaxing and a bike donation on Friday ahead of us. Upon arrival a few final arrangements had to be made for the donation but a big surprise awaited when I met with Graham Nel from Safari Par Excellence… Sometime during the week the princess of Zambia had passed away and has luck would have it Friday was scheduled as a national day of mourning and Saturday being her funeral meant we were not allowed to have any function on any of our two rest days. So instead of starting of our double rest days with a chilled afternoon the donation ceremony was moved to Thursday afternoon.
However, we've learn to roll with issues like these without any problem and in record time Graham and Sharmaine Barry from The Waterfront had organised all the stakeholders and media to make their way to the Waterfront that afternoon and the ceremony took place without any further trouble.
The ceremony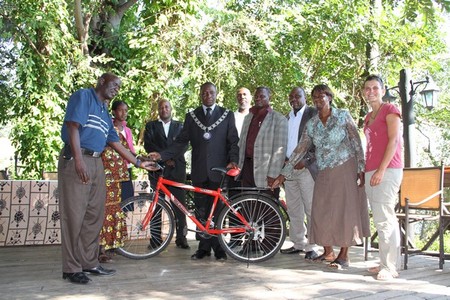 As riders arrived after three long days in the saddle of approximately 160km, 180km and another 160km they headed straight for the bar to put their feet up while gazing across the Zambezi. The fact that the ceremony took place at the bar therefore meant several of the riders were all too happy to attend.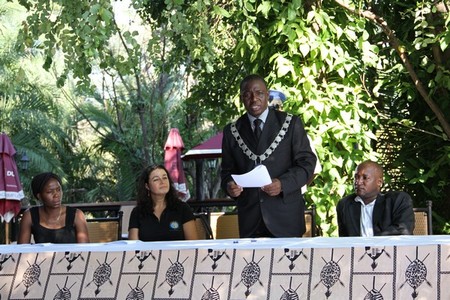 The mayor of Livingstone as well as representatives from African Impact, the Happy Africa Foundation (THAF), school headmasters and the Ministry of Education were present as we donated 25 bikes to this initiative. With the help of African Impact and THAF several schools were identified to receive bicycles to help their students. The bikes go to these schools who in turn will distribute them to children who have to walk several hours to school every day. Because of the challenges these children face their schooling is often neglected and with the issuance of the bikes they will be able to get to school easier, better their education and thereby their future prospects in terms of employment and looking after their families.
Secondary school education is often neglected because of transport issues and with these bikes several children will be able to go to school for longer than they would have without the bicycles. The bikes are not donated to the children but to the schools in order to redistribute the bikes to children who need them year after year and to make the project sustainable.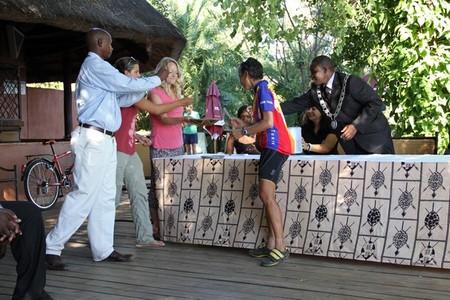 After the ceremony TDA riders and staff were treated to a lucky draw where they won several prizes sponsored by local companies. Prizes included white water rafting, bungee jumping from Vic Falls, elephant walks, lion experiences and river cruises.

About African Impact and THAF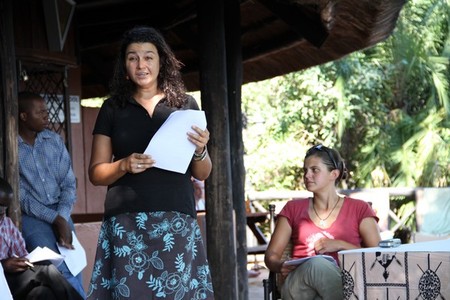 African Impact was started in 2004 at Antelope Park in Zimbabwe. They are the largest on-the-ground facilitator of socially responsible volunteer projects in Southern and East Africa and have been working in partnership with the local communities of Livingstone since 2006. They provide assistance in long term sustainable development initiatives to a wide range of projects including, education, medical assistance, social welfare, sports coaching and training for many local communities.
African Impact was instrumental in the establishment of the Happy Africa Foundation and provides much of the charity's resources, in terms of staff, logistical support and its
administration of all of its projects. THAF is managed by Hannah Kerrigan and is registered as a charity in the UK and as a NGO in South Africa and Zambia. African Impact is able to facilitate the implementation of all donor funding, again minimising a significant expense to the Foundation.
The charity looks to find sustainable solutions to the challenges that local African communities face. THAF and African Impact partner with local communities to conserve and protect the environment, wildlife and cultures in areas where the Foundation is involved.
Thank you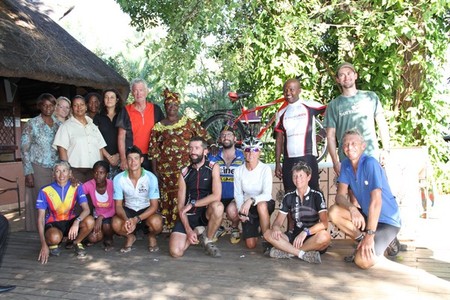 Without the hard work of several TDA riders none of the donations during this year's trip would have been possible. A special thank you goes to Walter Luetolf, Herman de Grave, Beverley Coburn, Natalie Howard and Paul ten Brummelhuis who donated generously to the TDA Foundation as well as all other riders who have been raising money for worthy causes on their own.
Thanks also go to Safari Par Excellence, the Zambezi Waterfront, Livingstone Adventures, Zambezi Adrenaline Company, Lady Livingstone, Abseil Zambia and Lion Encounter for facilitating the ceremony and for the prizes they donated to TDA riders and staff.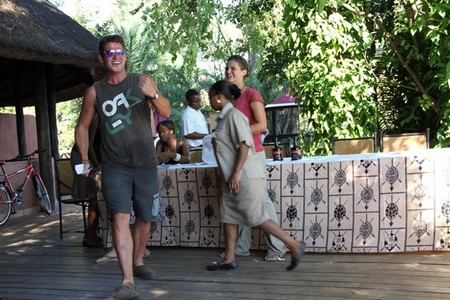 A special thanks to Carla White for the use of her photos.
— Catharina Robbertze