Blog
REGISTER NOW
LOGIN
SIGN UP FOR OUR NEWSLETTER
Rider Profile: Pat and John Flower
John and Pat Flower joined the Silk Route tour for its first section, along the 1400 km Jade Road from Shanghai to Xi'an. Veterans of other TdA tours, the Flowers are nearing a monumental accomplishment: a complete circumnavigation of the globe on bicycle. Amazing certainly, but even more so when you consider that Pat has yet to have a single puncture! We caught up with them toward the end of their ride through eastern China.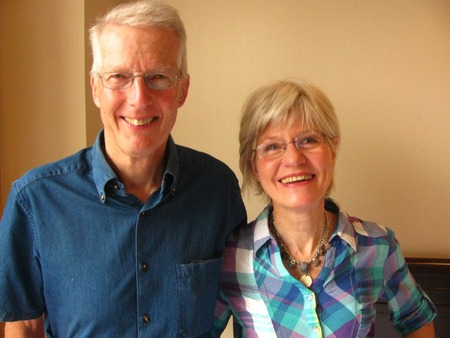 TdA: Tell us a little about yourselves.
Pat: My name is Pat Flower, I'm 63 years old. This is my husband John and we live in Surry, near London. I teach art and watercolor painting.
John: I'm John, I'm 69 years old and a family physician and I greatly enjoy travel and cycling. This our third TdA trip. We did the Silk Route from west to east and last summer and part of the North American Epic.
Pat: we've done quite a lot of other cycling too; we did a trip from our home to Istanbul and several other organized tours, including one in Mongolia. Next summer, if we rise across the east coast of America we'll have completed a trip around the world.
John: It's taken us four years!
TdA: Do you have any favorite rides that you do at home?
John: We love to ride what will be this year's Olympic road race – from London to near where we live to Box Hill. It's a steep ride with lots of zigs and zags.
TdA: Why did you choose the Silk Route bike tour?
John: We wanted to do the last bit of Asia. We'd already cycled through Mongolia and India and really wanted to make it all the way across the continent.
Pat: That and we'd cycled other trips in Asia, in Vietnam from Saigon to Hanoi. We've done a fair bit of riding in Southeast Asia, but we'd never been in this area. And it sounded amazing. And it has been a really.
TdA: Was there anything that made you a little nervous about this trip?
Pat: I think the fact that we've done a Tour d'Afrique trip and all the bush camping and the riding before gave us an idea what to expect, so we weren't too nervous. Just the fact that you stay in hotels made it a lot easier.
TdA: What did you look forward to the most, or what did you like the best?
John: Personally I thought ths big cities bit were amazing Nanking, Xian and Shanghai – these are fantastic places to visit anyway. It was interesting to see the east of China as well, how modern it is. And how polluted it is too. Some of the cities with wide bike lands and boulevards were amazing, and totally unexpected.
Pat: The trees along the boulevards and the great nurseries surprised me as well. I've been amazing to see vineyards and fruit and the diversity of the agriculture. I expected horse drawn carts, but these modern farms were astonishing.
TdA: What kind of bike did you guys bring?
John: They're just entry level Specialized Rock Hopper type bikes.
Pat: But I have to tell you that I haven't had one puncture yet. And not only this trip. It must be at least 15,000 kilometers and I've never had a puncture: the whole Silk Route, all through America and India and at home. It is the only bike I have and it's never had a puncture.
TdA: How did you train for the tour? Did you feel prepared?
Pat: Well, it was quite difficult because it's the English winter and getting out to train in that weather is really cold. John's really good at it, I'm not.
John: We also did a three-day cycle trip down to to the the Isle of Wight.
TdA: If you could give one piece of advice to someone going on their first tour with us what would it be?
Pat: I would advise them to get pretty cycle-fit before they came on or they wouldn't enjoy it. We've been on trips where people haven't been prepared and it made it really hard for them.
John: I think you have to get good equipment, too. Most people are sensible and come with very amazing bikes. But other than that, I'd tell someone to get out there and just try it.