Blog
REGISTER NOW
LOGIN
SIGN UP FOR OUR NEWSLETTER
TDA book reviews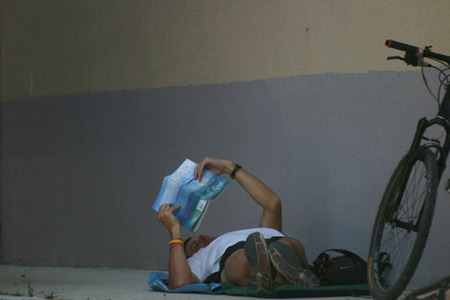 Sometimes, after a grueling stretch of cycling, you may feel as if you've spent a few hours inside a tumble drier that escaped from the laundry room and hurled itself down the stairs and into a fireplace. Your internal organs and larger limbs have become dislodged, your bum is hot and bruised, and your muscles contracting in seismic spasms. It's time to activate the sense of humour.
But sometimes you just can't see the fun in cycling along 90km of terminally corrugated roads with a fierce headwind as your faithful companion. Tony Hawks' Playing the Moldovans at Tennis is not likely to get tossing your clothes in a bag and hopping onto a flight to Moldova, but his ball-breaking honesty and dry humour, punctuated by surprisingly poignant observations, will certainly help you forget about your physical discomfort, if only until the next bumpy road.
It's an unusual travel book in the sense that it is not actually a travel book. Hawks, a journalist and comedian, makes an inebriated bet in a pub with his buddy that he can beat the Moldovan National Football team at tennis. Why? Well, just because he thinks he can and his buddy thinks he can't. After all this is the guy that once hitchhiked around England with a refrigerator to collect a £100 bet. What follows is a very funny quest that has very little to do with tennis or football. Hawks' attempt to play the Moldovans is a test of faith, humour, and survival. He gets so much more than he asked for from a country that at first seem inhospitable and cruel to him.
Through the, actually, pointless act of playing the entire team he inadvertently discovers the heart and soul of Moldova. Through his dealings with gangsters, the throw-backs of communism, and his own foreignness, he delivers an honest insight into Moldova's history, zeitgeist and landscape. He discovers his own embarrassing and shameful shortcomings, and is not shy to share them, and he finds a kind of comical Scooby Doo type of strength combined with a new found humility. I still would not want to visit Moldova but this book made me feel like I need to take on a giant, seemingly impossible, adventure, perhaps something like cycling more than 11000km from Cairo to Cape Town.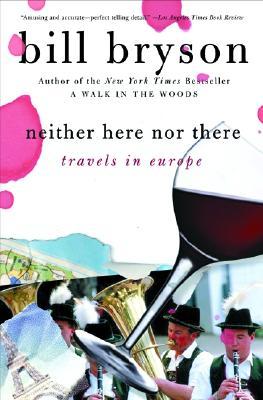 Tony Hawks made me fall in love with British humour all over again, so I re-read Bill Bryson's Neither here Nor there. Although Bill Bryson is strictly American, he spent most of his postpubescent days in the UK. And his writing is steeped in that dry English humour. Neither here Nor there is an oldie but a goodie. Twenty years on, Bryson retraces his halcyon day's backpacking journey through Europe – in the early seventies – in search of enlightenment, beer, and women. The result is an out-loud snortingly funny pilgrimage from the frozen wastes of Scandinavia to the chaotic tumult of Istanbul.
In between hopping from one European city to the next Bryson laments his youth and explores how time, knowledge, and responsibilities have altered his perceptions. It is very, very funny writing but it also has just enough introspection to help us relate. It is not a definitive guide to European travel as he has little else to offer than his crackling humour and a sort of overview of the countries visited. However, it is a great introductory read if you are planning on undertaking a journey such as the Trans Europa, since he covers most of the countries that you will by cycling through. Bryson's journey is also a reminder that a bit of research into the countries that you will be cycling through will go a long way to deepen your experience and enhance your journey.
— Astrid Stark