Blog
REGISTER NOW
LOGIN
SIGN UP FOR OUR NEWSLETTER
Rider Profile: John Stowe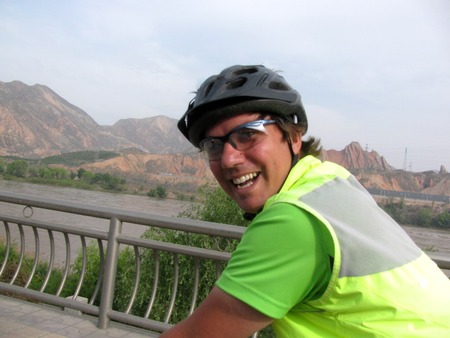 John Stowe has been along for the ride with TdA a couple times, on the 2009 Tour de Afrique and the 2012 Indian Adventure, through the subcontinent of India. When his trip there was cut short after getting tangled up with a motorcycle, John took some time off to travel in Asia and get back on the bike to ride the Silk Route.
TdA: Hey, for posterity, tell us your full name, age, occupation and anything you'd like to tell us about yourself.
John: I'm from North Carolina, USA. I'm a counseling psychologist. I was teaching and working in a school and crisis center part time nights – you could write a book about that.
TdA: Do you have any favorite ride that you do there?
John: The outer banks in North Carolina. It's all very similar but very beautiful, and very windy. You're on islands off the coast and riding along on just a strip of road with ocean on both sides. But the winds do tear you apart.
TdA: Why did you choose the Silk Route bike tour for your next adventure?
John: Honestly, the exotic nature of the trip. I didn't know anything about China or the other countries we are going through afterword – even Turkey. And with all the stuff you hear in the media, like 'Iran is part of the Axis of Evil,' that's all I know about it. I want to know more.
John: What makes you a little nervous about this trip?
John: There were definitely a few things. The preparation is always nerve wracking, like having the bike parts and everything you need. You're always afraid that you're in a little bit over your head. But having done this thing before, I felt about as prepared as I could have been. Instead of walking into a dark room, I felt like I was walking into a room that's well lit.

TdA: What do you look forward to the most?
John: Probably the mountains. No, no, biking into Tehran on my bicycle. It's exotic and rare and its badass. What's next year? Maybe the tour of North Korea? Maybe the dictator tour is next.

TdA: What kind of bike are you bringing?
John: I brought a Trek, a cyclocross bike. It has a steel frame and I've had good experiences with Trek bikes in the past.
TdA: How have you been training? Do you feel prepared?
John: I was on a tour before this, but I bike around town and I commute a lot and go to gym – lots of riding and running and doing things like that. I was staying in Beijing before the trip and I joined a gym because I wanted to make sure I could do this trip after a bike accident I had in India. Riding in the Beijing pollution was good training.
TdA: If you could give one piece of advice to someone going on their first tour with us what would it be?
John: Take your time. Man man jo. It means go slowly. A man told me that on the airplane into Beijing when I was all excited and talking really fast. He was basically told me to slow down because I was talking really fast and he was having a hard time understanding me. But, I think that's good advice in general: Man man jo. Take your time.