Blog
REGISTER NOW
LOGIN
SIGN UP FOR OUR NEWSLETTER
Beautiful Krakow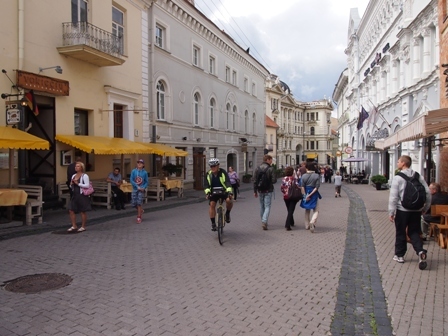 Our arrival in Krakow, Poland today marked what I think could be said as the Tour's first genuinely hilly day; it also marked what many of the cyclists said was the most scenic day of the Tour so far. Nothing like a hill top vista to make you appreciate your surroundings.
It took us 3 days to arrive in Krakow from our previous rest day in Warsaw. The first 2 of which were long and except for a few hills towards the end of the second day primarily flat. We've had some high temperatures but we've been pretty lucky with some well-timed cloud cover and cooling breezes to help everyone get through the day. Surprising as well is despite temperatures of over 30 degrees Celsius during the day the nights are very crisp (perfect for a sound sleep, if you don't mind the occasional dogs barking and the rooster that wakes up at 4:00am)
Never having been to Poland before I'm pleasantly surprised at the friendliness of its citizens. We've been welcomed warmly at our campsites and though sometimes in Eastern Europe it's hard to tell a glare from a smile we've been greeted kindly throughout the country.
Two of our riders, newlyweds Jan and Danya, have been having a great time soaking in the local culture. Very strong riders they are normally at the front of the pack each day, but since entering Poland they've slowed things down and are investigating all the little villages and towns along the route. Jan's Polish speaking skills of course make this that much more rewarding, and I'm sure many of the locals have enjoyed hearing him explain the nature of the Tour and just how far we are travelling by bicycle.
Now is time for two rest days in Krakow and I'm sure the cyclists will be up to a myriad of activities and sightseeing. It's a beautiful city teeming with life; this hot weather brings everyone to the streets and as on our cycling days there are sure to be many adventures!