Blog
REGISTER NOW
LOGIN
SIGN UP FOR OUR NEWSLETTER
Hills Thrills Dams & More Hills
Well they call the final section of the Silk Route "Hills of Anatolia" and the last 3 days have taught us why. Leaving Yusufeli we climbed up the Coruh river valley along a narrow winding rural road through farming villages which then widened and turned to rough gravel as we approached and tunneled past a huge dam project that will change this beautiful valley forever. Once past Ispir we were blessed by a tailwind that ushered further skywards to a riverside camp
The next morning we started with "3 short steep climbs", and fed only by Ingrid's steroid free porridge, undaunted we pedaled up these inclines with gradients as high as 18% with visions of Tour de France dancing in our heads.
But today was to prove toughest of all as we climbed over 2 passes before breezing downhill to lunch and a village coke stop beyond. Chatting there with the locals, I was advised that a serious uphill – that was somehow overlooked on the whiteboard – beckoned us en route to the mountaintop town of Sebinkarahisar. Unlike Swiss engineering who would've provide a viaduct to link the slopes, our Turkish road would take us up a steep incline before descending to the base of the next nasty uphill, and on and on, until after a final momentous climb our reward was spied in the form of a sign for Ekes beer on the outskirts of town.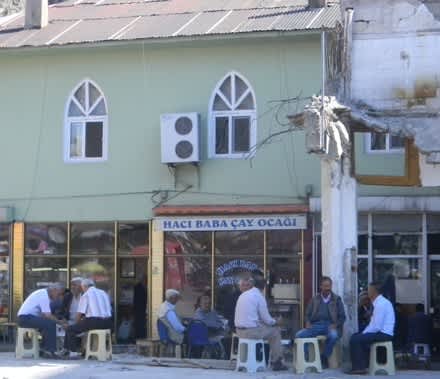 Now well sated with malt refreshments, doner kebab, and salad, and having stumbled around the scenic streets of Sebinkarahisar as my legs recovered, I say bring tomorrow on!