Blog
REGISTER NOW
LOGIN
SIGN UP FOR OUR NEWSLETTER
First TDA Alumni Event wraps up in Rome!
No one was sure what our first ever alumni event would be like.  The odds were in our favor; with Rome as our destination, one of the worlds' great cities, lots of friendly personalities attending and an excellent local partner (Top Bike Rental) it seemed destined for fun times… I'm very happy to report it was all that and more!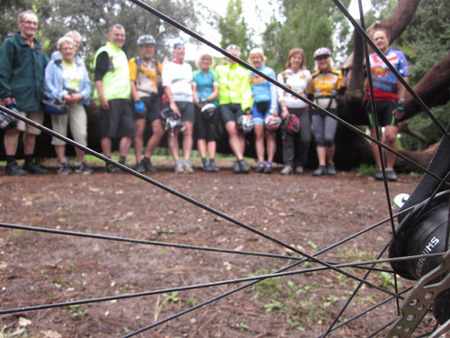 Speaking of not knowing what to expect, our local Roman guides, knowing that we were cyclists who had completed trans-continental journeys, spent weeks before this 1 week ride of ours training so they'd be able to keep up with usJ I think they were surprised to see us, of all ages, shapes and sizes.  Not to say we are ordinary but it's always amazing to people that you don't have to be an elite athlete to cycle the distances that our Tours travel, you just have to have the will to do it.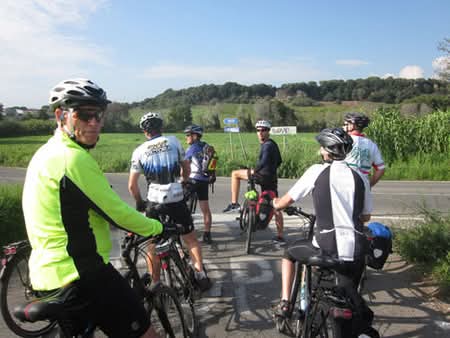 Obviously this week of cycling was a fairly large departure from our regular Tours in terms of style.  We all cycled together (actually in 2 groups inside the city) and made many stops each day.  Inside the city we found ourselves by the famous Spanish steps, Coliseum, and Forum.  Another day we tackled the cities "7 Hills", allowing us a panoramic view of Rome that let the imagination wander to how life would have been 2000 years earlier.  Of course our days in the city were not all cycling and listening to our guides description of the sights… we found time for 2 hour lunches with many glasses of wine, tasted cappuccinos and pastries from bars and cafes, we even found time for a few good Pope jokes.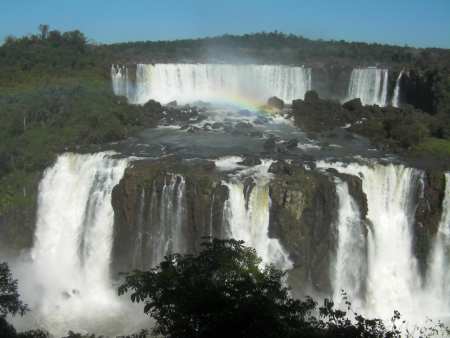 There were also a couple of days where we travelled outside the city by train.  We visited 3 medieval towns; Orvieto, Bagnoregio and Ceri de Cerveteri.  You could say these were our more challenging days with distances around 40km.  Actually the day to Orvieto we had the pleasure of cycling downhill with a tailwind (in the rain mind you) for the last 20km, and it was so much fun and the views so beautiful you couldn't wipe the smile from everyone's face!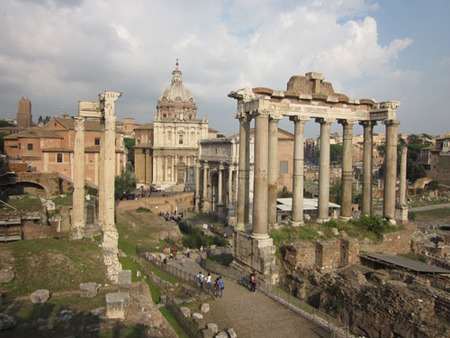 The real essence of the week of course was for people to get to know each other and enjoy stories from the road.  Everyone who came knew at least one other person attending but many did not know each other.  It was wonderful to see the group bonding, and by the last night eating in a very cool restaurant, drinking a fair bit of wine there were a lot of new, close ties that had been made.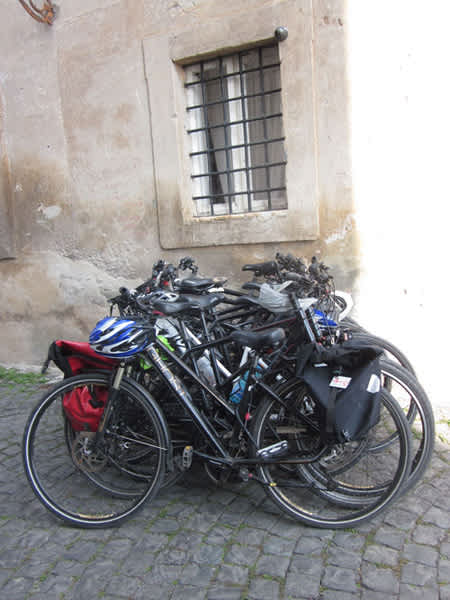 So already the group is wondering if we'll have another alumni event… I think the answer is most likely yes.  Of course then the question is where.  Already a few interesting options are on the table; Tokyo, Istanbul, Jerusalem…
If you missed out on this years 'alumni event I can't recommend highly enough you come for the next one!  And bring your friends!
All photos courtesy of David Freeman – – thanks David.