Blog
REGISTER NOW
LOGIN
SIGN UP FOR OUR NEWSLETTER
Did the Romans Have a Better Quality of Life?
Three weeks ago I had the pleasure in participating in our company's first alumni event called All Roads Lead to Rome. Who would have thought that an idea born in stupor that was created by too much whisky in the highlands of Ethiopia, would actually work? But there we were, 24 alumni from our different tours and years, drinking good Italian wine, eating way too much pasta and pizza, laughing and reminiscing and yes even cycling.
I have been to Rome before but nothing can compare to seeing Rome from a seat of a bicycle with passionate Italian guides explaining every structure (ok, only the ones that are at least 500 years old) and literally cycling on a road built 2000 years ago. For those of you, who like me, have not realized before, the Romans built the most extensive road work that was ever built or at least until the second half of 20th century. The Roman road system spanned more than 400,000 km of roads, including over 80,500 km of paved roads.


photo courtesy of Adrien and Wikimedia Commons
Just to give you a perspective, the Roman road network is more than the Tour d'Afrique (12,000km), Silk Route (12,150km ), Vuelta SudAmericana (11,000km), Orient Express (4,000km)  TransEuropa (6,250km) the Indian Adventure (4,350km), and the Bamboo Road (7,950km) combined. That is more paved roads than twice the 7Epics.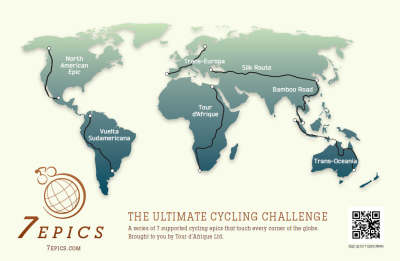 All this was done without any heavy machinery, but I would imagine with the help of millions of slaves or should I say the road was built on the backs of millions of slaves.
The particular section on which we cycled for a few km is called Via Apia named after the Roman counselor who had it built.


photo courtesy Kleuske and Wikimedia commons
This is also the section where every few hundred feet the Romans crucified the remnants of Spartacus' slave army, last 5,000 slaves. This was done as a message to others – "do not mess with the Roman Empire".
Humanity has advanced since; empires no longer crucify rebels but in some other ways the Romans were much more advanced than we are in modern times.  And this is where it gets really interesting.
Roman law and tradition forbade the use of vehicles in urban areas, except in certain cases. And you may be surprised they had a collection of them, such as carrus (car) of two horses called a biga; of three horses, a triga; and of four horses a quadriga. And of course the famous chariots. The tires were made of iron.
The Lex Iulia Municipalis (I think this means municipal law) restricted commercial carts to night-time access to the city within the walls, and within a mile outside the walls. And so though I do not have any nostalgia for the Old Roman Empire, I do wonder how could these uncivilized 'savages' had more sense about keeping good quality of life in the cities than our 'modern' educated political leadership.