Blog
REGISTER NOW
LOGIN
SIGN UP FOR OUR NEWSLETTER
No turning back – San Jose to Aguas Zarcas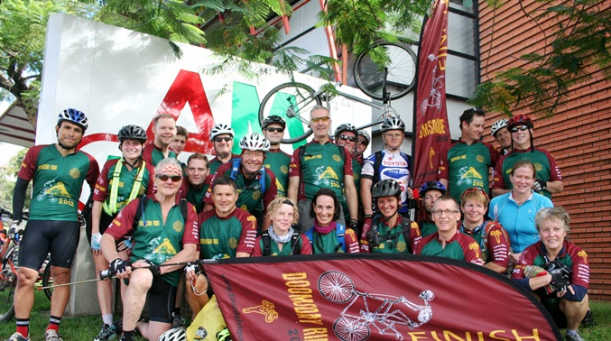 Our first day of riding gave us a spectacular taste of what lies ahead.  We started out at 7am from San José under an overcast sky with delicately dripping clouds. Riding a convoy out of a busy city is always a little nerve-wrecking and San José's narrow, winding roads are no exception. Toss in the increasing drizzle from the sky, first-day nerves, rush-hour traffic and short and consistent bursts of wickedly steep hills, which made a handful of riders push their bikes – just for a bit. At the end of the 17km convoy the road straightened out somewhat, which gave the riders a breather, but then the skies opened up and it came down in buckets. They were soaked in seconds. Still they stayed on their bikes. Soon the inner city roads lined with houses stacked upon each other like playing cards made way for lush green foliage creeping all over roofs and into the roads. Within less than an hour from the city we were entangled in a tropical garden where some of the glossy leaves are big enough to wrap our Jos in – and he is a big man. Our lunch truck canopy and our nurse, Sarah, had to hang onto the ropes not to get blown away by gusts of rain laden wind. She must've thought she is back in Wales. An earthquake had left stretches of the road open to erosion and tiny rivulets criss-cross the roads at parts. At times there are potholes that could swallow a scooter and part of the tarmac has simply been washed away. But it is only for a small section of the road. Some of the riders called this stretch a 'great adventure'.  Brit, Julie Dakin, who is only cycling the first stretch, was a little nervous before the start of the day but she actually came in smiling – first woman – not that it is a race, and said, "it was fun!".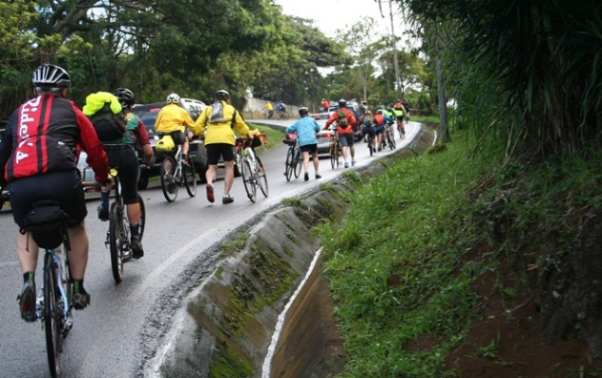 When our team scouted this road, the La Paz (peace) waterfall was small and pretty. Now it is a thundering giant at the side of the road. The slow mist that crawled up from the valley added a mystical allure to the green tangles of vegetation, muddy roads and fruit sellers on the side of the road. Today we covered 94km: 1200m up and a very sweet, 2560m down. The day so far has not been without minor casualties. One of our female riders became sick yesterday and she sat rather sadly in the van with us, until the rain came pouring down and the first of the murderous hills made her remark that she is glad she sat this one out.  We hope she will be able to get in the saddle tomorrow. Another one of our riders battled too hard with the hills on the convoy and chose to sit out on the van – determined to try again manyana.


Tonight we stay in a little village called Aguas Zarcas. At our hotel, Sueno de Luna – which means Moondreams – the rooms are spacious and clean. Our host is friendly and very kind to all of the wet bodies and bikes.  Oh but I forget to mention the breakfast, fit for conquistadores, that we had this morning at the hotel: omelettes made á la minute, lathers of cold meat, platters of fresh tropical fruit, every kind of Costa Rican pastry you can imagine, home-baked bread, a range of juices, percolated coffee, nutmeg and yoghurt parfait and so on. We have been warned that from here on it is more likely to be the standard beans and rice for breakfast. Well we can always dream of San José's buffet.  So we had a taste of hills, torrents of rain, a bout of cramps, wind gusts, battered roads and we also got a glimpse of what it means to cycle through tropical forests and adventurous surfaces, and to eat like kings, hopefully we will all be a little stronger tomorrow.