Blog
REGISTER NOW
LOGIN
SIGN UP FOR OUR NEWSLETTER
White Weddings
Sometimes it is ok to climb through tiny windows in foreign countries.  The hotel in San Jose Pinula, Guatemala, where our Doomsday family is staying tonight, is a vast stretch of land with a hotel, restaurant, mucho bungalows, and a string of conference and event venues. I tried to change some dollars to Guatemalan quetzals but they could not find South Africa on the computer at their bank so I gave up after an hour of Spanglish with the cute but confused bank manager. Today is Saturday and therefore it is a good day to get married.  There are 5 weddings booked for today at Casa Santandor, our hotel. As I write this there are three weddings in full swing in the grounds below the restaurant.  The sound of marimbas entertaining the slightly older crowd at wedding number 1 mingle with the groovy Latin American tunes from wedding number 3. Wedding 2 is winding down after 4 hours as it is a very religious group and they don't dance. Wedding 4 and 5 arrive around 6pm. Throngs of wedding-goers turn up in shiny cars and purple satin frocks seem to be all the rage this season. After some reconnaissance I hear that wedding number 3 is the one to crash later on if we feel like a bit of a boogie. I have my party frock ready. Just in case. Now I just need a partner in crime.
I start to get a little worried. It is already 3pm and only Eric and Michiel, two of our strongest riders, have arrived. It is another really tough cycling day featuring 91km with an elevation of 2380. A lot of our cyclists decided to sit this one out.  Why? There's a number of walking wounded at this point. Gavin Greig hurt his knee. Ruut's ugly fall over the speedbump has damaged his ribs and arm and he really needs to take a break. Diarrhoea and mostly muscle fatigue is taking its toll.  On this kind of day it is my duty to check all the cyclists in as they arrive. Make sure they get their rooms, find a place to clean their bike, and most importantly where the nearest cold cerveza can be found. So I have stationed myself in a little room with a Christmas tree, next to the reception area, where I download my pics and write. Thing is that they keep locking the room whenever I leave and they seem to have no key. So the only way in is to clamber around the restaurant and climb through a little window, dressed in my wedding crash frock, back into my 'office'. What an odd job I have.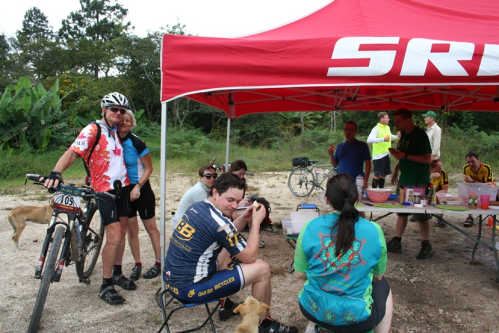 Finally it is 5pm and all our riders are safe and sound. Tough as nails JJ had a fall but he seems ok with just a few scrapes and bruises.  And yes we actually did manage to crash a Guatemala wedding. Myself and Lisa kc – aka Sister Blister with the Dancing Toes – hovered on the outskirts of the dancefloor while they made their speeches and then we pounced. We were lucky enough to bump into what appeared to be the father of the bride and the father of the groom having a heart to heart and they invite us in. We were quickly plied with what tasted like rum and hibiscus juice and then we were snapped up by a pair of Guatemalan twins who are both, yes, lawyers and carbon copies of each other. Not only are they phenomenal dancers but they know how to lead and guide and soon Sister Blister and me were dancing like Baby from Dirty Dancing. Fantastic. We congratulated the beautiful couple who were quite sozzled at this stage and laughed as the groom clumsily nibbled her garter from her thigh. But at 10pm, we realised that we had to be up at 5 for a tough day of cycling so we disappeared into the night with the party in full swing behind us. Salut Guatemala!