Blog
REGISTER NOW
LOGIN
SIGN UP FOR OUR NEWSLETTER
Tanzania – first impressions.
The TDA 2013 is back on the road and ready for another tough and gritty section. After more of a break than expected due to the political situation in Kenya, the racers and riders are more than ready to get into the true grit of it all. The rainy season is upon us and the off-road lies ahead. The cool air has been a more than welcome break to the thick humidity of equatorial Africa. However, ominous rain clouds looming over-head bring a hesitant sense of relief.
Rides in donkey carts, carrying live chickens into bars, swapping clothes with locals
Coming back to the tour after a chance to explore Kenya and Tanzania away from the tour while living life like a real tourist, a vacation feeling has trickled its way into TDA life. With well-conditioned legs and a new lush and tropical landscape, the inclination to take one's time, get up to side adventures, take a million photos and arrive at camp whenever that happens has been a new approach for some.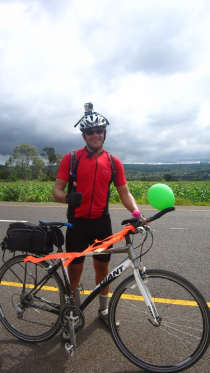 Regardless of our proximity to Ireland, March 17th is still March 17th, and was a perfect excuse for St. Patty's Day antics. With an individual time trial in the morning, the afternoon was free for riders and racers to join in the fun. A photo scavenger hunt was created by 'the instigator' crew of riders which involved a whole afternoon of off-the-bike challenges. Each of the challenges was allotted a different number of points and the pressure was on to come in on top as the winning prize was being first in the dinner line for two whole days. Rides in donkey carts, carrying live chickens into bars, swapping cloths with locals and, of course, collecting every beer cap from the day produced the winning team of  Alex M, Freek and James Campbell.
The dirt road now begins. With the rainy season upon us, there's another good week of mud-caked momentum before we can say goodbye to Tanzania.