Blog
REGISTER NOW
LOGIN
SIGN UP FOR OUR NEWSLETTER
"Unexpect The Expected" – A Day In The Life Of The Odyssey Cycling Tour
Kody Block is the Content Creator on the 2023 The Odyssey Cycling Tour. In his final report, he reflects on his experiences during a day on the tour in Italy.
"The Creator made Italy from designs by Michaelangelo." – Mark Twain
It may sound funny, but there are no two things I feel more connected to in this world than the mountains and Italy. My ancestry goes back to Italy's southern region of Calabria in a town called Carlopoli and for as long as I can remember, I've always wanted to go there. Back in the United States, I have been learning Italian for two years and when I am home in Arizona, I frequently take visits to the mountains to go hiking and camping. Although we'd already encountered so much beauty on this trip, there was no stretch I was more excited for than the Italian Dolomites.
The Dolomites, or "Dolomiti" in Italian, are a mountain range located in northeastern Italy and are home to some of the most breathtaking cycling routes in the world. From challenging climbs to scenic descents, there is a little something for everyone. We began our journey at the base of the Dolomiti in Maniago, surrounded by ominous rain clouds in every direction. Increasing in elevation, we actually cycled through these clouds, which added to the dramatic scenery of the mountain range around us. After a steep climb we finally made it to "Lago di Barcis" or "Barcis Lake" at the summit. As we approached this lake my jaw literally dropped at the beauty of the crystal blue water and many riders stopped to take photos as they cycled across a bridge overlooking the lake. American rider Anne Thompson commented that, "I just loved the solitude of the road that day, and when we got to the top, the lake was stunningly beautiful. Extremely easy on the eyes."
With towering peaks and lush green valleys around every corner, the scenery was mesmerizing. As we set up lunch on the side of the road, I ventured towards a nearby creek and discovered a tucked-away waterfall. I used my drone to capture a 'bird's-eye' view from above. When I was packing up after lunch the rainfall increased steadily yet gently. Lifting my head and closing my eyes, I took a deep breath and felt the rain pattering down on my face and the cool air whisking through my hair. I even leaned down to the nearby creek and ran my hands through the pebbles below, feeling the water rush between my fingers. When I opened my eyes and gazed at the Dolomiti, I couldn't help but crack and smile, grateful for where this journey had led me.
After capturing photos of riders at lunch, I was dropped off down the road, closer to our final destination of Cortina d'Ampezzo, a town known for hosting the Winter Olympics in 1944 and 1956, and soon again in February, 2026. As I sat along the bike path waiting for riders to pass, the rain picked up steadily, increasing consistently each minute until, before I knew it, I was caught in the middle of a downpour! After waiting 20 minutes beneath a canopy, the rain had not ceased and I realized my photoshoot would not play out the way I had expected. For riders and staff alike, I've found you can actually anticipate days like this on a TDA tour. One of our cyclists, Mark Turner, actually has a saying for these exact moments, "Unexpect the expected!". Well, this was a perfect example of that and my mind quickly went into decision-making mode. Even though it was still raining, I knew I needed to work my way back to our hotel, located about 3km away. Rather than simply looking the location up on my phone, I decided this would be a perfect opportunity to test out my Italian speaking skills and ask for directions from the locals.
I'm happy to tell you that I made it back to the hotel without the help of my phone but I'm sad to tell you that I had to ask 4 different locals to finally understand where our hotel was! By the time I returned to the tour, I was absolutely soaked! Even though I struggled to find my way, I eventually made it to my destination, proud to have pushed myself out of my comfort zone. In many ways, that's what these TDA tours are all about: embracing new experiences, both good and bad, and finding yourself along the way. As I took my final strides up to the hotel, soaked to the bone, I looked around at the Dolomites that surrounded me, thinking this really is a beautiful life. Or, as Italians would say, La Vita Bella!
RELATED
TOUR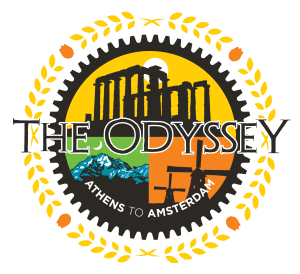 The Odyssey
A 7 week cycling journey from Athens to Amsterdam, from the Acropolis to the Rijksmuseum. You will spin through 10 European countries, enjoying great...