Blog
REGISTER NOW
LOGIN
SIGN UP FOR OUR NEWSLETTER
5 Tips To Stay Positive On A Bike Tour
Sheelagh Daly is the Content Creator on the 2022 Bamboo Road Cycling Tour. She sends this report from Bangkok, Thailand.
The past 3 1/2 weeks have taken the Bamboo Road 2022 riders through the mountain passes, coastal breezes, and limestone karst formations of Vietnam, as well as the markets and houses on stilts along the Mekong River in Cambodia. It's been a beautiful section of the tour, and riders finish the day with big smiles and experiences to share around the table at dinner. But any bike tour also comes with challenges. Be it heat, rain, long distances, or bumpy roads, there are a variety of circumstances that can make a riding day difficult. However, the right preparation, support, and mindset can make all the difference. The Bamboo Road 2022 riders have been remarkable in their ability to stay positive no matter what the day throws at them. Here, they share some of the strategies that keep them feeling their best.
1. Bring the right gear
The gear you choose can make or break your bike tour. It's difficult to stay positive when you're constantly getting flats, experiencing mechanical issues, or riding a bike that's unsuitable for the terrain. That's why Gonzalo Pastor, one of the riders on Bamboo Road 2022, was careful in selecting a bike that would be the right fit for what he planned to do. He explains, "I've noticed that people that do not bring the right bike have problems. So you have to be attentive to the kind of bike you need to bring." To support this process, TDA sends out bulletins with the recommended bike specifications and a suggested packing list before each tour. Never hesitate to reach out if you have questions about which gear is right for you and your tour!
2. Use your supports
Training your body and mind before a tour by building up your cycling capacity will help ensure you don't feel too overwhelmed during the first days of the tour. Another rider, Nicholas Beardow explains, "make sure you're fit enough to do it, because it can be hard, and when it's hard, your positivity can drop a little bit when you're having a bad day." But he also points out that there are options when needed. "The beauty about TDA is you can jump in the van," notes Nick. "Either you can go to lunch in the van, or you can jump in the van at lunch time, or you can get them to pick you up if you're having a bad day, you're feeling out of sorts, you're not enjoying it." This is an important point, because it really is about enjoying the experience. You'll be challenged on a bike tour no matter what, but if it ever feels like too much, there are supports in place so that you can keep enjoying your day. "That's the beauty," says Nick. "It's not a race. I wouldn't do it if it were a race. And it's not an ego thing about proving that you can do the whole thing. It's about seeing the world on a bicycle, and what better way is there to see a country than on a bicycle."
3. Fuel yourself adequately
Adequate food and hydration are absolutely crucial to feeling well and staying positive on a bike tour. This was Gonzalo's first long-distance bike tour, and he notes how crucial it has been to drink enough water. He also mentions that, "when I put electrolytes in my water, it really helped me." On TDA tours, a lunch break and water refill station are always provided partway through the day's ride. Route notes also include 'coke stops' where riders can pause to top up on snacks and drinks along the way. Using these tools to fuel your body is key for maintaining your physical strength and optimistic mindset.
>>Related Post: How To Thrive On Group Cycling Adventures
4. Take breaks
Max Davis, a Bamboo Road rider from California, has done several shorter bike tours, but this was his first one for longer than 2 weeks. How did he manage to stay positive on some of the longer and more challenging rides of the tour? "I stop a lot," says Max. "I enjoy taking photos and looking at things, so that's a good break." Another tactic he uses: "I set little milestones for myself. When it's been a tough day, I'm like, 'ok, I'll go one more hour and then I'll stop and take a break and do something.' And then I'll stop and get off the bike and stretch. Stopping and walking around in little shops is a great break." This is an excellent strategy. After all, we aren't out on our bikes in a new place just to get from point A to B. We're there to enjoy and explore. Taking regular breaks helps our minds stay positive and our bodies feel refreshed.
5. Find gratitude even in the harder moments
Nicholas has completed 10 Ironman races, so he's no stranger to powering through tough riding days. But even he has his moments. "The bumpy roads, when my backside is bumping up and down on the saddle, that's the only time I'm not positive, but it's only internally not positive." In those moments though, he finds the gratitude in knowing, "I'd still rather be doing that than anything else."
Although bike touring has its challenging moments, it truly is one of a kind. As Max notes, "in a car you're separated and you don't see things as much. On foot you just can't go very far, so you have to pick one area. On a bike, you get that nice hybrid of seeing and experiencing everything around you, but you can actually see a bunch of different parts."
Bicycle travel is unique in what you're able to see and experience, and it challenges you both physically and mentally. By preparing yourself with the right equipment, listening to and fuelling your body, using available supports, and digging deep for an extra hit of gratitude, you can have a beautiful and positive bike touring experience.
RELATED
TOUR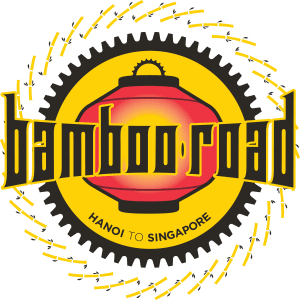 Bamboo Road
Many of us have criss-crossed the countries of South-East Asia on a 'shoestring' over the years, returning home with fond memories. Now we invite...