Blog
REGISTER NOW
LOGIN
SIGN UP FOR OUR NEWSLETTER
Cooking for 75
Adele shares the trials and tribulations of our cooking duo Jon Shepheard and Yanez Novoa. Chef and Assistant Chef respectively.
Cooking for 75 hungry cyclists, three times a day, in 10 different countries, in 40 degree heat, in monsoon storms, with at times just 3 hours to cook, 30 minutes to shop, 20 languages to translate, and all delicious, healthy and ready by 5pm each day?  Cooking for the TDA circus is a culinary expedition all to itself.
25kg potatoes, 60kg bananas, 20kg tomatoes, 35kg whole chickens, and that should last us until tomorrow.
Where exactly the biggest challenge lies is hard to say, as each stage of dinner prep brings a different level of challenge with the ever changing variables of the day.  Consider that the tour operates on approximately a 6 day week with one rest day in between.  On that "rest" day, the cooks are at their busiest. Making a plan for the week ahead, buying all the dry goods and staples they can, as well as all the fresh produce that won't go bad in the African sunshine beaming on the trucks each day. As the week goes, they shop often, they buy what they find, they buy what they can, and what exactly those ingredients are, are as predictable as the weather. For any iron chef fans out there, this is the TDA kitchen on a typical day.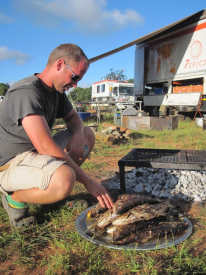 Between the planning, the prep, the organization, and the cooking, the shopping has to be the most entertaining of all. Shopping at markets big and small, the experience can range from a quite personable interaction with a family's vegetable stand at the edge of their property, to a near mob of sellers, ambushing Jon and Yanez for a pushed sale of their goods. Regardless of the size of market there are two consistent challenges; language and a comprehension of basic mathematics.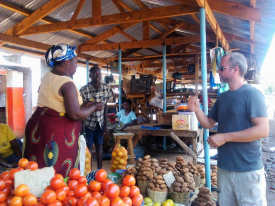 "How much for this bag of charcoal?"
"35,000"
"eeeesh, no way, too much"
"OK 3,000"
"How much?"
"10,000"
"How much??"
"5,000"
"OK OK, how about I give you 2,000 for this bag right here"
"OK"
"OK?"
"OK"
Non-sense.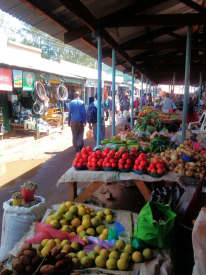 "How much for this pile of tomatoes?"
"100"
"OK great, I'll take 20 piles"
"OK.  2,300"
"No, but I want 20 piles and they are 100 each"
"2,500"
"….?…. Here's 2,000, how many piles can I get?"
And the negotiating continues.
Considering that the average market shopper is picking up supplies for one family for one day, you can understand the confusion of "How much for 20 bananas" vs "No no, 20 bunches of bananas".  Once they find a market seller willing to negotiate and understands the quantities needed, it's ON; 25kg potatoes, 60kg bananas, 20kg tomatoes, 35kg whole chickens, and that should last us until tomorrow.  In some of our more challenging sections, tomatoes, cabbage and onion where in fact all there was to work with to feed 100 or so hungry machines eating 2-3x as much as your average human, while preparing everything in 40 degree heat.  I tell you, sometimes it really is up-hill both ways for the TDA crew over here.
When the markets are good however, we get nothing but spoiled day in and day out.  BBQ'd short ribs, braised chickens on the beach, mustard green salads, creamy cheese noodles, ginger green beans, curried plantain, fresh fruit salad, and custard for dessert.  Now if this is making your mouth water after not having ridden a mile, you can only imagine what the 'seconds' line up looks like around here.