Blog
REGISTER NOW
LOGIN
SIGN UP FOR OUR NEWSLETTER
Tour d'Afrique: A Culinary Exposé
Over the years one of the best kept secrets on the Tour d'Afrique has been the food. No, seriously. And I don't mean the 'nutritious and plentiful and tasty' meals promised in our FAQs. I mean some really amazing dishes that will leave you with your mouth hanging open…that is….given the circumstances.
Cooking for 75 hungry cyclists, three times a day, in 10 different countries, in 40 degree heat, in monsoon storms, with at times just 3 hours to cook, 30 minutes to shop, 20 languages to translate, and all delicious, healthy and ready by 5pm each day? Cooking for the TDA circus is a culinary expedition all to itself.
Let's just say that Screaming Gordon Ramsey and Iron Chef Bobby Flay have nothing on the Tour d'Afrique chefs!
Now, it wasn't always like this! On the first tour in 2003, Founder Henry Gold remembers that "the local support, the African Routes guys, were cooking. Their job as Overlanders included cooking for clients, so this was part of their task. We also brought along US Army style a ton of dry dinners (tray packs wrapped in aluminum which you put in hot water and then ate) which ended up being generally consumed by participants on rest days. A few times they used the dry foods in one big pot such as a pasta meal." He continues, "The food was a bit of a problem particularly the 1st half. African Routes have never been north of Nairobi, and had no confidence in the meat they could buy along the way. We also had no refrigeration in trucks so given the fact that they feared using the meat from local markets, the diet was limited. The 2nd half was better as there was more options to buy stuff and also a different staff."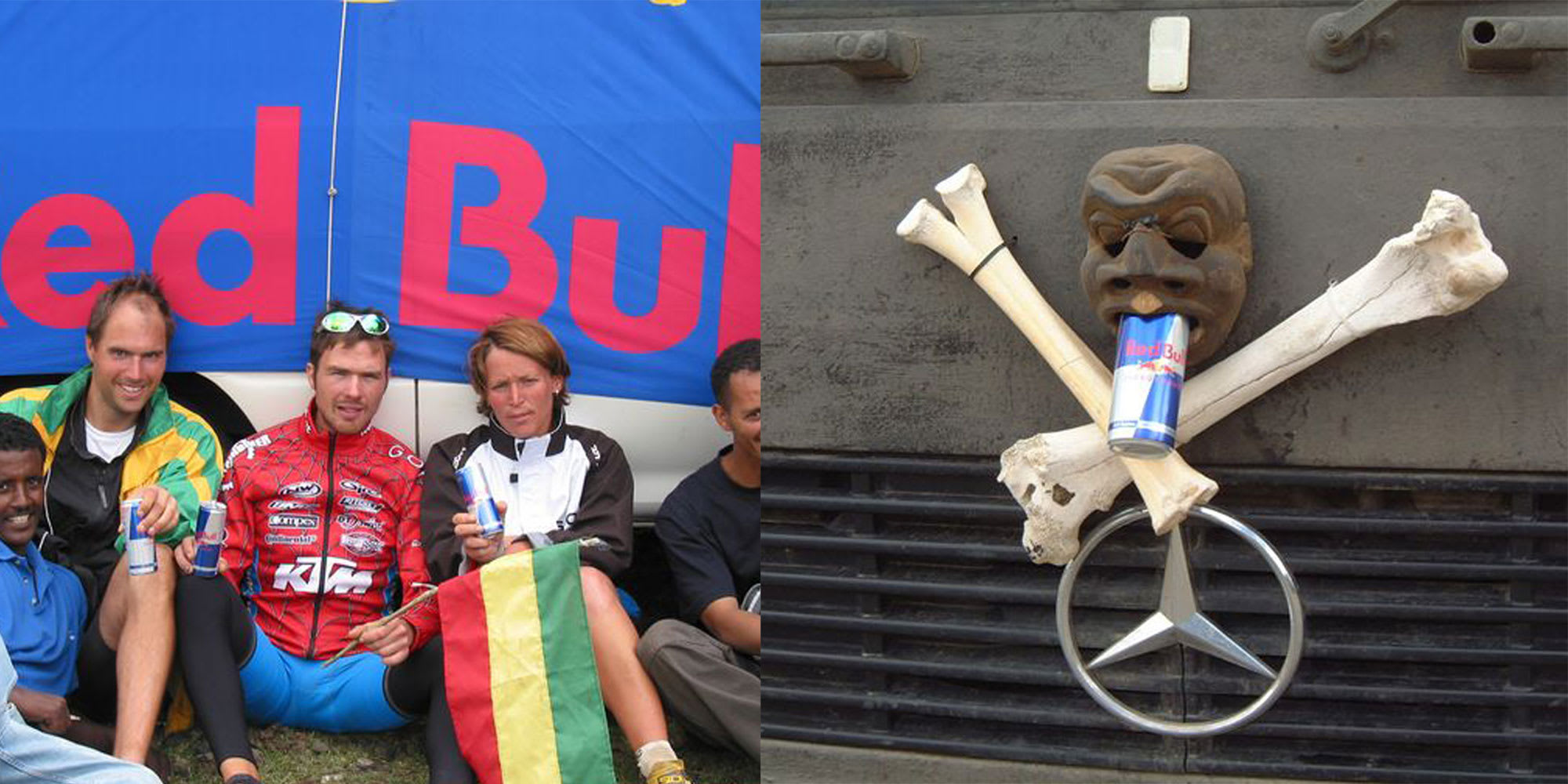 Mind you, Henry did manage to rustle up one sponsor – Red Bull. When asked how much energy drink the company gave them he replied, "A lot. The whole floor of one of the trucks was boxes of Red Bull. And as we had no idea how much we would drink, they resupplied us in Nairobi. And you could only drink so much of the stuff."
In 2004 and 2005 the conditions remained the same but, at least, with no army rations! Rider David Houghton (2005) recalls, that "Jack van der Veen lost 30 pounds. Allen Marcoux lost 39 pounds, and it got to the point where he had to jump around in the shower to get wet. I tried not to lose weight during the trip, concerned that dropping weight too quickly would make me susceptible to illness. Nonetheless, I lost 24 pounds. That's the TDA Diet."
Miles MacDonald (2006/7)
In 2005, a chef in Montreal decided he needed a new challenge and applied to work on the 2006 Tour d'Afrique. His name? Miles MacDonald, now TDA Global Cycling's Operations Manager. At the time, even he acknowledged that, "To be honest I had no idea what I was getting into." One of his first memories was of "the Egyptian chef stuffing 30 frozen chickens in the underbelly of our bus in front of our Cairo Hotel." Miles, who also worked on the 2007 expedition and has continued to travel to Cairo to train the new chefs when required, allowed that, "It is one of the best cooking jobs in the world. It allows one to escape the western idea of food shopping in massive, fluorescent-lit grocery stores in order to delve into the nooks and crannies of street markets and communicating one way or another in multiple languages, and experiment with new ingredients and local staples."
Jon Sheppard (2008/2012/2013)
In 2008, a chef friend of Miles, Jon Sheppard, took the reigns. Jon found that, "Between the planning, the prep, the organization, and the cooking, the shopping has to be the most entertaining of all. Shopping at markets big and small, the experience can range from a quite personable interaction with a family's vegetable stand at the edge of their property, to a near mob of sellers, ambushing the chef for a pushed sale of their goods."
Here is his recipe for dinner in the Sudan – *Braised Wadi Halfa Lamb with Okra*
15 K lamb leg and shoulder, cubed
3 K okra, each piece chopped in 3
3 L tomato paste
1/2 cup coriander seed
1/2 cup dried rosemary
1 cup chopped garlic
2 tbsp fresh chilies
3/4 cup salt
1/4 cup cracked black pepper
1/4 cup fresh chili peppers, chopped
The preparation for this is simple; throw everything in pot except for okra, bring to a boil, reduce to low heat and cover. Simmer for 2 to 2 1/2 hours until meat is tender. Add okra during the last 1/2 hour of cooking. Serves 70
"This turned out really well. I served it with vegetable lentils (8 Kg lentils with 8 Kg vegetables), Greek salad. And caramelized bananas for dessert. I bought the lamb from a butcher in Wadi Halfa who cut it with a hatchet on a tree stump."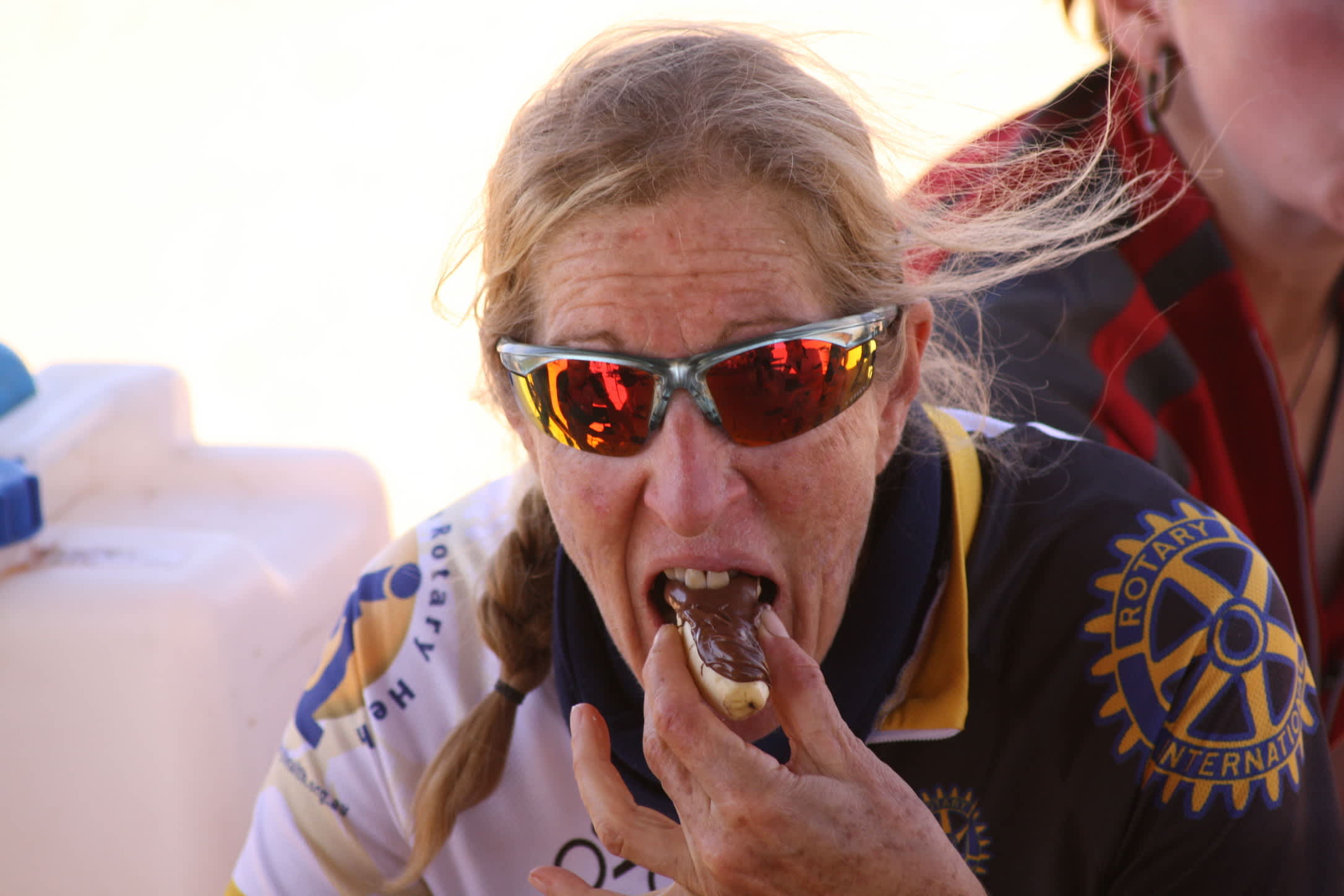 If this sounds crazy, keep in mind that the riders will eat an amazing amount of food on their own. One rider wrote, "It was time to spoil myself this morning so a visit was made to the Sheraton Addis Ababa, rated as the best hotel in Africa. Cost per head was 220 Bihr, about $22. I managed to put away the following: 3 poached eggs, 3 sausages, 1 pita bread, 2 slices of ham, chunk of blue cheese, chunk of emmenthal, chunk of Gouda with chilli, chunk of another cheese, 2 egg omelette, 6 rashes of beef bacon, serving spoon of baked beans, 2 mini burgers, 1 large waffle with strawberries, syrup and whipped cream, 2 pastries, more cheese, coffee, 2 thick juice smoothies. Not a bad breakfast in my mind. Will burn it off tomorrow so not too worried."
James McKerricher (2009/2010/2011)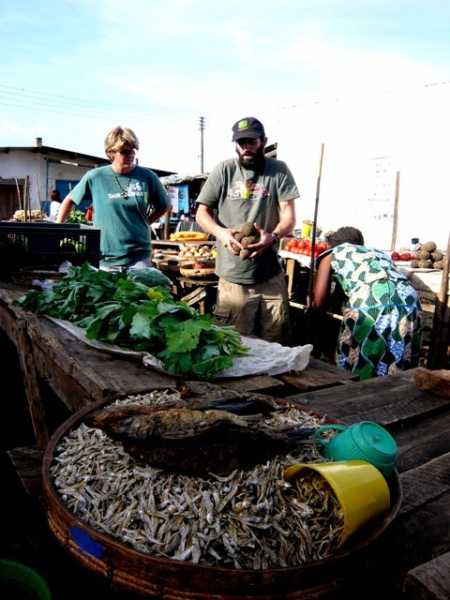 In 2009 Canadian James McKerricher joined the team. He based his approach on Napoleon's edict that 'an army marches on its stomach.' For his cycling army he noted that, "The consumption habits of 80 some-odd cyclists pushing their bodies to the limits are sometimes amusing, frequently disgusting and often shocking. Let's examine a few of our basics: peanut butter, carbohydrates, fruits and protein. Peanut butter: if you don't like tuna, you had better like peanut butter. Every day we put back about 5 kg of the stuff. That works out to about one third of a cup for every person, every day. To put that in context, on average, every ten days, every rider will have eaten the caloric requirements for a fully grown adult in peanut butter alone."
He really enjoyed shopping in the local markets and remembered that, "the vendors always ask me "how much do you want?" My standard response is "how much do you have?"
It was also hard work. "Everyday I walk, sweating, back to the truck with bulging sacks of bread slung over my shoulders. The demand seems endless. If we're serving rice, 50 cups of dry basmati will do the trick. If the kitchen crew is feeling strong, we'll make mashed potatoes with a "spoon" the size of a canoe paddle. It takes two of us to lift the 50kg sack of potatoes that will be consumed in a single meal."
Kimberly Lenny (2011)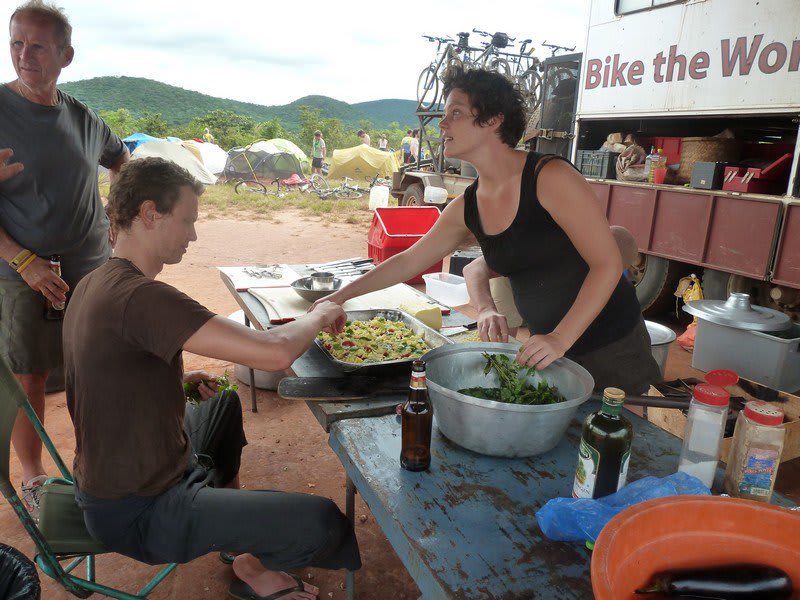 While individual caloric needs vary, it is not unusual for an average cyclist to burn 6000 calories during a single ride. In total, by the time we reach Cape Town the carnivores will have collectively eaten 5 African cows, 375 chickens, 35 sheep, 20 goats, and 12 pigs. Not to mention 9000 eggs.
Mark Lutz (2012/2015/2018/2019)
Mark Lutz joined our merry band in 2012 as "a chef and food obsessive". While working in Malawi on his second tour, he wrote about the country's staple food, nsima, a thick, paste-like substance made out of ground maize or cassava. Reflecting on Malawi's heartbreaking poverty, Mark had some advice for people back home, "I can't help but consider the obsession with nutrition and diet rampant in many, if not all, first world countries. We count calories, cut out carbs, and avoid foods because of fads and pop-culture dietary fashions. But here, in a land where simplicity rules, people live off what they have, and what they can produce themsleves. So maybe the next time you are worried about your diet, consider Malawi: eat some nsima, hop on a bike, and work your ass off."
Yanez Novoa (2013/2014)
The Tour d'Afrique quickly becomes a race from meal to meal. You wake up to eat, cycle to lunch to eat, pedal to camp to eat before you sleep and then wake up… and so on.
Breakfast, one day on the Tour d'Afrique – "The anticipatory buzz was palpable, sparked by rumours of a fruit salad that had begun to circulate since the previous afternoon, when every available knife and chopping board was set to the task of butchering crates of the sweet, vitamin-y goodness that is mango and pineapple. But only a select few knew the scope of what was in store on this particular morning in camp. True, there would be fruit salad, but also glee inducing-muesli, and the chocolate-hazelnut temptress of breakfast spreads that is Nutella. There is something that awakens deep inside the recesses of the brain when a jar of Nutella is cracked. Now giving a crowd of more than 60 cyclists that have been pushing themselves to their physical limits on a daily basis any one of these breakfast knee-bucklers on their own is a recipe for breakfast blitzkrieg, our seemingly jovial and considerate group reduced to a mob of multi-tool brandishing, every-cyclist-for-themselves hooligans."
April Fairbrother (2015)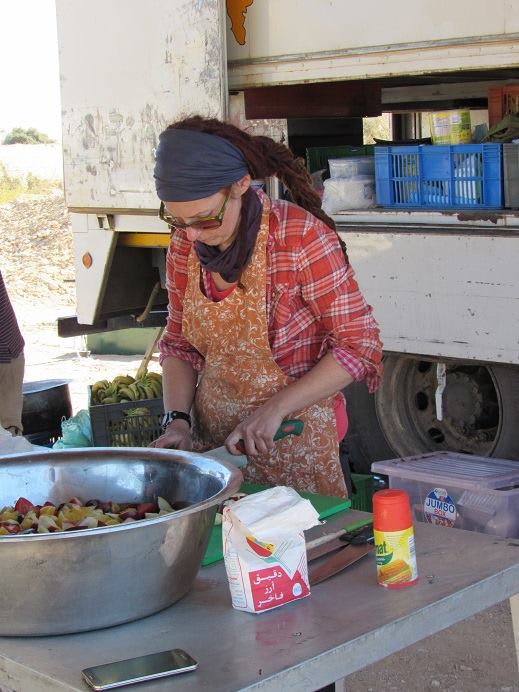 Malaysian Spiced Chicken for 60 on rice, with side coleslaw made with purple cabbage.
1. Mix together 80 pieces of freshly butchered chickens (best to butcher away from clients, unless the intension is to impress them with your butchery skills or to intimidate.) with coriander, cumin, tumeric, paprika, and cloves.
2. Separately mix water, vinegar, sugar, pineapple, corn flour, and set aside.
3. Stir-fry ginger, garlic, onion, red peppers, lemon. Add chicken stir-fry until no longer pink inside, and nicely browned on the outside.
4. Separately make a smaller portion of Malaysian Spiced Chick Peas for the vegetarians.
5. Pour in the sauce you made in step 2. Cook on low for 20 minutes. Set aside until dinner time.
6. Cook 20 kg of rice, so that it finishes just in time for dinner.
7. Once the pre-dinner rider meeting is called, put the Spiced Chicken/Chick Peas back on the heat in anticipation of dinner (rider meetings are generally 15 min. before dinner).
8. Set out the massive pots, find some big spoons and start serving.
Muluken Tesfaye (2016/2017)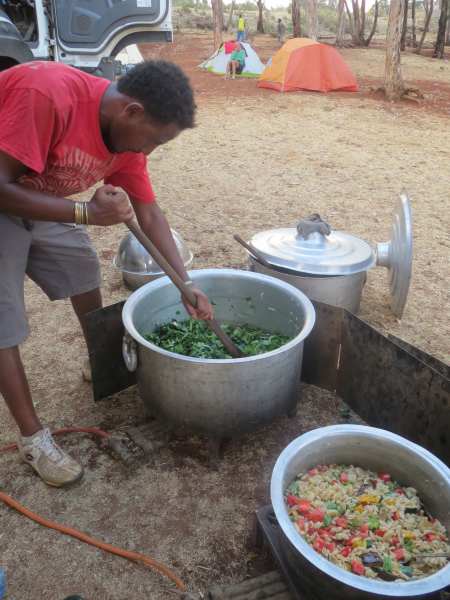 A Day in the Life – "25kg potatoes, 60kg bananas, 20kg tomatoes, 35kg whole chickens, that should last us until tomorrow."
Errol Ventor (2016/2017/2018/2019)
Top 7 Ways to Piss off the Kitchen Crew (Chef James McKerricher):
1) Sit in the kitchen. If you ever find yourself asking us, "am I in your way here?" The answer is yes.
2) Ask "What's for dinner?"
3) Leave your bicycle anywhere near the kitchen.
4) Ask "Where's the soup?" The soup is in the same pot everyday. That pot is in the same spot everyday. Try to memorize that spot.
5) Ask "Is the soup ready yet?" If the soup pot isn't in the soup spot, it's not ready yet.
6) Ask us questions regarding bicycles. Our favourite: "Do you know where the good bike pump is?" We don't ride bikes. We don't touch bike pumps. We have no idea what the good bike pump looks like.
7) Leave your dish kit lying around the kitchen. I'm sorry. I haven't seen your spoon. The next time I see your mug I'm throwing it in the bush.
Remember that guy who got that nice chunk of chicken? He got a choice cut yesterday too. If you're looking for a more generous scoop tomorrow, here are a few simple and surefire tips.
1) Help out in the kitchen. (A) Peel garlic: we all love the stuff. But if you think we're gonna spend all day peeling for a group of 80 you're sadly mistaken. (B) Mix milk: mixing milk is not something that gets more fun with time. We're a little over it to be honest. Eric D. is the milk mixing champion. (C) Chop onions, scrub potatoes, 'tip and tail' beans — it's not all glory jobs in this kitchen. In fact, there's no shortage of menial tasks. Help is always welcome.
2) Do a good job when your turn for dish duty arrives. Don't whine. If you can't do a good job, hire Steve.
3) Say thanks.
4) Buy us a beer.
Chelsea Conry (2020)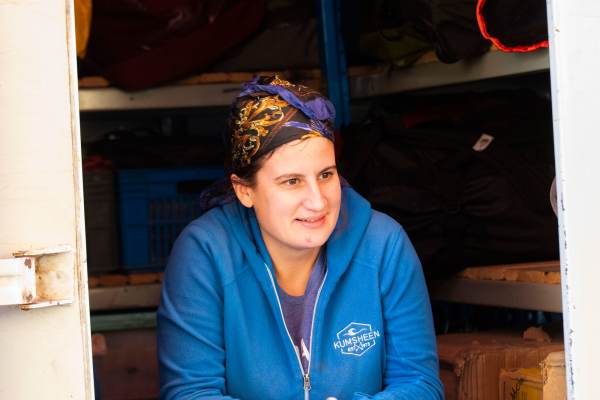 Who will be the next chef to join this distinguished group? It could be you! The position for the next Tour d'Afrique has not yet been filled. Apply here. But Bobby and Gordon, don't bother. You'd never survive…