Blog
REGISTER NOW
LOGIN
SIGN UP FOR OUR NEWSLETTER
Lusaka Update from #tda2013
The TDA 2013 has now completed about 75% of its journey; in time, not distance. From here on in, the daily distances increase, culminating in an epic 207km ride in Botswana. At this point in the tour the riders begin to see, just vaguely, the end of this amazing adventure. Cyclists start counting down the remaining riding days and turning their minds to life outside the TDA bubble. Laughter gets louder and the parties go longer as the finish line inevitably approaches.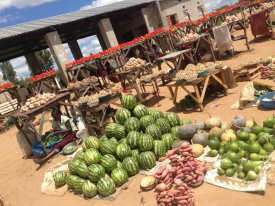 The riders have spent the last 3 weeks spinning their way through the hills and villages of Malawi & Zambia. Roadside markets and friendly children have been constant companions. Despite the colour and seeming abundance of the farmers' foods for sale, the truth is that this is the 'hungry season' when the local populace tries to sell the food for cash instead of eating it for sustenance. TDA tries to help out by feeding the lunch left-overs to anybody who happens to live in the area (under the strict supervision of Captain Noah, of course).
While struggling along the way, our riders have been reminded that the locals sometimes face much more challenging conditions than they do.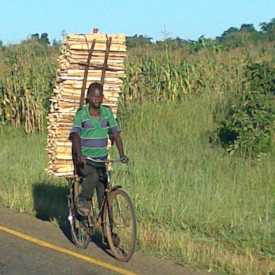 And then the TDA 2013 cyclists also have some time to relax. Even after a 172km day, they managed to enjoy a cruise on the iconic South Luangwa River. So the tour eases into its last month with a 3 day ride to the incomparable Victoria Falls where the riders have 2 days off to enjoy the many activities on offer.
And I head back to Toronto having had the pleasure of hanging with some pretty unique and amazing characters; Marco, one of our Italian riders, with his wallet reminiscent of a Seinfeld episode (see Marco's wallet below); a driver who spent his lunch stops negotiating with the locals for a wife for his nephew – Malawian women are apparently known as faithful and hard workers – the cost? 6-8 cattle plus a pick-up if she is really beautiful; a staff member who, like a Borg, is glued to his Twitter feed; IT professionals who have quit their lucrative jobs; alumni who have returned to try the experience again after 10 years…
All this and more makes the Tour d'Afrique what it is – part expedition, part social experiment, part madness…and the mixture of these three ingredients can change from day to day, from hour to hour and, sometimes, from minute to minute.