Blog
REGISTER NOW
LOGIN
SIGN UP FOR OUR NEWSLETTER
Who had more fun TdA 2003 or TdA 2013?
Tour d'Afrique founder Henry Gold is now in Namibia with the cyclists, and will see them to the end in Cape Town. Here is his reflection on how the tour has change, and how Africa has changed.
It has been ten years since Tour d'Afrique's pioneering spirits first cycled from Cairo to Cape Town. Some people thought we were nuts. Some of the participants who are cycling now can tell you that when they tell their families, friends and strangers, some of them think they are nuts. From this perspective not much has changed. But things do change. The countries through which we cycle are changing all of the time.
Take a look at the map of the TdA route here. Did you know that Ethiopia's average annual GDP growth for the last ten years has been 8.9%?
Did you know that in 2003 when we started, there was less than 10% mobile phone subscriptions, whereas today it is 60%?
Population has grown by average of 3% per year in Ethiopia, Zambia and Malawi, 2% in Egypt, Sudan, Kenya and Tanzania, 1% in Botswana and Namibia and 0% in South Africa and infection of HIV has fallen by 3/4 in the most affected of these countries.
And here is something that I am sure you have not heard: Africa leads the world in Mobile money.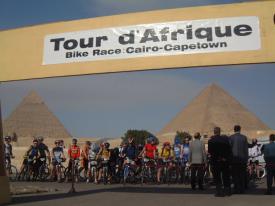 A year or two ago, I read an essay by Paul Theroux (who, by the way, started his career as a Peace Corp volunteer in Malawi in the sixties – and who few years ago followed in TdA footsteps and wrote a book called, guess what, Dark Star Safari: Overland from Cairo to Cape), in which he comments about the experience of someone who would visit Malawi now as compared to Malawi of the sixties. The population has grown significantly, the wilderness may have receded considerably, yet the travel experience for people who have never visited Malawi is new, stimulating and refreshing. I could not agree more.
And as Paul Theroux wrote in Overland form Cairo to Cape Town, no matter when you go; "you go away for a long time and return a different person – you never come all the way back." And that was the essence of Tour d'Afrique in 2003 and still is in 2013.