Blog
REGISTER NOW
LOGIN
SIGN UP FOR OUR NEWSLETTER
A Tour Leader in Africa – The Strange Life of Ciaran Powers.
As our great expedition comes to an end, it would be impossible to say that we could have done this alone. Not without the help of each other; not without the help of the staff; and without a doubt, we would not have moved an inch without the fearless leadership of Sir Ciaran Orion Haranahanyahan Powers.
Like any true leader, he refuses any fame, any glory, nor any special treatment and, in fact, specifically requested that I kindly not write any blogs about him whatsoever. Right. Here I have for you – a summary of what we have learnt about Ciaran over the past 4 months in Africa.
But hey now, he's actually the perfect catch. Listen up. He's highly qualified in listening attentively to any complaint you might have about absolutely anything.
For starters, this is this trip will officially mark the longest stretch of his life that he has spent OFF (Off his bike). While many cyclists turn up to the TDA having never ridden a bike or very little in comparison, Ciaran has spent nearly all of his life riding a bike, working in the cycling industry and following cycling events worldwide – only for all of that to grind to a halt in Cairo, Egypt.
Being tour leader unfortunately means spending most of one's days behind the wheel of the Toyota Hi-Lux checking in to make sure everyone is more or less still alive. It's a rough life. I mean the air-con is half-broken from a previous trip across the African continent and only comes out of the vents by your feet. The hardship. The suffering. While everyone else is sweating their brains out of their ears, half dead across the Sahara desert, Ciaran is there – rustling around in his back pack for his wool socks, reaching across to the drink holder (found only on the passenger side, ugh) for his diet soda water, while checking his smart phone for live stream updates on Giro d'Italia bike race. The multi-tasking is impressive.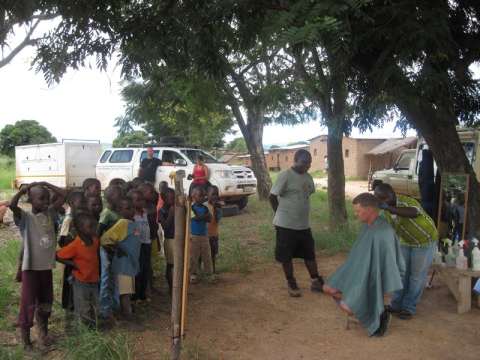 The man runs a tight ship however. You can tell by the trim of his neck beard or more accurately, the laser-beams carved into the side of his head. Cleanliness IS a sign of godliness and Ciaran doesn't let Africa get in the way. Did you know that this man has gotten himself a roadside/ally-way/ backyard hair cut in every country that we've gone through? That's right. With the ease of cross language communication we've seen just about  everything from the tour-leader bowl cut to tour leader buzz cut and every other creative expression as to what a 'good' hair cut should look like. Out latest addition was a camp-cut done by a rider who shall not be named, the result of which was a request from Mr  Henry Gold himself to please "fix that" before Cape Town.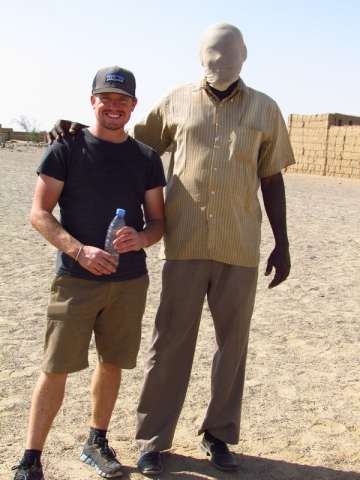 Now I know what you're all thinking by now, the ladies must be a-running. You're right, they are. The ladies have never run so fast and so hard, in the opposite direction. But hey now, he's actually the perfect catch.  Listen up. He's highly qualified in listening attentively to any complaint you might have about absolutely anything. I mean, even if there is nothing within his power he could actually do it change it, he will try. Why?  Because he has to. He will wake up hours before you every day and make sure your days starts as seamlessly as it did the day before. He will even drive you thousands of kms in any direction to deal with your personal problems. The only catch is that at the end of the day, you'll be living in a blue Marmot tent with half broken zippers and, if he's anything like the rest of us, sleeping on a theramarest with a slow leak.
Luckily if you haven't had the pleasure of meeting the one and only Ciaran HP on this African adventure, perhaps you're one of the fortunate few joining the Bamboo Route this fall where you will be charmed by this guy's endless zest  and obsessive-compulsive tour leading.