Blog
REGISTER NOW
LOGIN
SIGN UP FOR OUR NEWSLETTER
My Big, Fat, Intense Mexico Scout
Prior to working for TDA, when I still had an address, I was interested in a few different websites, such as Warmshowers – a place to rest and recharge the batteries for bicycle travelers.
Needless to say, I met a few very interesting people, most long-term travelers cycling around the world (some of which are still good friends of mine). A few stayed for a couple weeks, but one guy, Sekiji, stayed for over a month. With all the stories, chatting, laughing and drinking Mexico seemed to be a recurrent theme that would always arise in the form of nostalgia and smiles. Intensity is the word that probably best describes what I always imagined about Mexico, and intensity definitely describes well what I expected when it came time for me to fly to Mexico for a month to scout our new North American Epic route from the border with Arizona all the way down to Mexico City.
By the time I got to Mazatlan to take the ferry across the Gulf of California to La Paz, in Baja, I was in love with the Mexicans.
Flying into or out of Mexico City gives you a pretty good idea of the actual size of one of the world's largest cities. It seems massive, chaotic and, why not to say it, intense! Spending a few days in the city wandering up and down finalizing everything for the round trip to the US border gave me the impression that, although still hectic, the city is not as chaotic as I had fantasied. The subway system is pretty efficient and extensive, despite the fact that there may be some serious pushing to get in or out of the train at rush hour and it is very easy to find your way across the city with it. There are police in every corner and although this is not always a good sign… well, the city looks secure and people don't seem to be walking around afraid at all, even later at night in not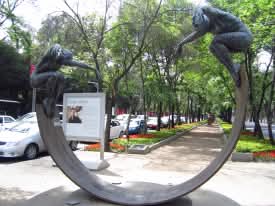 so good areas. Of course, there are traffic jams everywhere in the city, but for such a big city so immerged into the car culture, it is not so bad. The bike culture is also big and seems to be growing fast and the Mexican drivers seem to respect the cyclists. The city (for the most part) is clean, artful and safe. For all its bicycles, organization and art, Mexico City made me feel that the city itself was a reason alone to come to Mexico and that riding your bike into Mexico City as a grand finale to an Epic ride was already enough of a reason to cycle through Mexico. "I should write a blog about this", I thought!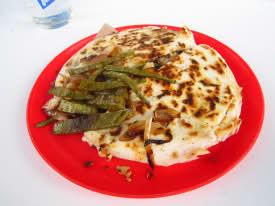 It was also during those days in Mexico City that I started my month-long Mexican street food orgy. As a big fan of their cuisine, I surrendered myself to all kinds of street food, road side vendors and any yummy local snack that crossed my path. Mexican food is no doubt a reason on its own for a visit to Mexico. The intensity of the authentic flavors you can find along the way in hidden alleys and obscure towns you will most likely only visit on a bike proves that cycling is the best way to enjoy Mexico. "Forget beautiful Mexico City and all its cyclists and its art" I said to myself.  "This food is the main attraction in this country; I should take a bunch of photos because I really want to write something about it"!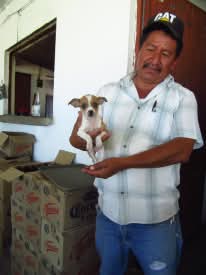 Of course I would usually try to converse as much as possible with these taco men or women, both to check if I can collect information about the area or the road conditions and for the pure fun of interaction – after all, I guess I like to travel more because of people than anything else. By the time I got to Mazatlan to take the ferry across the Gulf of California to La Paz, in Baja, I was in love with the Mexicans. I was still all excited about our Convoy de los Conquistadores into Mexico City and about our great hotel in Avenida de la Reforma and I was even more excited about all the great food. But the people make a place! People like the cashier who ran around the shop getting all his collegues' IDs  so that I could exchange a few times the amount of currency I was allowed to. Or the cop (Daniel) who pulled me over (with sirens and everything else) on a dirt road just outside Isla … to ask me to take some soup, tacos and a few cokes to his friend, working in an operation at an intersection 20 km away. People such as the old man in the campsite in San Felipe or Olivia in Bahia Concepcion or Mr. Abel in Loreto.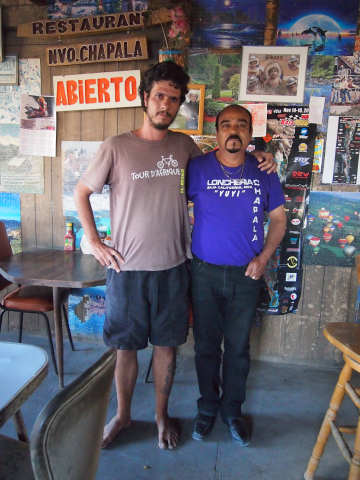 Guess what? I was going to write about the people. You've got to come to Mexico. You have to experience its people. It would already be worth coming down to Mexico even if was only to have a chat with the old couple in Acambay as they preper the best quesadillas of your life or the locals who sell the world's most expensive coconut at a view point over the sea just outside of Loreto. No one resists stopping at the view point and no one resists having a fresh coconut while enjoying such a spectacular view. And it was chatting to this nice old coconut man that I realized what the highlight of our route would be.  Maybe people will forget the old couple and the quesadillas, maybe they won't even like Mexico City. But some of the spots we were going to go through were unforgettable. Even if someone was to come to Mexico to ride one single day on such scenic roads, it would already have been well worth it. I was taking a lot of photos, after all one image "speaks" more than a thousand words.
And with great food, friendly people and beautiful scenic roads I crossed Baja California north and south. From Mazatlan to the border with Arizona and back. Baja feels really, really safe! "Crime rates here are low because there is nowhere to run to", locals told me on several occasions. There are several military control points and they search every vehicle completely and continously, specially those heading north. Police and military were always very polite and prompt, helping Americans and Canadians park their RVs and camp on the beach or on the side of the road. Our route through Baja has a little bit of everything. Off-road, paved roads, good roads, bad roads, deserts, beach camps, more deserts, more beaches, tacos, coconut water, seafood and a lot of cactus.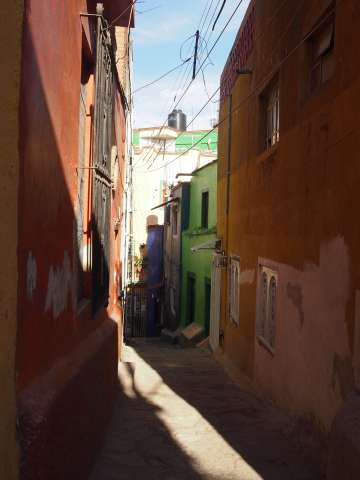 The long ferry crossing to the Mexican mainland from La Paz to Mazatlan is also a unique experience not to be missed. (I saw dolphins and turtles & if you are lucky enough you can see whales)  I guess it was probably around the time I got back from Baja to the mainland on my way south  that I realized that the Mexican culture, its food, its people and its landscape was already enough of a reason to be in Mexico. And I hadn't seem Guanajuato, San Miguel de Allende and many other historical  towns still to come on route between Puerto Vallarta (the famous beach resort town on the Pacific) and Mexico City. Being in Jesus Maria, Acambay and many of these old towns and to cycle through old narrow streets and alleys was more than enough of a reason to ride across Mexico. "This is why someone would come cycling here", I thought while driving through Guanajuato. Excited, I explored the options to enter and leave this crazy town, visited hotels and took photos. "It is all about the culture", I thought to myself.
By the time I got back to Mexico City, I was confused. With so many streets and avenues closed for cyclists on Sundays, I was again in love with this city, which took me back to the beginning. The convoy into Mexico City and the city itself were just intense. But so were the food, the people, the scenery, the culture and the history. As I get ready to leave Mexico and remembered my expectations, it all made sense to me. Mexico was really all about intensity.