Blog
REGISTER NOW
LOGIN
SIGN UP FOR OUR NEWSLETTER
The Alternative (but highly appropriate) guide to The Tour d'Afrique.
1. Tent and sleeping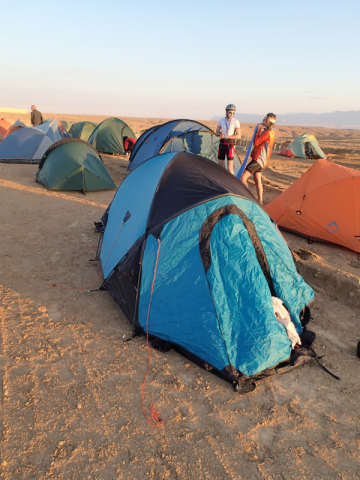 You're best bet is a free standing tent with a removable fly sheet. In some places, the ground is solid rock, it hasn't rained in 20 years and your tent pins will just bend into a knot with all the hammering you may have to do. If the tent stands up without the pins, then you will be laughing. A removable fly sheet will be a great asset against the unmerciful heat as it will enable you to keep cool as it will not retain the heat. If like me, you have a dark coloured tent with no removable fly sheet, you must be ready to sweat at night. In preparation for this inevitability, I would advise that you should pour hot water on your bed before sleeping, turn up the heat full blast and close the windows. Dongola zoo should then be a breeze. If you plan on bringing a thermarest like me, be prepared that it will probably burst, thus leaving you to sleep on a piece of canvas on the ground. A cot camping bed would be a smart alternative. If you are rather slow at the cycling lark you may appreciate a tent that can be constructed rather quickly, especially if you arrive in quite late after a tiresome day. Take this into consideration also.
2. Bike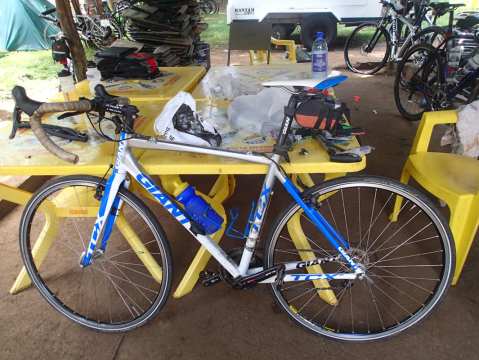 Obviously an important piece of kit one would think if you are cycling from Cairo to Cape Town. I had a Giant TCX cyclocross bike, fast on the road and hard packed dirt but quite unmerciful on the corrugation and bumpy stuff. I just had to be able to suck it up! If you want to go fast, it's the only job though. My bike was near brand new so it was grand. Unfortunately many people brought pieces of crap that fell apart and broke easily. If you plan on bringing a crap bike with loads of things wrong with it then here is some good advice…practice cycling your friends bikes and anyone else's bikes you can get hold of. When your bike breaks, you will have to cycle the Cinelli, the crew's bikes, sick people's bikes etc. so it would be smart to be proficient in cycling fast, slow, heavy, light, mountain and cyclocross bikes. My friend Jared cycled only about 12 bikes on this years tour, good going!
3. Illness
YOU WILL GET SICK! So to prepare yourself properly for this likelyhood, you should search out restaurants with shady health records and eat their burgers and chips. Any place at the bottom of the TripAdvisor list should suffice, history of food poisoning would be preferable. This is prepare your immune system for the onslaught of diarrhea and gastro in Sudan and Ethiopia.
4. Sudan Off Road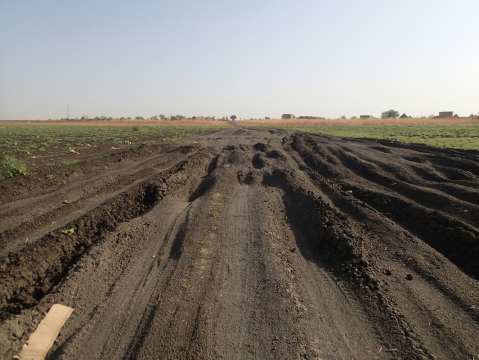 Here you will cycle on deep corrugated ruts, this will not be fun. To prepare for this you should find a train line and try to cycle on the metal rail line for 90km, eventually you will fall off the line and have to make your way along the stones and sleepers. It's best if you fall and cut your elbows every so often. Obviously this will not prepare you for the unmerciful heat, I would recommend that you cycle on a stationary bike in front of an open fan oven until you fall off and feel a bit ill. You are not permitted to drink any water during this period.
5. Ethiopian Kids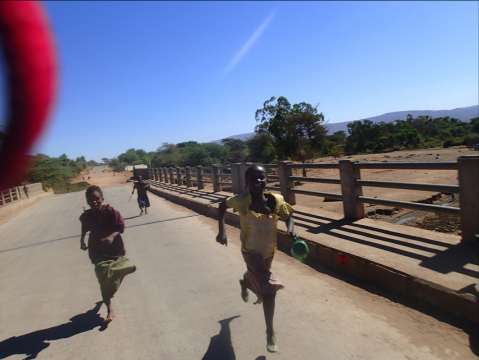 In Ethiopia, the children will see you as a cycling pen and money dispenser. Despite the fact that while the number of requests was high, the actual handing of pens was incredibly low (probably zero), this did not stop the eager youngsters from chancing their arm. Unfortunately with no pens coming their way the children became increasingly frustrated with their efforts. This resulted in a shower of stones being directed at the direction of the cyclists. You may be the person to save the day and save your fellow cyclists from potential harm. Purchasing 12,000 pens prior to your visit to Africa and handing them out as you cycle along should appease their hunger for writing. It would be preferable to cycle fast, ahead of everyone and save the slower crew from the brunt of the abuse.
6. Ethiopian Stones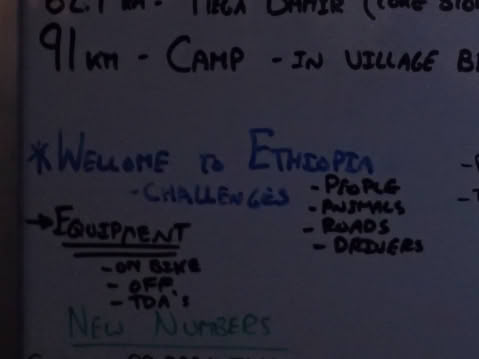 If nobody happens to bring 12,000 pens then you must be ready for the stones. I would advise seeking out a local halting site/gypsy camp of some sort and robbing something valuable from them. Cycle away and then return the next day. You should have ample opportunity to practice avoiding stones thrown during an excursion like this.
7. Tyres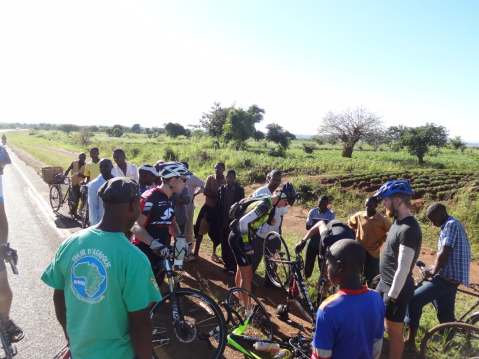 If you like engaging and chatting with locals along the side of the road, then the best way to engineer this is to bring really rubbish tyres for your bike. You will get loads of punctures and you can chat to the friendly locals while they help you fix the puncture. They will pull thorns out with their teeth and do all sorts of funny things. This will provide many interesting photo opportunities for the budding photographer. Alternatively you can bring Schwalbe Marathon Plus, save yourself the punctures and chat to the locals whenever you want.
8. Porridge
Prepare to eat barrels of porridge, tubs of honey and baskets of bananas. When you get sick of eating that, get ready to eat bags of white bread covered in peanut butter and nutella. It's probably not best to practice this as you will more than likely be sick of porridge and powdered milk after a few weeks.
9. Coke
You may not like fizzy drinks, let alone this dark, murky, sweet liquid, but before long you will be drinking over a litre a day…be warned!
10. Saddle Sores and poo in general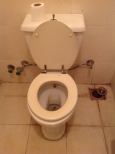 Be prepared to discuss the general well being of your ass with strangers as if you are talking about the weather. Don't worry, this will be normal conversation after a few days. As will be your chat with your new friends about the size, shape and composition of your stools. Maybe you can practice this before you go, drop it into normal conversation 'my shit was very solid there…so how was work today!?'
11. Dirt and hygiene
It is very difficult to properly prepare for the levels of dirt that you and your clothes will be exposed to. I would advise that for 8 days straight, you should not shower, you should exercise for many hours every day and wear the same clothes. You may lose some friends and get some funny looks especially in work and on public transport but at least you will be prepared mentally for the task ahead. You will be allowed use a limited supply of baby wipes in this period though.
12. Toilet tents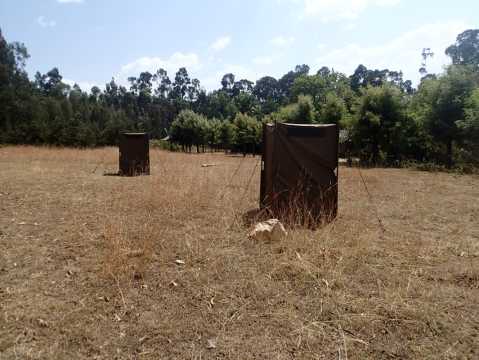 In various parts of Africa, because of the density of population, you will not be able to dig a hole and go to the toilet wherever you want, unless you have no problem with 30 kids observing you as you aim for the hole. Therefore the wonderful toilet tents are provided. These tents provide privacy and calm amidst the panic outside for the TDA cyclist from the hordes of curious locals. To replicate this situation, a future TDA cyclist should source their own toilet tent and bring it to a music festival or a similar gathering. They would have a perfect scenario to practice squatting technique in a busy environment. Also you would have your own toilet…win win!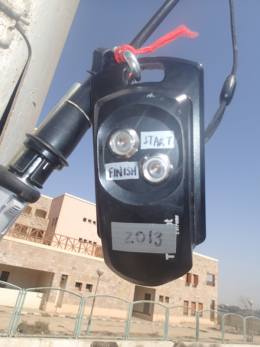 These tips will be crucial in your preparation for a future TDA trip. You may look silly in front of normal people whilst preparing but you will have an edge mentally on your fellow cyclists knowing you are ready for what is in store.
Many, many thanks to TDA 2013 cyclist Philip Howard for letting us re-post this hilarious look at life on the TDA.
You can see his blogs here.