Blog
REGISTER NOW
LOGIN
SIGN UP FOR OUR NEWSLETTER
Packing for a TDA Tour – Everything you need to know
HOW TO PREPARE: An 8 part series to get you ready for your first TDA tour. Click here to read more.
How do you fit everything you need for a multi-month tour abroad into one or two duffel bags? It can seem daunting or impossible if you have never done it before. This blog will help you understand exactly what you do and don't need and how to choose the right gear so it all fits nicely into your TDA-approved duffel bag. We have broken this longer post into sections and suggest you watch the video first, and then click on the headings below to jump to the topics you want more information on.
Choosing a Duffel Bag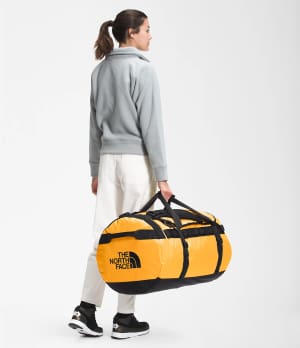 TDA recommends the Northface Basecamp 95L duffel bag. This is the ideal bag for all our tours. It is durable, soft-sided and highly water-resistant. It has backpack straps to make it easy to carry and grab handles for easy loading and unloading from our support vehicles.
When a lot of us pack for a trip, we mostly think about what will be convenient and practical for moving through an airport and for getting in and out of taxis on the way to or from our destination. But we have to shift our thinking for a cycling expedition. The bags you choose and the way you pack will be something that has an effect on you (and our staff) every day throughout your cycling journey.
So pack with your cycle tour in mind and not the airport.
That means no hard sided or wheeled bags. Any bag with an extending handle or rigid frame will not work. Duffel bags allow us to use that space in our support vehicles in the most efficient way possible.
Bag Limits
| | | |
| --- | --- | --- |
| | # of Bags | Limits |
| Hotel Tours: | 1 | 110L, 23kg |
| Camping Tours: | 2 | 110L, 23kg (each) |
On hotel tours you are allowed one bag that you have access to daily. At the end of your daily ride, you will typically find it in the hotel reception area alongside the other cyclist's bags.
On our camping tours you are allowed to bring two duffel bags – one you access each day (the 'daily bag') and one that stays on the support vehicles until the rest days (the 'permanent bag'). We discuss how to organize your gear between these two bags in the section below: Daily and Permanent Bag System
Our staff will do a brief baggage check for weight and volume at the start of the tour and each section and no bags exceeding the limits will be loaded on the support vehicles. After a day or two on tour you will quickly see the importance of following our strict bag limits. Your tour staff are lugging these bags in and out of the vehicles twice a day. You are hoisting it over your shoulder to take it to your camp spot or up some stairs to your hotel room. Our baggage limits help to maximize the capacity of our support vehicles and ensures that everyone on tour is on an equal footing – and of course to protect our staff from injury.
Packing List
We send out a detailed packing list to registered riders before their tour starts. Here is what those look like:
Note – these are samples and registered riders receive a more customized list.
In general, you will need to pack:
ID, money, and important documentation
a few sets of cycling clothes (shorts, shirts, socks)
clothing for different weather (rain and cold)
clothing for after the ride
basic first aid kit (carried on your bike)
smartphone or tablet, external battery pack, chargers and plug adapters as needed
helmet, pump, cable lock, spare parts and basic tools
tent, sleeping bag and mattress (on camping tours)
Some related blogs
What NOT to Bring
We have seen it all over the years. Here are a number of items we do not recommend you bring. If there are other items your are unsure of, please reach out to us and we can help.
laptops
bulky pillows or blankets
excess clothing
bike cases – soft or hard (more on this below)
plates, cups & cutlery
camp chairs
metal hammer (for pegs)
hair dryers, curling irons
bike tools (besides those on our list)
excess spares
excess toiletries (bring enough for a week, and then re-supply throughout the tour)
snacks, energy powder, energy bars (beyond a 5-7 day supply)
Bike Cases and Collapsible Bikes
We often get asked about hard and soft bike cases. We cannot accommodate any bike cases (for full sized, or collapsible framed bikes). The reason for this is that our support vehicles have limited space and we try and keep strict baggage limits to be fair to everyone.
These travel cases are ideal for one or two week cycling vacations but they don't provide the same convenience for our point to point, multi-week adventures where we aren't returning to the same city to fly home. On cycling expeditions, a disposable cardboard bike box is the first and best option. More on traveling with your bike below.
Some of you may see this as counterintuitive to use cardboard when you have your own case but we can assure you this is a safe way to get your bike to and from the tour and we have been doing it without problem for 20 years now. Our mechanic would of course help you assemble your bike in the start city and repack the bike at the end of the tour as well.
Organizing your gear
Here are some of our top tips for keeping yourself and your gear organized…
Nothing outside your bags – Everything you bring except the items you are carrying on your bike each day (such as pump, first aid kit, etc) must fit into your duffel bag. That means nothing loose in our support vehicles, or strapped to the outside of your bags (whatever you carry on your bike is not included in our baggage limits).
Compartmentalize – We recommend that you compartmentalize your personal belongings inside your duffel bags using stuff sacks, packing cubes, compression sacs, plastic bags, or other small lightweight water-resistant bags are a great way to separate your belongings inside your duffel bags.
Less weight, less volume – While we allow 110L 23kg bags, in our experience a bag of 90-95L weighing not more than 18kg is very much achievable with careful packing. It will mean less weight for you (and our staff) to carry.
Phone or tablet – We do not recommend bringing a laptop as it's likely to be damaged. If you feel you need something larger than a phone for reading or emails on off days, than a tablet in a quality hard case is the best bet.
Compact gear – Always choose high quality, compact gear. This blog is an excellent overview of how this has a huge impact in the space you have available in your bags.
What to carry on your bike – This blog goes over the basics of what to carry on your bike during a typical day on our tours. A pump and spare tube, for sure. But there a few other items you may not have considered.
Daily and Permanent Bag System on Camping Tours
The 'daily bag' will contain your tent, sleeping bag, sleeping mat, enough cycling and casual clothes to last from one rest day to the next. The bag you only access of the rest days (the 'permanent bag') will contain all of your extra equipment including clothes, bike parts, medications, books, maps, repair kits, shoes and electronics that you don't need each day.
Here is a great video, filmed on our Tour d'Afrique event in 2022, where the tour leader walks us through how and what to pack for an expedition-level tour. It's important to note that while our support systems and support vehicles will differ from tour to tour, our bag system remains the same on all camping tours.
Traveling with your Bike
Once you have figured out what and how to pack everything into your duffel bag(s), then you may need to shuffle things around temporarily for the flight. You can put some of your bulkier items in your bike box (we have a great video on how to box your bike). Then when the time comes, you can review another in-depth blog we have on the ins and outs and our best tips for getting to the airport, while in transit, and what to do once you arrive. You can read it here: Traveling with your Bike – Everything You Need to Know
The TDA team has many decades of experience in packing and preparing for a cycling expedition and we hope the info we shared here is helpful as you prepare. But we might have missed a few good suggestions, so we encourage you to leave your own packing tips below in the comments.
How to Prepare
An 8 part series to get you ready for your first TDA tour. Click here to read more.