Blog
REGISTER NOW
LOGIN
SIGN UP FOR OUR NEWSLETTER
Ride For A Dream 2013 – aka Training for the 2014 Silk Route
The TDA Toronto office welcomed a new face in April. Micah Markson will be working a few days per week for the next several months helping with a variety of tasks. In May 2014 he will be riding as a participant in the Silk Route Cycling Expedition. Micah just returned from a ride to St. John's.
When I was given the chance to ride TDA's 2014 Silk Route, I jumped at the opportunity. Of course, preparing for such an expedition is a bit daunting. Luckily I was also able to take part in Ride For A Dream, a trans-Canada bike ride working towards ending violence against women. The campaign began last year with a ride from Toronto to Vancouver, and I joined this year for the second half, Toronto to St. John's, Newfoundland. I treated it as a practice run for the Silk Route.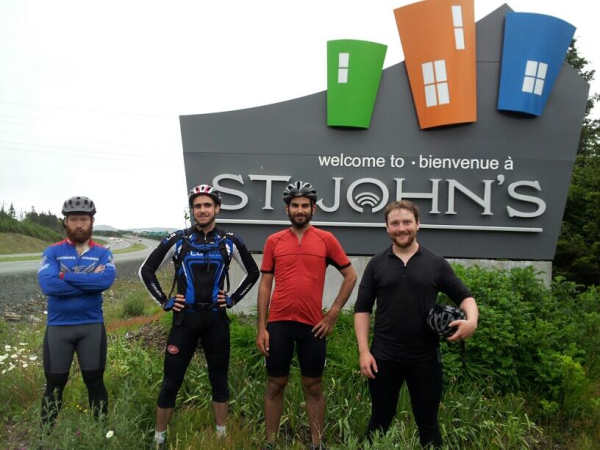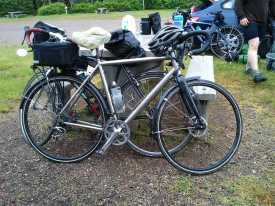 Choosing a bike for these kind of long rides is pretty important. Most experts would advise against using a brand new bike on a month-long ride, but I did just that. I got a Kona Rove Titanium from Cycle Solutions, and went through a professional bike fitting with them. The fitting, along with a good saddle, really made a big difference. I only had time for a few test rides before we left on June 1st, but I knew that a problem with the bike would be easier to fix somewhere along the Trans-Canada than it would be on the Pamir Highway. I am happy to say that the bike worked perfectly the whole time, and I barely even got sore!
Within Ride For A Dream, I was in charge of route planning and tracking our expenses. I am proud to say that we never got lost! These two tasks were made much easier by the fact that I had regular access to the internet. This meant I could use Google Maps to plan routes before transferring them to my GPS. I can only imagine how much harder this kind of planning is for the TDA staff in the middle of nowhere. And I'm really looking forward to just being able to ride without having to think about this stuff!
The two rides are quite different in terms of terrain. Ride For A Dream was almost entirely on paved roads, whereas the Silk Route has a lengthy dirt section in the middle. As a mountain biker, though, I'm not worried about the dirt. It's the hills that concern me. The hilliest part of our ride was the Cabot Trail, and in one day we climbed to just over 400m before returning back to sea level, twice. The Silk Route, on the other hand, includes the 4,665m Ak-Baital Pass, over ten times higher! I made it up the 455m North Mountain without stopping, but I was absolutely spent at the top. I'll be changing the gearing on my bike before the Silk Route.
Of course, everything that goes up must come down. The Cabot Trail also gave us the highest speeds of the trip (and my life). We maxed out at 83.8km/h, and were regularly hitting 70km/h between switchback corners while passing RVs.
A pretty standard training practice leading up to a big event is to complete successively longer rides until you are at about 2/3 of your ultimate target. In my case, I won't quite be able to get there. But this ride came close, and ended up totaling 3,001km in 30 days, almost exactly one quarter of the 12,160km, 130 day Silk Route.
Ride For A Dream 2013 was certainly a success. Not only did we make it to St. John's, but we raised a significant amount of money for the Barbra Schlifer Clinic, and got to meet some amazing people doing similar work across the country. I am definitely looking forward to seeing the landscapes of the Silk Route, since most of Canada looked pretty much the same until we hit the east coast.

Ride For A Dream can be found at www.rideforadream.ca, on facebook and @rideforadream on twitter. Click here to donate to the Barbra Schlifer Clinic, and be sure to designate Ride For A Dream.