Blog
REGISTER NOW
LOGIN
SIGN UP FOR OUR NEWSLETTER
Independence Day
The North American Epic 2013 is rolling along nicely as I write from a riverside campsite in Alaska. It is stage 3 and people are still getting to know each other. We are slowly getting used to a system involving new staff, equipment and vans in a part of the world where we are operating for the first time. As tiring as this may sound, we are all very happy and relieved to finally be on the road.
As I see the beautiful smiles on their faces, I smile back.
Alaska is a very unique place, as we had already realized on the drive up. Although there is a highway with a few small villages along it, you are really in the middle of nowhere. It is hard to describe how peaceful and beautiful it can be. Snow-topped mountains, tons of rivers and lakes, lots of trails and wildlife (Brett, an Australian rider on his 3rd tour with us, went for a quick ride on the city bike paths and saw a few moose and a bear).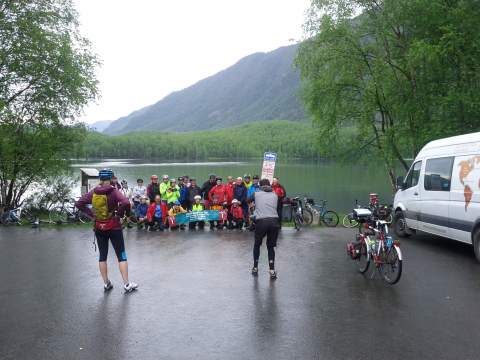 Independence Day, 2013. For some of us on this expedition, the trip means independence from our cars and a lot of the stuff we have learned to "need" in our busy crazy modern lives. We celebrated our July 4th by leaving Anchorage as a convoy, just to make sure no one would get lost on the crazy network of bicycle trails that exists throughout the city. During the first riders' meeting I made sure to make them aware of what I expected it to be – long, slow and painful. Well, it was long. And it was wet and cold, but we seem to have a group in good  shape and it was not so slow. It also was not too painful. People seemed to be all pretty happy when we stopped at Mirror Lake to take a few group photos, refill their water bottles and give them some Clif bars. Speaking of which, thank you guys at Clif. Were they happy to see "you" there! From then on, we set everyone free to start their own ride as it is now one very straightforward route on Highway 1. We will probably not be riding all together again until the "Convoy de los Conquistadores" into Mexico City almost 4 months from now
It was also very rewarding to see a bunch of people I thought I might never see again. In many ways, for me, that is more rewarding than the places we go through. It is always hard to say goodbye to my fellow staff and riders at the end of a long tour, as we all eventually become a big family, so I am very happy to be again in the same boat as my pals Brett Lanham and Brian Fullerton (Trans Europa) and Craig Tindle (Vuelta) and I cannot wait to meet up with Jessica Wolf (Doomsday) and Louise Levitt (Trans Europa). Not to mention the pleasure it is to work again with chef Jon Shepheard (TDA 12).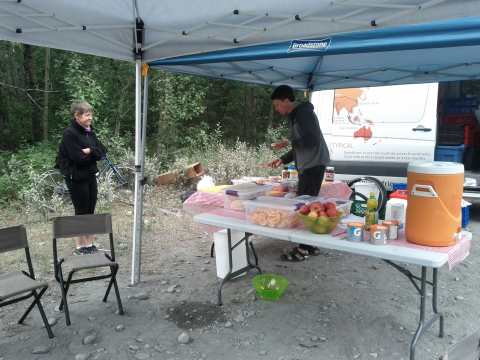 As I finish writing these words, the first riders start rolling into camp. They come to say hello and make sure I see them arriving. As I see the beautiful smiles on their faces, I smile back. It is a good sign for me, it means that if it all keeps going well, I might have them in the same "boat" as me again in the future!
Happy travels to everyone