Blog
REGISTER NOW
LOGIN
SIGN UP FOR OUR NEWSLETTER
The Medic's Perspective on the 2013 North American Epic
I am a novice in the cycle touring community, and like most new tasks I've taken on in life, there are lessons to be learned. I don't believe I've learned everything I need to know to be a successful touring cyclist, but I'm getting there. My journey of knowledge began as I prepared to take on this adventure. I sat at home brainstorming potential challenges and learning opportunities I might come across. My first challenge was dis-assembling my new bike into enough pieces that I could force it into the cardboard box I had picked up. My tetras skills were invaluable in this process, and in just 3 short hours my box was packed and sealed with duct tape. My first lesson was realized as I pulled out pieces of my bike in Anchorage. As I reassembled my bike I noticed fraying of one of my gear cables, and the paint was rubbed off my frame in spots that were distinctly green when I packed it just one day prior. Note to self, be more intentional about padding for chain chafe, lesson learned.
There is a delicate balance each cyclist needs to reach when deciding what items you will pack in your "daily bag" that you can access every night in camp. Those that don't make the cut will be relegated to the "permanent bag" only accessible every five or so days on rest days. The night before our departure from Anchorage, I found myself justifying daily access to nearly everything I had brought along with me. With my 100L bag (10L more than our maximum) bulging at the seams, and my permanent bag nearly empty, I felt assured I had reached that balance. In the clean hotel room, I was able to pack my bag with perfection. Each passing night on the trail my things seemed to expand and change shape and I struggled in the morning trying to make everything fit as I once had. This frustrating process wore thin in two short days, our next rest day I'd be moving more things to my permanent bag. I swapped over the tank tops, shorts, bathing suit, sandals and sunscreen so my daily bag had excess space. After the past five days of rain and cold, I felt confident those items wouldn't see the light of day until we headed into the southern states. The next five days the sun appeared with the intensity of long Arctic summer days. My lips were blistering, my nose was bright red and tendered, and my one long sleeve shirt was dank with smell of five days of sweat. Just when I figured I had fine tuned the balance between my daily and permanent bags, my epidermis suggested otherwise. Be prepared for all weather conditions at all times, lesson learned.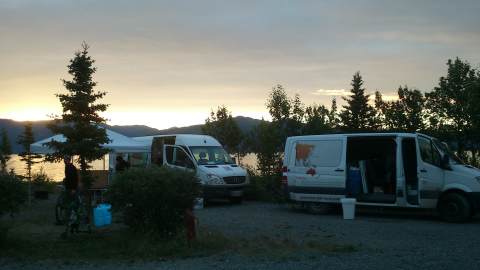 I am new to cycle touring, but I am not new to expedition traveling in the North. The vast landscape with black spruce forests and blue mountain streams are comfortable and familiar. The familiar scenes of roaming wildlife; bears getting their fill of berries, moose standing in the marshlands and bison standingabout in the mud are ones I've grown accustomed to expect and appreciate in the North. I best not forget the most prolific species in the North, our small black friends with rapid wings and a ravenous thirst for human blood, the mosquito and the black fly. In my past life as an expedition river guide, I can recall one time I was brought to tears from the environmental challenges of travelling through this landscape, the source of my discomfort was mosquitos. I was trying to have a simple bush pee and the moment I dropped my draws my bottom became the Sunday special at mosquito buffet. I was reminded of this lesson once again on this tour because the bugs took a special fancy to some of our foreigners. The English and Australian blood was received with critical acclaim, leaving our cyclists suffering histamine overdrive from the hundreds of purple and red bumps covering every bit of their exposed skin. They have been popping antihistamines like a daily vitamin and cycling through the discomfort like champions. Don't forget your bug defences; sprays, hats, jackets and pants, lesson learned.
The most recent lesson I had the privilege of re-learning on this tour is the importance of tent site selection. The weather was predicted to rain for the next few days, but the sky had cleared and the blazing sun was warming my skin forcing me to switch out of my rain jacket and into my tank top. We joked around camp about having a water fight to cool ourselves down. I set up my tent in the heat and my chief concern was finding a nice shaded spot near the kitchen. Direct sunlight can be hard on the integrity of tent fabric and heat up the inside. I made my selection and called it a night. At 450am I reached across to hit the snooze button on my alarm, and I was startled awake to the unusual sensation of water rippling under my tent floor. Rain was pattering on the fly, I looked out the screen to discover my sandals sunk in the lake that had formed under my tent. I packed up my things and began to dis-assemble my tent, I hoisted it above my head to relocate to high ground. Another cyclist was watching my struggles and with a big laugh keenly pointed out that I had picked the worst tent site in the whole camp. I agreed with a sheepish smile, having relearned a very basic lesson in camping, don't pitch your tent in a low spot. Soaked sleeping bag, lesson learned. I am anticipating this will not be my last lesson learned, but I am hoping I will learn my future lessons from the struggles of others.