Blog
REGISTER NOW
LOGIN
SIGN UP FOR OUR NEWSLETTER
2013 North American Epic – The Chef's Perspective
I wasn't a cyclist when I worked on my first tour with TDA, the 2007 Orient Express. Before coming on that tour, I remember I didn't understand how a person could cycle 100km in a day. I thought I would be cooking for a group of super-fit health freaks but that wasn't the case at all. They were a group of normal looking people of all ages, shapes and sizes. I started to understand that just about anybody could cycle 100+ km in a day if they took their time, took a break when they needed to and ate and drank enough during the ride. I think if a person can walk 10 km in a day, they could cycle 100.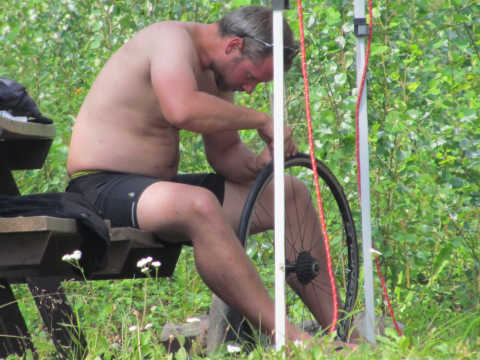 Many of the people we encounter during the trip are confused and amazed by the concept of long distance cycling expeditions. They often wander over to the vans curious and attracted by the world maps, routes and TDA logo printed on the vans. Once they understand what we are doing they usually ask how and why. Why not just fly across the continent? Some get it, some don't. I usually tell them it's about the adventure, the trip, one day at a time, until we get 10 000km from one end of the continent to the other. Nothing to be intimidated about.
So, for myself, I got into cycling by working on these tours and hanging out with cyclists. I bought a bike, went out for some long rides and I started to get it too. Generally my day off while on tour is the day before a rest day so I can ride that day. I try not to miss it. For me it's the best part of the trip. I take my time, take a lot of breaks and get there when I get there. For me, it's not about the destination.
— Jon Shepheard